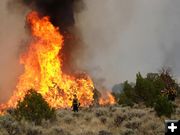 Back burn

A wildfire back burn sends up tall flames on fire near Rock Springs. BLM photo.

Rock Springs area sees wild fires
July 26, 2006
BLM spokesman Terry Del Bene states that "continued dry conditions have resulted in an increase in lightning caused fires in southwest Wyoming. In a 24 hour period BLM fires crews responded to 16 fires".

The largest of these, the "Rock Fire" encompasses 24 acres in the vicinity of Kappes Canyon, approximately twelve miles south of Rock Springs. It has spread rapidly through a mixture of fuel types including grass, sagebrush and juniper trees. Fire crews worked into the night protecting threatened structures on private land at the Kappes ranch.

Working in concert with fixed-wing airplanes and helicopters, engine crews were able to contain 20 percent of the fire perimeter despite occasionally gusty winds. Of the responding crews, there were units from the Sweetwater County, Fire District One, Lander BLM, Rawlins BLM, Rock Springs BLM, Mountain View Forest Service, and Kemmerer, BLM. The air support came from the Rawlins BLM and contacted units from Riverton, Wyoming and Grand Junction, Colorado. Efforts by these units have prevented the spread of fire toward the Kappes Ranch.

Incident Commander Gavin Lovell hopes the winds predicted for today do not develop so the fire may be completely contained soon. The BLM requests that the public avoid this area until the fire is contained to allow the fire crews to do their jobs unhindered.

Partial fire restrictions are still in effect on BLM lands within Sweetwater County, including prohibiting campfires and grills, except for in designated recreation sites on federal lands.

Under a partial closure the following acts are prohibited:
1. Building, maintaining, attending, or using a fire, campfire, charcoal barbecue, or grills except in designated recreation sites on federal lands. The use of portable stoves, lanterns using gas, jellied petroleum, pressurized liquid fuel or fully enclosed (sheepherder type) wood burning stoves (piped) with a ¼" spark arrester type screen are permitted.
2. Welding, or operating acetylene or other torch with open flame or arc except in cleared areas of at least 10 feet in radius with a chemical pressurized fire extinguisher with a minimum rating of at least 2A.
3. Smoking, except in an enclosed vehicle or building, a developed recreation area site, or while stopped in an area at least three feet diameter that is barren or cleared of all flammable materials.
4. Using an explosive requiring fuse type blasting caps.
5. Operating a chainsaw without a USDA or SAE approved spark arrester properly installed and in effective working order, a chemical pressurized fire extinguisher with a minimum rating of 2A, and one round pointed shovel with an overall length of a least 36 inches.
6. Discharge of fireworks.

For more information on BLM fire restrictions or fire conditions, contact Kyle Cowan, BLM Western Zone Fire Management Officer, at 307-352-0217, or visit the BLM Wyoming Fire page at http://www.wy.blm.gov/fire/restrict.htm.