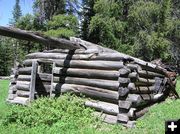 Old Tie Hack Cabin

Remains of old tie hack cabins from the early 1900s can still be found in the Wyoming Range.

Tie Hacks
Cutting down trees, by hand, in the dead of winter
June 17, 2006
Between 1914 and 1918, lumberjacks worked in the Wyoming Range cutting trees to produce tens of thousands of railroad ties to be used in the construction of Union Pacific track between Rawlins to Cokeville.

The men were called "tie hacks" and worked ten-hour days, six days a week, chopping down the trees by hand, then hand-hewing them into railroad ties using a broadaxe.

This hard work was done in the dead of winter in freezing temperatures with several feet of snow on the ground. The men living in work camps and small cabins dotted throughout the drainages. They skied and snowshoed to travel between workcamps and get supplies from the camp commissary.

The men were paid by the tie, which were dragged down to the streams and stockpiled during the winter. When spring high water came, the ties were broken free and sent rushing downstream to the Green River and then floated 100 miles downstream to the town of Green River, west of Rock Springs.

Tie hacks camps operated in the Wyoming Range and the eastern slopes of the Wind River Range.

Over ten million ties were taken out of the forests of western Wyoming at the turn of the century. The era ended in the early 1940s.

Remnants of old tie hack cabins can still be found today.

Photo by Dawn Ballou, Pinedale Online!

Books to read for more information:
Broadax Artists By George B. Linn, published 1984 by Janevar Publishing Co, ISBN 0-937174-02-5, Library of Congress Card Number 83-83044.
Knights of the Broadax, the Story of the Wyoming Tie Hack by Joan Trego Pinkerton, published in 1981 by The Caxton Printers, Ltd, ISBN 0-87004-2831.