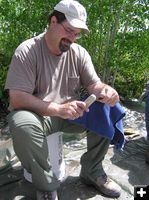 Flint Knapping

Bob Ficenec, an archaeologist with Western Archaeological Services in Rock Springs, demonstrated flint knapping.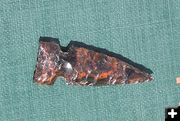 Flint Knapped Arrowhead

Bob Ficenec made this arrowhead from a piece of obsidian while demonstrating flint knapping.

Open Archaeology Day at the Museums
June 4, 2006
The Pinedale Field Office of the Bureau of Land Management teamed up with both Sublette County Museums last weekend to hold an "Open Archaeology Day".

The event was intended to celebrate and raise awareness of the centennial of the American Antiquities Act which was passed in 1906 to preserve cultural resources on federal lands.

Several people took advantage of the days to bring down unique artifacts and other items they have in their personal collections. The archaeologists identified the items, gave an estimate of possible age and photo documented them.

Open Archaeology Day was held on Friday at the Green River Valley Museum in Big Piney and the next day at the Museum of the Mountain Man on Saturday. The event in Pinedale was timed to coincide with the Museumís "Sublette County Free Day", where admission to the museum is free to residents of the county.

Photos and story by Dawn Ballou, Pinedale Online!