Jeff Disko

Photo courtesy Sublette County School District #1.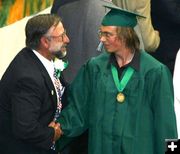 Jeff Disko

Photo courtesy Sublette County School District #1.

Pinedale High Graduation Speeches
Valedictorian and Salutatorian Speeches
May 30, 2006
Pinedale High School held commencement services for graduating seniors on Friday, May 26th. Valedictorian Jeff Disko and Salutatorian James Winters addressed their fellow classmates at the ceremony. Below are their speeches.

Valedictorianís Address
by Jeff Disko

I learned a lot this year: Bernoulliís equation, the fundamental theorem of calculus, economics, government and English, and all manner of other subjects. There were some rather unique lessons as well, like how time is relative, and that superintendents coordinate. I certainly learned a lot; so much in fact, that I may even remember some of it.

There is one concept though, that I know both myself and my peers will remember, itís a concept that has been reinforced for quite a while now, but before I tell you what that concept is I think I had best lay some groundwork.

When we were in elementary school you taught us to stand in line, to raise our hands before speaking, and to be polite. In middle school you taught us to get good grades, to follow the golden rule, and to play nice. In high school you taught us to behave as adults, to drive for success, and be on time. Thank you, you did your best and we will be forever gratefulÖ

But hereís the fun part, do you want to know what we learned? You may find that it isnít what you meant to teach us.

We learned to do what everyone else does, because ďmeĒ and "I" is singular, whereas "they" and "we" is plural. We learned to hold our tongue, especially when we should be yelling the loudest. We learned to do whatís always been done, without asking why. We learned that the golden rule is: he who has the gold makes the rules, so why should we try and change them. We learned to be good employees, to run when we should fight and to fight when we should talk, and most important of all, we learned fear.

Many of the well intentioned lessons weíve received have taught us to be afraid, to be afraid of ourselves, of our betters, and of our peers. To be afraid of being shunned, of being wrong, of being told we were wrong. We learned to be afraid of doing the right thing, and of taking responsibility for it, which is oftentimes more difficult than taking responsibility for doing wrong.

All of this, we learned throughout the years, and although we may not be able to tell you what a complex sentence is in twenty years, we will remember how to be afraid. When we see something wrong, we will remember to be afraid to do anything about it, when we are presented with an opportunity, we will remember to be afraid of taking it, and when we encounter someone who is great, we will remember to fear them.

Fear, in all its incarnations is one lesson I, and most of my peers, have learned quite well. So therefore, the real question is not whether we will be successful or not, (Iíve little doubt most of us will be successful, and probably happy); the real question is if we will overcome our fears, and be more than successful. The real question becomes, will We be Great?

I can not leave you with a happy and cheerful yes to that question, nor can I leave you with a melancholy no, the answer has yet to be determined. Do not fret, however, as we each of us has our own brand of bravery hardwired into our nature, and it will take hold in greater or lesser degrees. And just as fear can be taught, so too can courage.

With that in mind, I encourage my fellow graduates to recognize their fear for what it is, and to ruthlessly stamp it out of their psyche. And I ask of you, as you raise those generations following us, before we begin raising our own, to demand of yourselves that you not teach those generations to be successful and afraid, but that you teach them to be fearless and free.

Salutatorianís Address
by James Winters

On Wednesday I was told that I would be giving this speech. I had been planning most of my life what to say on this day, but until Wednesday I had thought that I wouldnít be giving this speech and I was happy that I could just sit in the back row since my name starts with W and Iíd accept my diploma and move on with my life, but things change and here I am.

How do I sum up 4 of the most exciting years of my life and give advice for the future in 5 minutes? Well, I guess I will start by welcoming you all here and thanking you for coming to see us graduate.

I still remember the summer of my 8th grade year lifting for football and going to orientation and how excited I was to become a high schooler. Then just yesterday we went to Lagoon for my last bus ride ever after logging thousands of miles on a bus and now that itís all over I think back to all weíve done.

Freshman year, Mr. Costello would yell at us every day for making too much noise in the back of the class room and on Wednesday he thanked me for being in his class and I thanked him for teaching me.

Mr. Warembourg taught me how to write as a freshman and I finished his class with an A after struggling the year before. Then on my last assignment as a student at PHS I gave a speech in English for Mrs. Schouboe on a theme from my classic which gave me an 89 percent for the semester. Coach Davis and Coach Steege taught me about leadership and teamwork; striving to improve yourself to help the team.

All of the teachers, and coaches, and classmates, and community members have taught me so much and I want to thank them all.

My sister, Krystal, stood here 3 years before me giving this speech to her class as I sat in the back with the band and listened and Iíve always looked to her for inspiration. When I was struggling with a class in elementary school I asked my sister why she had to do so good in school before me so that my parents expected the same from me, I was in tears. She said you donít have to do as well as me if you donít want to, but I knew by the way she said this that I must strive to do as well as she did and Iím glad she set the bar so high. She was my motivation to do well and was always there to encourage me; she pushed me to do better and was always my role model.

As we go out into the world I hope that you will all find a role model like my sister. Someone to teach you, because learning must never end and once you have learned from someone I hope you become that role model for someone else.

Iíve wanted to be an engineer since I was in 8th grade. I had always been good at math and science and I was dedicated to my goal, working hard and learning from the best. Then one day while we were sitting in class my best friend throughout high school told me he thought he would follow in my footsteps, he would go to UW and become an engineer too. I felt like I had been a role model and I hope that you all will have this feeling one day.

I have tried to absorb as much of the experience as possible and I am glad that I did. As I went through high school I tried to do as much as I could to learn new things about life.

Our school experienced rapid growth and moved us up a class in sports. This affected us all, but it made us stronger as a whole and gave us a new level of understanding about things we thought we knew. This was an experience and life is full of them.

One of the most important experiences I noticed was joining the track team this year. I decided I will never know what it is like unless I try, so I did and Iím glad I did. At the start of the year all I wanted was to have something to do after school to keep me busy, but as the season progressed I learned many things about myself. In the beginning my goal was to make it to regionals, but once I had made it to regionals I found out something new about myself.

When the time comes and I have a goal in sight I can do some amazing things, I improved 4 inches on my high jump that day to make it to state, and I would have never discovered what I was capable of if I hadnít joined track.

I want you all to try as many things as you can as you go onto this next stage of your life. You might find something you like, or donít but you might just find out something you never knew. This experience will help you in your life and will give you new drive for the future.

We are entering a new world as we step across this stage; we will be moving on. Iíve met valedictorians who are homeless, and people who graduated at the bottom of their class that are perfectly happy. The decisions you make from here will decide where you go in life, but the destination is not the important part, itís everything in between.

I want to thank my Mom and my Dad for always standing up for me and teaching me so much about the world.

I want to thank my sister for being my role model throughout life.

I want to thank my grandparents for everything they have taught me in all that I have done with them from decorating cookies with Grandma Donna, to watching the football games with Grandpa Bob, to giving me my first job working with Grandpa Carl, to driving in old Red with Grandma Peggy.

I want to thank my friends for making it possible to get through high school.

I want to close with one final story of when I was in elementary school. I woke with a start and ran to the bathroom for some reason and looked in the mirror. I had one black hair sticking out of my chin and I shaved it off. I was so excited about growing up and having new things happen that when Jason and Mike came to pick me up for basketball practice I asked Jason if he was shaving yet. He said no and to this day he will not let me live this down, but I was so excited to be moving to a new stage in my life. I hope all of you are as excited as I was that day as you cross this stage today.

I wish all my classmates, the class of 2006, luck and happiness in your new life.