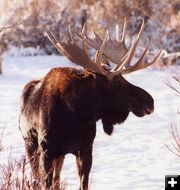 Bulll Moose

Bull moose. Photo courtesy Bald Mountain Outfitters.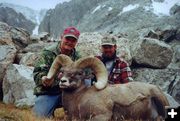 Trophy Sheep

Trophy big horn sheep. Photo courtesy Black Diamond Outfitting.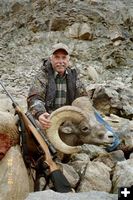 Big Horn Sheep

Big Horn Sheep Ram. Photo courtesy Mule Shoe Outfitters.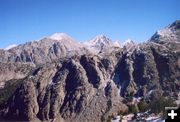 Rugged sheep country

Rugged mountain country, prime big horn sheep habitat. Photo courtesy Mule Shoe Outfitters.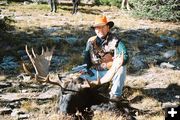 Moose Hunting

Moose hunting. Photo courtesy Black Diamond Outfitting.



Prime moose habitat

Drainage bottoms and willow habitat are prime moose areas. Photo courtesy Triple Peak Outfitters.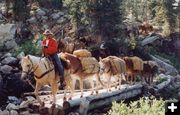 Pack String

Pack string. Photo courtesy Bridger Wilderness Outfitters.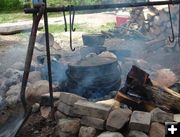 Dutch oven cooking

Camp cooking using a dutch oven is an art! Photo courtesy Bridger Wilderness Outfitters.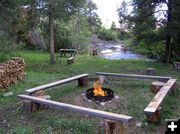 Campfire

Campfire by the creek. Photo courtesy Hidden Heart Ranch.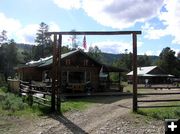 Hidden Heart Ranch

Hidden Heart Ranch Lodge, home to Bald Mountain Outfitters. Pinedale Online photo.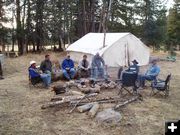 Hunting Camp

Hunting Camp. Photo courtesy Black Diamond Outfitting.

Hunting Moose & Big Horn Sheep in Wyoming
Did you draw your Moose or Big Horn Sheep tag? Here are local outfitters who can help you fill it!
May 7, 2006
The draw is done and there are some really excited hunters who just got word they drew their Big Horn Sheep or Moose tag in Wyoming.

For those who wish to use the services of a professional guide, local outfitters can help hunters find a trophy animal in the Wind River Mountains, Bridger Wilderness, Gros Ventre Wilderness, Wyoming Range and on private lands to fill your tag. All are very experienced hunters and know the area well, and where to go to find trophy game. All are licensed outfitters in the state of Wyoming who hunt under permit on the Bridger-Teton National Forest or with special permission on private lands. All of these outfitters & guides also hunt elk, deer and antelope, and some also hunt bear and mountain lion.

Sublette County is prime habitat for Shiras moose and big horn sheep. The terrain is rugged with many trophy animals historically taken from the backcountry. Many outfitters boast being 100% on their moose and big horn sheep hunting.

Exact dates for the season opening vary by area. Typically archery season opens in August/September and rifle hunting begins in October. Check the current Wyoming Game & Fish hunting regulations for the exact rules for the area where you have your tag.

Wyoming hunting regulations require out-of-state hunters to use the services of a licensed guide to hunt in any designated wilderness area. Hunters usually have the choice of packing in via horseback into a strategically-located mountain base camp or basing out of the outfitter's lodge or a motel in town.

Below are descriptions about professional outfitters in our area who can provide guide services for big horn sheep or moose hunts. This list is organized by region and the areas each outfitter hunts. Click on the links to their websites for more detailed information about their services and many photos.

NORTHERN WIND RIVER MOUNTAINS/BRIDGER WILDERNESS/GROS VENTRE WILDERNESS
Black Diamond Outfitters
Species: Moose, Area 3, 5; Sheep Hunting, Areas 8, 23
Area: Wind River Mountains and Gros Ventre Wilderness
Outfitter: Todd Nethercott, 1-866-470-1516, info@blackdiamondoutfitting.com
Website: www.blackdiamondoutfitting.com
Black Diamond Outfitters offers guided moose hunting in the Gros Ventre Wilderness and Wind River Mountains on the Bridger-Teton National Forest. Their hunting camp is located in the Tosi Creek drainage of the Gros Ventre Wilderness, between the Upper Green River Valley and just south of Jackson Hole. Their hunting camp consists of large canvas wall tens tent with propane lanterns, comfortable cots and wood stoves. One of their specialties is their delicious backcountry camp cooking. Outfitter Todd Nethercott is a third generation outfitter in the Teton and Sublette County region, following in the footsteps of his father and grandfather. They are offer serious hunting for the serious hunter.

Black Diamond's sheep hunts take place in hunt areas 8 and 23 near Green River Lakes. These hunts are staged from a small base camp in the valley floor with horses, and it is all up hill from there. A guide, packer and hunter leave from the base camp with backpacks, dehydrated food and the bare essentials. Most outings are for 5-day increments, and a return trip to base camp for supplies is rarely needed. Most rams taken will score in the 160-175 point range with the mature rams broomed and boasting good 15" bases. This hunt is extremely demanding on the body, but offers a very gratifying and rewarding outcome when your trophy is harvested.

Bridger Wilderness Outfitters
Species: Moose
Area: Bridger Wilderness, Wind River Mountain Range, Private Land
Outfitter: Tim Singewald, 1-888-803-7316 or 307-367-2268, singewald@aol.com
Website: www.bwo.com
Bridger Wilderness Outfitters operates in conjunction with their historic DC Bar Guest Ranch, located in the Upper Green River Valley not far from Green River Lakes and the Bridger Wilderness. They are proud of their record of 100% on their moose hunts and being located in the heart of Shiras moose country for trophy bulls. A check of Boon & Crocket Club will show why, the World Record Shiras came from this area and BWO has hunters who have made the Record Book. Outfitter Tim Singewald remembers seeing 15 moose at his hay stack a couple of years ago, 13 which were bulls. They prefer to hunt via horseback basing out of their remote wall tent camp, but can also accommodate hunters out of the DC Bar Ranch if guests prefer. Book early with BWO, they book up early for their moose hunts.

Mule Shoe Outfitters
Species: Big Horn Sheep, Areas 8, 23, 9, 10; Moose, Area 5
Outfitters: Sandra and Justin Wright, 307-537-5655, juswrigh@wyoming.com
Website: www.muleshoeoutfitters.com
Justin and Sandra, both very experienced hunting outfitters and guides, take on the more challenging hunts including moose, big horn sheep and mountain lion. Big horn sheep hunting is a physically-demanding hunt that is usually a once-in-a-lifetime experience for a hunter to harvest a ram in Wyoming. They offer 10-day hunts that start by packing into their camp using horses and mules. From there, they hunt mainly by foot, using backpacks to transport gear to other camp destinations. Their main technique is to find vantage points to glass the area, catching rams moving and feeding. This hunt requires the hunter to be in the best physical shape they can be to increase the odds of taking a trophy ram. They have been consistent in taking 160 plus class rams throughout the years. They hunt Areas 8 and 23, which open September 1st and Areas 9 and 10, which open August 15th for big horn sheep.

Mule Shoe Outfitters also offer 10-day moose hunts in Area 5, which begin from either their Summit Lake or Bluff Park Base Camps. They do pre-scouting and closely watch the weather to determine which camp to use. They also offer the option of using spike camps, if needed. Both of their camps are in the heart of moose country. They offer both archery and rifle hunts for moose. Their Area 4 hunt is an off-forest moose permit that they hunt right out of Pinedale. For this area, they primarily hunt private land that adjoins BLM public land. No need to stay in a tent for this hunt. Hunters stay in a motel in Pinedale and have all the comforts of home. "On an average, we are harvesting good, mature 40-inch plus bulls," says Justin.

MID-WIND RIVER MOUNTAIN RANGE/BRIDGER WILDERNESS
Bald Mountain Outfitters
Species: Moose
Hunt Areas: Bridger Wilderness, Wind River Mountain Range
Outfitter: Terry Pollard, 307-367-6539, tpollard@wyoming.com
Website: www.baldmountainoutfitters.com, www.hiddenheartranch.com
Bald Mountain Outfitters private guide hunts out of their high-country base camps or can put hunters up in their newly opened Hidden Heart Ranch., located not far from the southern end of Half Moon Lake. They are long-time outfitters and know the area very well. They hunt from either their spike camps in the Bridger Wilderness base camp or do day hunting from their secluded Hidden Heart Ranch. They have been hunting in the same area for the past thirty years and pride themselves on their quality hunting services. They were featured on TV on The Outdoor Channel on Steve Scott's "The Outdoor Guide" for a moose hunt. Terry has been a bow hunter all his life and enjoys archery hunters and archery hunting of all types. Bald Mountain Outfitters offers hunts for all of species, but are especially successful on Black Bear, Elk, Whitetail Deer, Antelope and Moose. They cater to all archers - Longbow, Compound bow, Recurve bow, and Cross Bow hunters are welcome!

Half Moon Lake Resort – Wind River Trophy Hunts
Species: Moose, Area 3, 4
Outfitter: Aaron Gesch, 307-367-6373, aarong@halfmoonlake.com
Website: www.windrivertrophyhunts.com, www.halfmoonlake.com
Wind River Trophy Hunts is the hunting extension of Half Moon Lake Resort. They hunt in the Bridger-Teton National Forest as well as on private land river bottoms. Years of good relations with friends in the ranching industry have led to near exclusive rights to some of the state's premier moose habitat. They are proud of their success rate of 100% on moose. This is a lodge-based hunt using pickups or horses, taking hunters to and around the hunting areas. They take hunters on foot, glassing likely areas such as marshes, creeks and willow bottoms for moose.

SOUTHERN WIND RIVER MOUNTAINS:
Big Sandy Lodge
Species: Moose, Area 3, 4, 30
Outfitter: Tim Lightner, 307-382-6513 or 307-362-9017, bigsandylodge@wyoming.com
Area: Bridger Wilderness, Wind River Mountain Range
Website: www.big-sandy-lodge.com
Big Sandy Lodge offers outfitting and guide services, as well as lodging and meals for self-guided hunters. Big Sandy Lodge is remote, located in the southern end of the Wind River Mountain Range adjacent to the Bridger Wilderness. The lodge is located at the end of the Big Sandy opening road. The nearest town is Boulder, 44 miles away. They are one mile from the Bridger Wilderness boundary in the Bridger-Teton National Forest at 9,100 feet elevation, four miles from the Continental Divide of the Rocky Mountains. There are no public phones or electricity at the Lodge, which was originally established in 1929 as a tent camp by Finis Mitchell, well known as "Man O' the Mountain" and author of the hiking book "Wind River Trails". Due to their remote location, hunters stay in their log cabins instead of a tent camp. The cabins have wood burning stoves, kerosene lamps and comfortable beds. Delicious meals are served family-style in their rustic lodge which sits next to a scenic mountain lake. They offer experienced guides, trail horses or vehicles, dressing out and packing game to the lodge. Each trip is planned to meet the hunter's specifications. Call early to make your hunt arrangements.

WYOMING RANGE:
Triple Peak Outfitters
Species: Moose, Areas 24, 25
Outfitter: Kent Profit, 307-276-3408, info@triplepeak.com
Website: www.triplepeak.com
Triple Peak Outfitters hunts in the Wyoming Range, in the heart of excellent moose habitat. They offer guided hunts from their Triple Peak Lodge located on South Cottonwood Creek, approximately 15 miles from the Bridger-Teton National Forest boundary. Hunters can also base from their forest camp on Nylander Creek, just east of Mt. McDougal on the McDougal Gap road. They offer guided hunts or can provide comfortable lodging and delicious meals for those who wish to hunt on their own. Triple Peak Lodge is remote from town, but very close to the Wyoming Range mountains. They are approximately 30 miles west of Pinedale and 90 miles south of Jackson Hole. They offer delicious home cooking available throughout the day to accommodate hunter's schedules. Early bird breakfast begins at 4 am, with meals available throughout day until 10 pm. Sack lunches also available. They provide one guide for two hunters, unless a private guide is requested. The elevation at the lodge is approximately 7500 ft., and approximately 10,000 feet from their forest camp. Fishing is available just a short walk from their lodge.