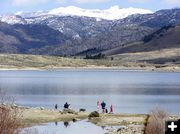 Boulder Lake

View looking northeast from the lake outlet to the Wind River Mountain Range and Continental Divide.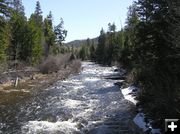 Boulder Creek

Boulder Creek tumbles past the National Forest Boulder Campground at the upper end of the lake.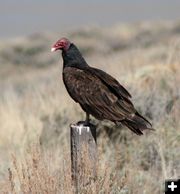 Turkey Vulture

This large bird is almost as big as an eagle. It's bald head, denude of feathers, allows it to more easily poke its head into the carcases of dead animals to feed.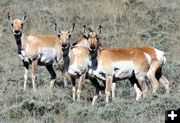 Pregnant Pronghorn

These pronghorn antelope mothers will be having babies in about one month.

Boulder Lake current conditions
April 30, 2006
Last weekend, we scoped out Fremont and Half Moon Lakes and told you the boat ramps were free of ice, but there was nowhere to go with your boat because the lake surfaces were still frozen. Not true of Boulder Lake, just a few miles to the south (as the crow flies)! We checked out this area on Saturday, April 29, taking advantage of a beautiful, warm sunny day. The ice is completely off the lake and boaters have the entire lake for fishing and motor boating.

Boulder Lake
Boulder Lake is located approximately 25 miles southeast of Pinedale, accessed by gravel roads from US Hwy 191 or Boulder Highway 353. The lake is approximately four miles long and Ĺ mile wide. Its cradle was created by glaciers thousands of years ago as thick flows of ice carved a deep trench as they slowly drained out of the Wind River Mountain Range. The lake has roughly a northeasterly orientation, with half being in forest at the base of the Bridger Wilderness and the lower half in dry, open sagebrush hills.

The western and lower side of the lake and outlet stream are accessed via a gravel road which takes off from US Hwy 191 approximately a mile north of the town of Boulder. The eastern side of the lake is accessed from a gravel road which takes off from Highway 353 off of Hwy 191 at the tiny town of Boulder, which is 11 miles south of Pinedale.

This area doesnít see a lot of use and is a great place to go for a day to take the boat out for a spin on the lake and cast your line into the crystal clear water. The gravel access roads are all clear and dry with no problem for trucks, sedans or RVs being able to get in. Some portions of the road are a little bumpy due to washboards, but arenít a problem as long as you drive at a reasonable speed for the conditions. Watch out for trucks hauling boats in and out and kids on 4-wheelers on blind corners.

There are boat ramps at the lower (BLM) and upper (USFS) end of the lake. Spring melt should do a lot to bring the lake water level up. Right now the 2ater level is still low enough nothing is flowing over the overflow spill chute on the dam at the lower end. The upper end of the lake is forested and the lower end is in open sagebrush hills. For anyone who is a geology buff, this is a paradise for examples in glacial moraines and outwash. You can see lateral and terminal moraines, huge boulder remnants and kettle topography. Deer, antelope, elk and moose inhabit this area. We saw a large turkey vulture sitting on a fence post near the lake.

Boulder Creek
This is a good sized stream at both the inflow and outflow of the lake. Water is still running clear and fast. A fisherman told us he hasnít had much luck with the fishing in the creek downstream from the lake, however.

Boulder Lake Campground
There are two campgrounds on Boulder Lake and another small one at Stokes Crossing further downstream. The US Forest Service Boulder Lake Campground is at the upper end of the lake near the inlet in a forest setting. This campground is 25 miles from Pinedale, accessed by a good gravel road from the Boulder Lake Road off Boulder Highway 353. The campground has 20 units in mixed pine, aspen, willow forest. There is NO potable water at this campground, so bring your own! Restrooms are pit toilets. Because there are no services, there is no fee to stay at this campground. Stay limit is 10 days. There are pull in campsite units and pull-through units for RVs. All are first-come, first serve, none are reservable in advance. Elevation is 7300 feet.

Boulder Lake Trailhead-Wilderness Access
The trailhead is located not far from the National Forest Campground at the upper end of the lake. This trailhead offers access to the middle portion of the Bridger Wilderness and receives moderate hiker and stock use. There is a large parking lot with plenty of room for trucks pulling horse trailers. Facilities include several stock corrals, hitching posts and horse trailer loading ramp. There is a restroom and hiker check-in station at the trailhead by the corrals.

The first five miles of the trail to the wilderness is a gradual incline, then three miles of steep uphill trail with switchbacks. There are very limited camping places for the first 8 miles due to the topography. This area was burned in 1988 by a wildfire, so expect to see charred trees on this route. There is a large parking area near the trailhead with toilets and corrals. No drinking water available

Even though this is open, rocky sagebrush terrain, there are no rattlesnakes in our area of the Upper Green and in the high Wind River Range. You may see water snakes in the mountain lakes or streams, but they are not poisonous.

If you are out walking through the sagebrush, be sure to check yourself, the kids and the dog for ticks when you get home. These insects are extremely tiny and often not felt when walking across the skin as they look for a place to lodge and start sucking blood. Throw the clothes from the day into the laundry hamper and wash as soon as possible.

Stokes Crossing
Accessed by a primitive dirt-gravel road, Stokes Crossing is a historic stream crossing site on Boulder Creek, a few miles below the outlet of the lake. There are only remnants of the historic crossing structures across the stream. The BLM has made a little picnic area with four overnight camp spots. There is no drinking water or garbage service at this little site tucked in the sagebrush hills. There is a grove of fir and pine trees and willows line the stream bank. There are miles of two-track roads near by for 4-wheeling or mountain bike riding. Since there are no services, and you must bring your own drinking water, there is no cost to camp here. Stay limit is 14 days. A pit toilet building is on the site. There is a large grassy parking area and a couple of picnic tables and campfire pits. The area offers fishing, hiking, 4-wheeling, motor biking, mountain biking, photography and exploring.

Burnt and Meadow Lakes
The roads to Burnt and Meadow Lake were still gated off on Saturday due to wildlife closures around the elk feedground. The closure ends April 30th, and the roads open May 1st, so these back roads will be open by the time you read this story.

Boulder Lake Lodge
Boulder Lake Lodge is located on the east side of Boulder Lake, near the upper end summer homes. They offer lodging, horseback riding, hiking, fishing, boating, wilderness pack trips, hunting and more. www.boulderlakelodge.com

Photos and story by Dawn Ballou and Clint Gilchrist, Pinedale Online!

Related Links