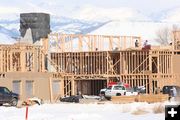 Haliburton Hotel

Construction is moving rapidly on the new "Haliburton Hotel" on the west end of Pinedale.


Pinedale Drift Newsletter
What's happening in Pinedale right now?
by Dawn Ballou, Editor, Pinedale Online!
March 20, 2006

If you would like to be placed on the free Pinedale Drift newsletter e-mail list, send an e-mail to drift@pinedalewyoming.com saying you would like to receive the Pinedale Drift newsletter and the specific e-mail address/es where you would like the newsletter to be sent. Drift subscribers also get early notice of breaking news and other items that are not posted on the Pinedale Online news stories.
________________________________________________

Pinedale Drift, March 20, 2006, Pinedale Online!
Usually winter months give us a chance to slow down a bit and catch our breaths, but that hasn't been the case these past several years. The oil and gas boom in the Jonah Field and Pinedale Anticline seems to have everyone hopping all year round. The streets are always busy and the trickle down effect has industry and the service and support businesses busier than ever. Now we're gearing up for the big build-up that comes with summer when all the oilfield-related workers return for their busy season, in addition to our normal "tourist season", which starts Memorial Day weekend the end of May. Sublette County is a very busy place right now. We know the bust will come eventually. For now, everyone is making the most of it and trying to cope with the many rapid changes that a boom economy always brings.

Below you'll find news, notes and miscellaneous 'gossip' about what is going on in Pinedale and Sublette County right now. Please let us know if there is some topic you would like to see us cover in a story on Pinedale Online. We have a very small staff, but we do try to cover as many things as we can. Many thanks to everyone who has written and sent in comments and shared their photos of their visits to the Pinedale area. We love hearing from you, so please don't hesitate to e-mail or call anytime. We can be reached at 307-360-7689, e-mail: support@pinedaleonline.com, and we answer e-mails and phone calls on the weekends and evenings. If you're in town, stop by our office in Office Outlet in Pinedale during regular Monday through Friday business hours.

MAJOR SUMMER EVENTS
Below are the dates for the upcoming major events for the area. If you plan on being in town to attend any of these events, we strongly advise you to make your lodging reservations now. Motels are already very booked. Rooms become very hard to find during the July-August peak season, especially during major events such as the Green River Rendezvous.

April 1: Aniel Daniel Chili Cookoff and Cake Auction
April 1: McKenzie Hartwig Volleyball Tournament, Pinedale
April 8: Hardhats & Stetsons, Green River Valley Museum fundraiser
May 16-18: Living History Days at the Museum of the Mountain Man
June 18: Father's Day Fishing Derby on Fremont Lake
July 1-4: Big Piney Chuckwagon Days & 4th of July Celebration
July 6-9: Green River Rendezvous in Pinedale
July 16: Daniel Old Timer's Picnic
July 28-August 6: Sublette County Fair
August 19-20: Pinedale Blues Festival
August 12-13: Sailing Regatta on Fremont Lake
September 23: Pinedale Half Marathon, 10K and 1 mile

WEATHER
Days are getting longer and the weather is starting to shift a bit away from winter. There are still several inches of snow on the ground in Pinedale. Big Piney/Marbleton has less. There is about 110 feet elevation difference between the two towns, so south county sees less snow accumulation. Daytime temperatures have been generally in the 20s and 30s, with some wonderful occasional days in the 40s, which causes the locals to start complaining that it is getting "hot". Back roads to forest recreation areas are still snowed in. Some of the streams are starting to open up from ice.

We're still about 8 weeks away from seeing anything green on shrubs or trees, although a couple of blades of green grass were spotted last week on the warm south side of the house right after the snow came off. Hillsides and lawns in town are still winter brown with no sign of green grass yet. Those wanting to get out hiking, plan on back roads opening up in the valley around May/June. Back roads in the Jonah Field are bare and dry. The high mountains (Cirque of the Towers, high hiking trails) won't be accessible until end of June-mid July. Green River Lakes road typically opens up sometime in June. Lakes still have ice for late season ice fishing. The Pinedale Boat Club's barrel on Fremont Lake typically drops off the ice sometime mid-April to mid-May.

WILDLIFE
As typical for this time of year, the antelope are still more concentrated in the southern end of the Green River Valley. Despite the doom and gloom from environmentalists, we're still seeing large herds of antelope all through the Big Piney/Marbleton area and further south in the sage brush hills. Herds are still bunched up in groups of 75-150 in typical herds we see in the Big Piney area. Animals are hanging around the Hwy 351/189 area and drivers need to be alert for herds crossing the road just about anywhere.

Mule deer don't seem to mind the deeper snow up in the Pinedale end of the valley and are actively using the Mesa area, and town, for winter range. Besides resident's yards and crossing at the post office, herds cross the road on both sides of Pinedale and in the Daniel area. Another big concentration spot for mulies is the stretch of Highway 189 from Daniel to about 3 miles south along the Ryegrass corridor.

The Wyoming Game and Fish wildlife counts and season hunting quota numbers will be released soon to find out how the herds are doing and how wildlife managers will adjust hunt quotas due to any reduction of herd numbers due to winter kill or the PR claiming drastic animal loss due to oil and gas activity. A lot of people will be very interested to see what those count numbers and official quotas end up as.

Redwing blackbirds are back. Haven't seen a robin or heard the sandhill cranes or geese yet. There seem to be a lot of bald and golden eagles around, often seen feeding on roadkill along the highways. (3/21/06 Update Note: Eric Peterson reports seeing a mountain bluebird Monday and we heard a meadowlark on Tuesday.)

Wolf counts are reportedly up. According to the US Fish & Wildlife Service Rocky Mountain wolf recovery annual report there are at least 1,020 in the Wyoming, Idaho and Montana 3-state area. Idaho has about double the number of wolves of Wyoming or Montana. Sublette County reportedly has at least four groups of at least four wolves. According to an article in the Sublette Examiner, ten of the 13 wolf packs still surving in Wyoming outside of Yellowstone National Park were involved in preying on livestock.

Elk numbers are also up. Jackson feedground had to go into emergency feeding this past month to feed high populations of hungry elk. There is still widespread hot debate about the state's winter elk feeding program and serious concerns about elk mingling with cattle and infecting cows with brucellosis. The whole feedground system concept is under serious scrutiny by wildlife officials who manage the herds, hunters and outfitters who harvest elk, and environmental groups who want to abolish the feedground system altogether.

HOUSING
Rentals and houses to buy are still in very short supply, and what is available is very expensive. We know people who have spent the winter sleeping in their cars in Pinedale because they couldn't afford a place to live. There are long waiting lists for available rentals and nothing on the housing market is priced at an entry level under $150,000. The average single family home sold for $244,000 in Sublette County in 2004. According to a recent housing survey of the oil and gas field workers, 20% of the housing stock people are using for full-time housing in Sublette County is RVs, man camps and motels. Sociologists caution that the consequences of not having permanent housing for workers is an increase in crime, violence and drug use. This has been a cause for concern for town and county managers who are seriously engaged in trying to find solutions to the affordable housing problem now facing the county.

The "Haliburton Hotel", a 100-room motel being built on the west end of Pinedale across the highway from Country Lane, is under construction and builders are framing up the second floor as of this past week. Being constructed as a motel, this facility is already completely rented out and reserved for the next 5 years to house oil and gas field workers for Haliburton. There will be no rooms available for tourists or visitors. That scenario has raised serious concerns from locals about adding 100-200 transient people into the Town of Pinedale and resulting stresses on local services, concerns about management and supervision of the residents and access to the building interior for law enforcement investigating crimes and drug use allegations.

Last week at the Sublette County Housing Conference sponsored by the Town of Pinedale, one of the guest speakers was a builder from Cheyenne who specializes in cookie cutter affordable housing subdivisions. He does the construction under an "assembly line" philosophy with a set floor plan so he can get the structures put up quickly, completing one house every 12 weeks. With an assurance of 100 homes a year for 3 years, and clear sailing on all the permits and materials, he could come to Pinedale and help ease our housing shortage. These are 1,475 square foot, 3 bedroom, 2-1/2 bath two story "twin homes" with a 2-car garage that sell for under $150,000 each. These are turn-key, ready to move in, homes that have landscaped and fenced yards, all appliances, and curtains on all the windows. He puts them at tight-density in-town spacing and doesn't allow variations in his building plans that would slow down the construction time. A number of people were seriously interested in seeing a development of this kind come to Pinedale as an answer to filling the need for entry level "starter homes" into our housing mix.

ANTLER HUNTING
As of this week, many of the buck deer we've seen still have their antlers. Not sure about the elk. We encourage anyone who is involved in this activity to be very sensitive to the stress levels it can place on animals if done in close proximity to wildlife and your presence causes animals to spook. Please keep dogs in control and don't allow them to chase wildlife. Know whose land you are on and respect winter ranges and closed areas. If using motorized vehicles or ATVs, please keep a good distance from wildlife so your recreation does not disturb the animals.

CALVING
Some ranchers have already started to calve. The bulk will start in the next couple of weeks. Ranchers are moving pregnant cows from winter pasture closer to the home ranch for calving, so it isn't uncommon to see cattle drives next to the highways, or running smack down the middle of the road, as herds get shuffled.

SNOWMOBILING AND SKIING
Those of you who haven't had a chance to get out for your snowmobiling or skiing trip, figure about another 4 weeks left for the best of it. White Pine still has about 6 feet of base on packed runs. The mountains have 6-7 feet of snow pack off-trail, and the groomed trails are still in good shape. With the warmer weather, we're getting into spring snow conditions with a bit of crust on top to watch out for. White Pine typically closes for the season around Easter weekend. There will still be cross-country skiing and snowmobile "boondocking" for another several weeks beyond that for those who know where to go into the hard to reach places at higher elevations.

CRIME
Sublette County had a murder last week down in Boulder. A woman stabbed her live-in boyfriend in the middle of the night in a domestic dispute. They were newcomers from out-of-area who hadn't lived here very long. That same weekend, in an unrelated incident but in the same apartment complex in Boulder, a man committed suicide after his girlfriend left him. Another suicide victim from Jackson was finally found in the Granite Creek area after initial searches a month ago failed to find his body due to snow.

The influx of people serving the oil and gas boom has brought ini a lot of newcomers who are ofen working long hours doing dangerous jobs with a lot of stress. With the influx has come increases in domestic disputes, reports of increases in scuffles at the bars and physical altercations, and increased drug use, especially meth. I have to add that despite these crime statistics, from my experience and personal encounters, most of these new folks are very friendly, polite, and put out a lot of interest and effort to become involved with the local community and be a part of our way of life. Kudos to the individual workers and the companies who have worked hard to integrate with the local communities with as minimal negative impacts as possible and be good neighbors.

SCHOOL NEWS
Pinedale students excel at State Science Fair
Pinedale Middle and High School students again placed very well at State Science Fair in early March, a credit to the excellent science program at the Pinedale schools. Fifty schools from Wyoming sent more than 325 students to state. Pinedale sent 31 students to state, who made it through the filtering process of local and regionals. Of those, 11 placed first in various categories for projects. Erica David of Pinedale placed 1st in the Physics category for her research with snow fences, earning her an all-expense paid trip to the International Science & Engineering Fair in Indianapolis, Indiana in May, along with a $2,500 tuition scholarship from the University of Wyoming.

Sublette County school money windfall again in jeopardy of being taken away
There is no doubt about it, Sublette County is RICH. The oil and gas boom has dumped so much money into this county people don't know how to spend it all. Teachers here are very well paid, the buildings are in great shape, and there is enough money for just about anything they want or need to teach kids. The whole new pool fiasco is becoming extremely embarrassing to our frugal mentality, up to over a $16.5 million dollars price tag for a new aquatic complex intended to replace the aging pool at the high school. Besides the price, some people still believe that should be moved from the school grounds and moved into a larger overall Rec Center complex on the west end of town to consolidate the recreational activities into one easy access location. Stay tuned.

Moves are underway again at the state level to take excess money away from rich school districts, such as Sublette County, and give it to poorer school districts. Keep an eye on SJ001, commonly being referred to as the "Robin Hood" bill, passed on the 3rd reading on March 8. It is a joint resolution to amend the Wyoming Constitution to give excess recapture money to poorer school districts. In past discussions, the local school district has said they have no problem with extra money being taken away IF (big IF) it stays within the school system and goes to needier schools. Past efforts directed that money to dump into the state's general fund, not to schools, which local educators and administrators strongly opposed.

High School Graduation Dates
Big Piney High graduation is Tuesday, May 23, 7 pm. Pinedale High School graduation is Friday, May 26.

MISCELLANEOUS
Extending the Pinedale Bike Path The County Commissioners have approved $300,000 to extend the Pinedale Bike Path from the cemetery down the hill to Magnolia Street by the senior center.

Extending the Big Piney Bike Path Efforts are also underway to extend the Big Piney/Marbleton Bike Path north all the way to the fairgrounds and the intersection of Hwy 189 and 351. This will give a clear path for kids to get from town up to the ballfields without having to ride along the busy highway. Supporters asked the Rec Board for money to help with this. Money is also being pitched in from the towns and the Wyomind Department of Transportation. Timeframe looks to be around 2007 to be built, affiliated with WYDOT's Daniel road projects.

Big Piney/Marbleton Rec Center moves forward The Commissioners unanimously agreed to putting $210,000 towards purchasing an 8-acre lot in Marbleton for the proposed south county recreation center. They aren't funding the center, but feel purchasing the land will help give a big push to making the project happen. Earlier, the Commissioners gave $40,000 for a feasibility study and architectural fees for getting blue prints drawn up. If organizers are unable to make the rec center a go, the land reverts to the county. The Towns of Big Piney and Marbleton also contributed to the land purchase.

Sand Draw Industrial Site Emergency Services Building Sand Draw Industrial Site, located at the intersection of Highway 191 and 351 south of Pinedale, is becoming a town upon itself. Plans are in the works to create a safety building that will include an ambulance, volunteer fire department and space for a SCSO deputy to speed up response time for emergency responders to the Jonah and Pinedale Anticline gas field areas. Industry, government and private business are pitching in as a combined effort on this much-needed safety effort.

New Conference Center in Pinedale? The County Commissioners have thrown in $35,000 to fund a study for a conference center in Pinedale, requested by a Conference and Art Center Committee. The funding is just for a feasibility study.

IPSSSDR Sled Dog Race in Big Piney? Bob Beiermann is pushing a movement to get Big Piney and Marbleton to become a host site as a stage stop in the IPSSSDR (International Pedigree Stage Stop Sled Dog Race), which is held each year at the end of January. The IPSSSDR is the biggest sled dog race in the lower 48 stages and was founded by Jackson Hole sled dog racer Frank Teasley. Pinedale has been a host town since the inception of the race. We have the longest stay-over leg, with two races held here, one in the Upper Green and the second from the Upper Green into the town of Pinedale.

Pinedale Golf Course Expansion Rendezvous Meadows Golf Course is still working on their expansion project to add an additional 18-hole course to the facility on the west end of Pinedale. The new course would be approximately 1/4 mile southwest of the current 9 hole course. They are still working on getting funding, securing right of way easements through private property and working on the land acquistion with the Bureau of Land Management.

Pinedale Town Elections Pinedale will be seating a new mayor and two town council member seats at the elections on May 2. Nominations for candidates must be in to the Town Clerk on April 10th. So far we've only heard of two people who have officially announced running for Pinedale mayor: Steve Smith and Wendy Schwartz. Wendy (Cafe on Pine) announced last week she has pulled out and will not run. No early word on possible candidates for the two town council seats.

Where to find more information about news and jobs in the Pinedale area
We encourage any of our regular readers who are interested in reading more in-depth news or finding additional information about jobs in our area to seriously consider buying an out-of-county subscription to our two local newspapers, the Pinedale Roundup and the Sublette Examiner. Both are online. The Sublette Examiner posts selected stories for free viewing, as well as their classifieds. You can get the entire Pinedale Roundup as a PDF (exact copy of the printed version) via a user ID and password with your subscription. Some folks confuse us as being one of these two papers, but Pinedale Online is a completely separate business entity. Both papers have very generously shared many of their stories with us to post online. If you wish to subscribe, send a letter to the editor, or post a classsified ad, you can reach them at the contacts below:
Pinedale Roundup: editor@pinedaleroundup.com (307-367-2123)
Sublette Examiner: examiner@wyoming.com (307-367-3203)

See our Calendar of Events page on Pinedale Online for a frequently updated, year-long, "At-a-Glance" calendar of events and meetings in Pinedale and the surrounding area.