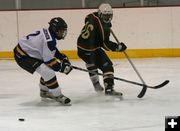 Pinedale v Sheridan

Pinedale's Drew Guenthner goes after the puck in the game against Sheridan.


WAHL Hockey Championship
by Craig Sheppard
February 28, 2006

Last weekend six boys teams and four girls teams converged on the Pinedale Ice Arena to compete for the WAHL state titles in the Boys B division and the Girls U-19 division. Teams from Sheridan, Douglas, Cheyenne, Jackson, Park County and Pinedale competed for the HS B Boys title while Rock Springs, Casper, Douglas and Gillette competed for the U-19 Girls title.

Both divisions were won by the defending state champions. The Sheridan boys once again took home the title by going undefeated in league and playoff play. They defeated Douglas in the championship game, 5-3. Sheridan only was defeated once this year and that was by a Billings Montana A team.

The Rock Springs girls successfully defended their title also by shutting out Casper 2-0 in the final game of the tournament. They also went undefeated throughout the year in league play. Pinedale was represented on the Rock Springs team with Kathryn Konicek playing for the Miners.

The Pinedale HS age Boys team didnít fair so well Ė placing 6th, but they played hard until the very end. They played their best game Friday night against Sheridan losing 5-1 and then lost to Cheyenne 7-1 and to Park County 5-0 in the final game for fifth place.

The Pinedale team only loses two players this year to graduation, with Joe Pearce and Forrest Michnevich being seniors. The rest will be back again next year ready to compete for the state title.

Playing this weekend for the Pinedale Glaciers were John Colton, Emily Elder, Drew Guenthner, Jake Hunt, Kathryn Konicek, Chris Manning, Michael McDaniel, Joe Pearce, Lincoln Proud, Preston Schwab, Jeremiah Silvey, John Stach and Shane Underwood. Forrest Michnevich and Nate Olsen also play for the Glaciers but were injured for this final weekend. The team was coached by Craig Sheppard, Larry Proud and TJ Hunt.

The tournament was a great success with 17 hockey games being played between 3:30 Friday afternoon and 4:30 Sunday afternoon. Many thanks go out to the hockey board and all the volunteers that made this weekend such a huge success. Who would have ever thought that Pinedale would be hosting a tournament of this magnitude? Pinedale hockey in the early days started on a pond one Sunday afternoon behind Samulskiís house.
---------------------------------------------
Photos by Dawn Ballou and Clint Gilchrist, Pinedale Online!
---------------------------------------------
Special Thank You to these sponsors:
EnCana Provided t-shirts to each participant.
Shell Rocky Mountain Provided t-shirts to each participant.
EOG Resources Provided patches for each participant.
Opsco Energy Provided trophies for each participant plus 2nd and 3rd place team trophies.
KS Industries Provided pucks for each participant.
Coca-Cola Bottling Company Provided bottled water and Powerade for each participant.
Talking T-Shirt Provided t-shirts, patches, championship bags and pucks.
Pinedale EMS Provided medical service.
Proactive Rehabilitation Provided medical service.
Pinedale Roundup Design of State Championship programs.

Bag Tags & Championship Bags: Rocky Mountain Hockey, Pinedale Wolfe Dodge, Lake Country Builders, Callaghan Cabinets & Millwork Inc.






Related Links