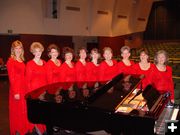 Sweet Harmony

Local group, Sweet Harmony, will give two holiday concerts, on December 1 and 3.

Sweet Harmony Christmas Concert Dec 1 & 3
Admission by donation to the Food Basket
November 15, 2005
(Pinedale) Sweet Harmony, a local performing group of nine women, will once again ring in the holiday spirit with their holiday concert, "How Can I Keep From Singing".

"This year we wanted to share with the community the gel that has kept this group together for so long," said JJ Huntley, this year's show organizer, "and that is the music."

Every other year, for the past 18 years, Sweet Harmony has given Sublette County delightful, elaborate holiday concerts while supporting one of the true meanings of Christmas...giving. There is no admission charge other than a donation at the door for the Pinedale Food Basket. This includes canned and packaged foods, laundry products, personal hygiene products, or plain old cash!

The concert will be fun, family entertainment full of song and dance to ring in the holiday season. Sweet Harmony invites everyone to join Melissa Bernard, Sue Briggs, Chris Cramer, Sue Holz, Julie (JJ) Huntley, Julie Konicek, Marianne Mrak, Nancy Stevens and Sharron Ziegler for a night of music, dance and visual delights to kick off the Christmas season and see why they keep on singing!

Performances will be at 7 pm at the Pinedale Auditorium on Thursday, December 1 and Saturday, December 3.