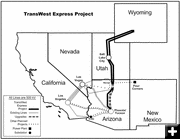 TransWest Powerline Project

The proposed 600-mile new twin power lines would run from Wyoming, through Utah into Arizona. Arizona Public Service Company graphic.

New power line proposed between Wyoming and Arizona
November 29, 2005
The Arizona Public Service Company (APS) is proposing building two 500,000 volt (500 KV) transmission lines from Wyoming to northern Arizona.

The project, dubbed the TransWest Express Project, would provide Arizona and other western states increased capability to access electricity generated from wind, coal and other resources to strengthen the western power grid.

The project proposal still needs to undergo a feasibility study, permitting, approvals and construction phases before being in completed. The 600-mile, $3 billion dollar project is expected to have an in-service date of around 2013.