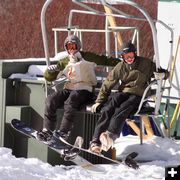 Ski area is open!

White Pine Ski Area is open for snowboarding and skiing for the 2005-2006 season.

Happy Snowboarders
November 30, 2005
Happy snowboarders ride the lift at White Pine ski area on Wednesday. The ski area opened last week, on Thanksgiving, for the 2005-2006 season, and is just 10 miles from Pinedale. "We had a great opening weekend," said General Manager Stuart Thompson. "The snow is great!" White Pine is open 7 days a week, with lifts running from 9 am to 4 pm. More snow is expected from a series of winter storms headed our way over the next week. For more info on downhill skiing and snowboarding at White Pine, visit their website: www.whitepineski.com

Photo by Clint Gilchrist, Pinedale Online!