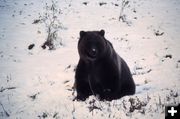 Grizzly Bear

The US Fish & Wildlife Service announced they will propose delisting for the Yellowstone population of grizzly bears from the Threatened & Endangered Species list. Grizzly bears have been encountered as close as ten miles from Pinedale in recent years. National Park Service photo.

Feds propose delisting Grizzly Bear
Says bears have recovered and no longer needs protection
November 16, 2005
On Tuesday, November 15th, the U.S. Fish and Wildlife Service (USFWS) announced they will be proposing to remove the Yellowstone population of grizzly bears from the list of threatened and endangered species list. Interior Secretary Gale Norton said that the greater Yellowstone population of grizzly bears has recovered and no longer needs the protection of the Endangered Species Act.

Grizzly bears in the Yellowstone area have recovered well in the past three decades. When the species was listed, only 220 to 320 bears remained in the ecosystem, and these animals were jeopardized by loss of habitat and high mortality from conflict with humans. Since the mid 1990s, the Yellowstone population has grown at a rate of 4 percent to 7 percent per year. Grizzlies have occupied 48 percent more habitat since they were listed, and biologists have sighted bears more than 60 miles from what was once thought to be the outer limits of their range.

Four other grizzly populations in the lower 48 states have not yet recovered and will continue to be protected as threatened species under the Act.

The proposal to delist the Yellowstone population of grizzly bears will be published in the Federal Register on Thursday, November 17. The public can submit comments on the proposal to: Grizzly Bear Recovery Coordinator, U.S. Fish and Wildlife Service, University Hall 309, University of Montana, Missoula, Montana 59812. Comments can also be sent by electronic mail to FW6_grizzly_yellowstone@fws.gov. All comments must be received by February 15, 2006.

The earliest the bear would be delisted is fall-winter of 2006. It is expected that there will be legal challenges to the proposed delisting.

Wyoming Governor Dave Freudenthal made the following statement on Tuesday regarding the announcement, "The grizzly bear is at a crossroads in Wyoming. Today's draft de-listing rule is a good start at defining a positive course for the future of the bear. If the draft rule becomes final and the bear is de-listed, I sense that the fear and hostility that is currently building in Wyoming will ease, leading to not only a better day for those who live with the bear, but also for the bear itself. However, if the de-listing rule is challenged or is otherwise derailed, I am afraid that the presently intensifying rate of bear-human conflict will only escalate, leading to more fear, more hostility and, in the end, more bear and potentially human mortality - a course which is nothing but counterproductive."