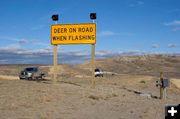 Wildlife Warning Signs

New wildlife warning signs are now operational on US Hwy 191 near Trapper's Point, west of Pinedale.

Wildlife warning flashers now operational
System to help limit the number of wildlife crashes at Trapper's Point
October 24, 2005
A project to help mitigate vehicle-wildlife collisions is complete as the Trapper's Point wildlife detection system on US Highway 191 near Pinedale is operating, according to the Wyoming Department of Transportation. The system went online this last week. The $898,000 project consists of two types of sensors, both motion and presence, which will activate signs warning motorists of animals in the area.

Resident Engineer Bob Maxam was out at the site at 4:30 am to check the system. He was able to see the system work as wildlife crossed the highway and activated the signs. "It's experimental, really. We're out there on the leading edge," said Maxam. "It's never been done before."

The two-mile project just west of Pinedale includes the latest technology to detect wildlife on the highway and alert motorists to help minimize vehicle-wildlife collisions in a major wildlife migration route. Trapper's Point is located about seven miles west of Pinedale where US 191 and WYO 352 intersect. It is estimated that 3,000 mule deer and 2,000 antelope migrate through this "bottleneck.".

"We're really pleased we could coordinate with WYDOT and experiment with this new technology. The timing for its completion is good since the deer are really starting to move here recently," said Bernie Holz, Jackson/Pinedale Regional Wildlife Supervisor.

Six "Deer on Road When Flashing" signs have been placed throughout the project area to alert motorists of animals in the area. The signs are broken down into six zones. Once the system is activated, only the sign in that zone will come on. Not all signs will be activated at the same time. Once the signs are activated by the sensors, they will begin flashing, indicating to motorists animals are in the area.

In addition, a camera with a digital video recorder (DVR) has been installed to essentially provide a checks and balances system. The camera and DVR will come on whenever the system is activated to let WYDOT see how well the system is working.

The latest data compiled by WYDOT showed that between 1984 and 2003, US 191 in the Pinedale area had the most vehicle-wildlife collisions in the state. From milepost 84 to 114, which includes Trapper's Point, there were 390 crashes. This is equal to about 13 crashes per mile, the highest collisions in the state.