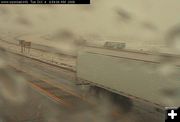 I-80 Cam

WYDOT Interstate 80 webcam near Evanston, Wyoming

WY Road Condition Reports start again
October 3, 2005
With the cold weather season just around the corner, the Wyoming Department of Transportation (WYDOT) has reactivated their winter road condition reporting system which allows travelers to check on road conditions before beginning their trip. Road reports are posted on recorded phone messages and on WYDOT's website.

Regular road reporting began on October 1 and will continue through next April. The reports are filed every two hours or sooner as conditions warrant, based on observations by snowplow operators, maintenance foremen and other field personnel.

The Wyoming Road Report can be accessed online via the web at http://wyoroad.info or by telephone (within Wyoming) at 1-888-WYO-ROAD (1-888-996-7623). Out-of-state callers can dial 307-772-0824 to hear the report.

Information for the report details weather and road conditions and is gathered from personnel based at 54 locations around the state. Additional detail comes from 28 remote weather stations and 25 web cameras.

The telephone version of the Road and Travel report has been operational since the early 1970's and in recent years has handled nearly one million calls annually. The internet version provides both text reports and graphic displays for motorists planning to travel
during the winter season.

Information derived from the Wyoming Road Report is also broadcast by many Wyoming radio stations on a frequent basis. Motorists are reminded to refrain from calling WYDOT or Highway Patrol offices for Road Report information. Receptionists who answer those lines may not have updated reports at hand and usually will refer
callers to Road Report numbers.

The process of reporting conditions for the report begins with first-hand observations made by WYDOT maintenance personnel. Beginning around 6 a.m. and continuing every two hours (or more often during inclement weather), field personnel report conditions to WYDOT's district offices. There, information is entered into WYDOT's computer
system, which automatically updates the telephone portion of the Road Report. Updated information is then instantaneously posted on the web page. The entire process can be completed within minutes. WYDOT also tries to post news of road closings and openings to the Road Report as quickly as possible.