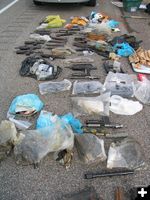 Illegal Weapons Seized

Weapons and parts seized during Friday's Wyoming Highway Patrol traffic stop of a Tennessee man Friday on I-80 east of Cheyenne. WHP courtesy photo.


WHP seasons carload of illegal weapons & parts
Traffic stop on I-80 nets automatic weapons & parts
by Wyoming Highway Patrol
October 24, 2005

On Friday, October 21, Wyoming Highway Patrol officers seized a carload of illegal weapons and parts during a traffic stop on I-80 near Cheyenne.

Peter D. McKnight, a 40-year-old Franklin, Tennessee resident, was stopped for a traffic violation at 12:45 p.m., in his 1998 Buick Riviera, ten miles east of Cheyenne, Wyoming, on Interstate 80. Authorities believe McKnight was traveling from Coeur d'Alene, Idaho, to Franklin, Tennessee.

McKnight's trunk, back seat and right front passenger seat were full of packaging containing the weapons and weapon parts. Nine CZ submachine pistols, six MKII Sten receiver kits, three Vigneron M2 Submachine gun receivers, three parts kits with folding stocks, and one video instruction tape on converting AK-47 assault rifles to fully automatic weapons were seized.

Troopers called in assistance from the Federal Bureau of Alcohol, Tobacco and Firearms (ATF). Agents from the Cheyenne ATF office responded and are handling the follow-up investigation. Officials are testing and examining the weapons to determine their ability to fire in the fully automatic mode. Federal firearms regulations prohibit the possession of such weapons without permits.

At this time, there is no indication McKnight possesses the necessary authority. McKnight surrendered the weapons to ATF agents. He was released pending further investigation. Charges may be filed after the status of the weapons is determined.