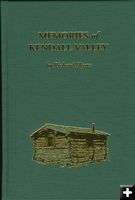 New Kendall Book

Memories of Kendall Valley, originally published in 1982, is the story of Richard Hecox's life in the Upper Green River Valley in the early 1900s.

Memories of Kendall Valley reprinted
October 4, 2005
The Sublette County Historical Society and Museum of the Mountain Man are pleased to announce the presentation of their second publication, "Memories of Kendall Valley" by Richard Hecox. The updated revision was made possible by a grant from the Gayle McMurry Kinnison Donor Advised Endowment of the Wyoming Community Foundation.

Richard Hecox was born in Mountain View, Wyoming in 1912 and moved to the Kendall Valley and Upper Green with his parents and brother when he was a small infant.

His parents filed on a piece of land west of the Green River and built a cabin. Winters were long and hard. Neighbors lived as far away as five miles, and there was no communication or mail from November to June.

Richard, his two brothers and three sisters lived a pioneer existence, full of stories and adventures of the early settlers in that valley. The book is a recollection of Mr. Hecox's life and family, which he originally had published in 1982.

Mr. Hecox's granddaughter, Disney Krause Brunette, wrote this preface in the updated version, "Having grown up in Kendall Valley, and being named after my Grandpa Richard, it has always been my hope and dream to republish his book."

In 2004, this became a reality when the Sublette County Historical Society obtained a grant to do so. "Grandpa's hope was that it would be enjoyed by generations of family and those who have lived in the valley. I dedicate this book to him, in loving memory," said Brunette.

The layout and design for the book reprinting was done by Sue Sommers of WRWS Design in Office Outlet in Pinedale (WRWS Design is a division of Wind River Web Services LLC, owners of this Pinedale Online website.)

The book will be available for sale at the Trading Post on the Museum's website on Friday. Price is $24.95, plus shipping and handling.