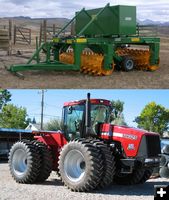 New Equipment

New aerator and tractor, donated by EnCana and BP, are available for the public to use for projects that benefit wildlife. WGF courtesy photo.


Encana and BP donate equipment for wildlife
Public reception and free lunch Oct 14 in Pinedale
by Wyoming Game & Fish Department
October 11, 2005

Thanks to a generous donation from BP and EnCana, landowners and public land managers looking to improve their rangeland will now have access to the range improvement equipment necessary to do so. The general public, particularly those interested in improving their range for wildlife and livestock, are encouraged to attend the unveiling of a new Lawson aerator and 325hp Case tractor being made available for public use through the Wyoming Game and Fish Department. The event will be held Friday, Oct. 14, from 11:30 am to 2 pm at the Amerihost Hotel in Pinedale. A free lunch will be provided.

The equipment is being donated to the Game and Fish to make habitat improvements for sage-grouse and other wildlife, but it will also be available for use on private lands as well. Officials from the Game and Fish, BP and EnCana will be on hand to discuss how the equipment works and what it can do to improve the range for both wildlife and livestock. Details of how landowners can access the equipment will be discussed at Friday's event.

"Were very excited to put this equipment to use," said Scot Kofron, Habitat and Access Assistant Branch Chief for the Wyoming Game and Fish Department. "We have seen the increased plant diversity and production from the Lawson Aerator. Of course, our primary objective is to improve habitat for sage-grouse and other wildlife, but as is often the case, it can improve forage for livestock as well."

"EnCana is thrilled to donate this equipment to the Game & Fish for use in Sublette County and around the state," said Cally McKee, Regulatory Analyst for EnCana. "We hope to see great projects being done on the ground for the benefit of wildlife, and livestock."

Marti Gazzier, Rockies public affairs director for BP stated, "The aerator and other types or equipment used by the Wyoming Game and Fish address the need to improve sage-grouse habitats and population numbers. Our contribution towards the aerator further displays our commitment to the environment surrounding our operations and in the region."

The Wyoming Game and Fish Department has other implements available to landowners wishing to make habitat improvements to their land for wildlife. All this information and more will be discussed at Friday's event.