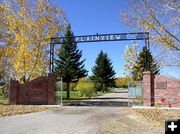 Plainview Cemetery

Plainview Cemetery overlooks South Piney Creek, southwest of Big Piney.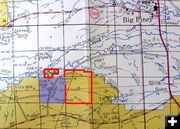 Lease area map

Map showing sections offered for lease by the BLM near the Plainview Cemetery.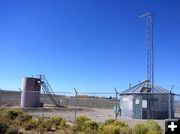 Nearby Questar Well

This Questar well is already located in the lease area, within 1/4 mile of the cemetery and next to private residences.

Mineral lease next to Plainview Cemetery
880 acres in Sublette County to be offered in October 4 Oil and Gas lease sale in Cheyenne
September 28, 2005
The Bureau of Land Management (BLM) will be offering oil and gas leases on over 137,000 acres of federal land in Wyoming at the next Federal Oil and Gas Sale scheduled for Tuesday, October 4th in Cheyenne.

One of the 188 parcels being auctioned in October includes 880 acres located on three sections that are adjacent to Plainview Cemetery near Big Piney and within ¼ mile of rural residences. The three sections offered near Big Piney are in T29N, R112W Sections 9, 10 and 15. The site is one mile from Middle Piney Creek and approximately four miles southwest of the town of Big Piney. This parcel is the only lease being offered in Sublette County in this sale.

There are already a number of oil and gas leases in both BLM and state-owned land sections surrounding the Plainview Cemetery. Drilling has been occuring on adjacent parcels for many years.

According to the BLM, oil and gas production in Wyoming contributes to meeting local and regional energy needs. Oil and gas operations on BLM-administered public lands and federal mineral estate in Wyoming produced 33,345,702 barrels of oil and 911,199,107 thousand cubic feet of gas in 2003. Half of the royalty payments were disbursed to the State of Wyoming. About 64 percent of the homes in Wyoming are heated with natural gas.

Leases are for a primary term of ten years, and will be continued as long thereafter as oil or gas is produced in paying quantities. Leases are being offered in 17 counties in Wyoming, Sweetwater County has the most land being offered for leases, over 46,500 acres.

Copies of the Notice of Sale for the October 4 auction are available on the BLM website in the form of a printable PDF at Notice of Competitive Oil and Gas Lease Sale (The Sublette County parcel is on pages 90 & 91. This is a 106-page document, 1034K file size). The Notice of Sale includes information for anyone who wishes to protest any of the lands being offered in the notice of lease.

The document contains a complete list of the parcels, conditions of the sale and lease stipulations. Copies will be available at the sale, and can be purchased for $5 from the State Office at 5353 Yellowstone Road in Cheyenne, or by writing: BLM, Attn: Copy Work, P.O. Box 1828, Cheyenne, Wyo. 82003. Copies are also available for purchase from each BLM field office in Wyoming.

The next four competitive oil and gas lease auctions in Wyoming are scheduled for December 6, 2005, and February 7, April 4 and June 6, 2006.

Photos by Dawn Ballou, BigPiney.com