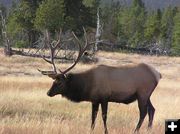 Wyoming Elk

Ease of finding elk will likely depend on if early snows push them down from the high country.

Hunting Outlook for 2005
Elk, deer, moose, bighorn sheep, antelope, birds
August 23, 2005
According to the Wyoming Game & Fish Department, "Improved moisture equates to improved hunting for several Cowboy State species. Although some of that improvement will be more manifest in a year or two, the 2005 hunting forecast sounds better than sitting in the office."

Here is a breakdown on the outlook by species:
Antelope: Favorable statewide
In Wyoming, hunters enjoy a 85+% average hunting success rate for antelope. Success rate for 2004 was 96% for antelope with a 3.1 days per harvest. Fawn survival rate was good for 2004 so populations are up in most areas. More yearling bucks should translate to an increase in nice bucks in 2007 and 2008. Generous spring moisture should contribute to better-than-average horn growth and healthy fat reserves on the nearly 500,000 pronghorn roaming Wyoming this fall. As in past years, doe/fawn licenses are available in many hunt areas at local license agents. Call the Wyoming G&F at (307) 777-4600 for more information on leftover license availability.

Mule Deer: Improving, but still a challenge
Most of the state had a fairly mild winter and improved spring moisture which is translating into increased fawn production and survival, and improved antler growth. Hunters should see an increase in yearling bucks. Habitat is also improving with the increased moisture and there is shrub growth for the first time in several years. It will take several years for shrubs to recover, but it is a good sign. In contrast to the rest of Wyoming, the Cokeville, Kemmerer and LaBarge part of the state experienced a tough winter last year. Hence, hunters should expect tougher hunting in that region and not expect the increase in yearling deer much of the rest of Wyoming may witness. Last year, mule deer hunters tallied a 58% hunter success, 52% for residents and 67% for nonresidents. Nonresidents typically register higher hunter success because they generally devote more time to the hunt, and are more likely to hire an outfitter or pay for private land access.

Elk: At least as good as last year, depends on snow
The elk population is still good – but overall elk success is still related to the weather. The series of relatively dry, snow-free falls has hindered mountain elk hunting. Snow helps bring elk to the elevation of hunters, plus makes the wily animals more visible. Wyoming's 41% elk harvest success of 2004 tops the Rocky Mountain Region, but could raise several points with October snows. Residents tallied 39 percent and nonresidents 48 percent. Wyoming G&F biologists expect hunting to be at least as good as last year.

Moose: Fewer animals, but good hunter success rate, if you draw
Moose licenses continue to be trimmed due to declining populations in western Wyoming. Hunter success continues to be relatively good, but hunters who drew licenses should expect to put out more effort to find animals. Extreme southwest Wyoming, the Snowy Range in southeast Wyoming and the Bighorn Mountains stand out as the best areas.

Bighorn Sheep: Still a challenging hunt
In the core bighorn sheep hunting areas 1-5 bordering the east and southeast sides of Yellowstone National Park, hunting is expected to be very good. Hunters will probably have to work harder in the other hunt areas. Biologists hope for better lamb recruitment in the Dubois area to help that herd climb back to the reputation it once had for sheep hunting. Same for the Gros Ventre area northeast of Jackson where the herd suffered a pneumonia outbreak during the 2002-03 winter.

Sage Grouse: One of the best seasons in several years
You have to wonder about all the doomsday hoopla implying sage grouse are on the brink of extinction in Wyoming when there is still an annual hunting season for the species and the Game & Fish Department is saying, "Hunters should experience one of the best sage grouse seasons in several years." Biological data for sage grouse in Wyoming show an increase in sage grouse on breeding ground leks and a second year of good nesting and brood cover. Observations of sage grouse populations by G&F personnel, ranchers and recreationists across most of Wyoming have been showing good population reports. More modest increases were observed in northeast Wyoming and the Big Horn Basin.

Blue & Ruffed Grouse: Variable
Hatching success is often variable due to storms, but biologists hope for good mountain blue and ruffed grouse production in Wyoming.

Ducks: Fair to very favorable
Duck production looks very favorable in the western prairie provinces of Canada where most of the ducks that migrate through Wyoming are reared. Larry Roberts, the G&F's waterfowl biologist, said hunters should particularly see an increase in pintails in this fall's migration. Although he rates Wyoming's Canada goose production as only "fair" due to water availability in early spring, he adds that it looks like arctic nesting geese had good production.