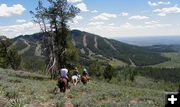 White Pine Resort

Scenic chairlift rides, mountain biking skihill trails and horseback riding.


Things to do in and around Pinedale
by Dawn Ballou
July 6, 2005

As if there isn't enough going on during Green River Rendezvous, we get asked what else is there to do when people get into town? There are many, many fun and interesting things to do and places to go. Here are some recommendations for "Must Do" things to see and do for those coming to Pinedale.

Things to See:
Museum of the Mountain Man This absolutely is top on our list of recommended places to see. If you have time for nothing else, make this wonderful Museum high priority!
Skyline Drive This 17-mile drive (one way) on paved road takes you up to Elkhart Park and an incredible view of the rugged Wind River Mountain skyline. Follow the Fremont Lake Road right from Pinedale. You'll pass by Fremont and Half Moon Lakes and White Pine Ski Resort along the way. Bring your camera! Besides the scenic views, you're almost guaranteed to see wildlife along the way. Forest Service campground with restrooms at the end on top.
Fremont Lake This is Wyoming's 2nd largest natural lake, located just 4 miles from Pinedale. It is 12 miles long, 1 mile wide and about 600 feet deep. Thousands of years ago glaciers left moraines that dammed up the end and sides, blocking Pine Creek and creating the lake. What's really cool is that it is mostly on Bridger-Teton National Forest land, meaning the shorelines are almost completely undeveloped, making it a recreational dream come true. No condos cluttering up the lakeshore. There are two public boat ramps and one Forest Service Campground along its shores. Lakeside Lodge Resort and Marina, the only commercial business on the lake, has an excellent restaurant with an awesome view of the lake. They also have cabins, boat rentals and an RV park on the lakeshore.

Things to Do:
Rendezvous Meadows Golf Course 18-hole designed 9 hole golf course for those who want to get some golfing in while they are here. Located on the west end of Pinedale. Club and cart rentals available. Beautiful view of the Wind River Mountains!
Scenic Chairlift Rides at White Pine Ski Resort White Pine Resort is in their summer season now. Located about 10 miles from Pinedale on Skyline Drive, the chairlift rides run Friday, Saturday and Sunday evenings. Views of 5 mountain ranges along the way! On weekends, mountain bike rentals available to run the challenging trails down the mountain!
Sunset Dinner Cruise on the Wind River Queen Sternwheeler on Half Moon Lake All aboard the elegant Wind River Queen for romantic dining and beautiful views cruising scenic Half Moon Lake. Advanced reservations required by calling Half Moon Lake Resort. They also have a wonderful resort, cabins and offer many activities.
Have a beer at Bottoms Up Brewery Pinedale's own micro-brewery with many local brews! Stop by for the best local beer around and take in a tour of the brewery!
Movies & Bowling Looking for more to do after the day's events are done? The Pinedale Entertainment Center has two state-of-the-art stadium seating movie theaters, an 8 lane bowling alley and arcade. Walking distance from the big motels. Great place to keep the kids busy!
Shop downtown! Be sure to stop by the Cowboy Shop for authentic cowboy hats, boots and western clothing, what the local "real working cowboys" wear. Wonderful gift items too. Spirits of the West has wonderful Native American and western collectibles and gifts. The Great Outdoor Shop is the place to go to outfit for your outdoor adventure and get good advice on where to hike in the mountains. Two Rivers Emporium is the local Orvis fly fishing shop with a great little coffee corner in the store too (John Ross writes our fly fishing hatch report we post online during the summer.)
Have a cup of coffee at the Wrangler Café For those of you who are addicted to looking at the Pinedale Entertainment Center webcam online everyday, you can't leave Pinedale without having stopped for at least one meal at the Wrangler Café, the little home-town diner you see in the webcam view! This is a favorite local spot for early morning coffee with friends and catching up on the daily gossip and local happenings. We have many fine restaurants in Pinedale, but if you're a Pinedale Online webcam addict, let the folks at the Wrangler Café know you see them online on the webcam. Then when you're back home checking out webcam view again, you'll be able to reminisce and almost smell the coffee.

Well, we can't mention everyone, so we just have to say everywhere is a good place to go, stay and eat and shop around Pinedale! We highly recommend them all! For a complete listing of the services offered locally, see our Business Directory here on Pinedale Online. These listings link to people's websites where you'll find a lot more information about local services.

Welcome to Pinedale and please write us an e-mail and tell us about the fun you had while you were here, and what you saw and did!