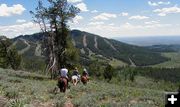 Horseback riding at White Pine

Kids can go horseback riding, fishing, trail biking, day hikes, crafts and more during Summer Day Camp at White Pine Resort.

Kidís Summer Day Camp at White Pine
June 6 Ė August 26
May 22, 2005
Calling all kids! Wondering what you can do this summer for fun when school is out? White Pine Resort is offering their Kidís Summer Day Camp during the week starting Monday, June 6th. Kids from 4th grade to 8th grade can spend their days horseback riding, trail biking, fishing, going on day hikes, doing crafts and much more! Activities run Monday through Friday from 8 am to 4 pm. White Pine will provide transportation, lunch and snacks. Cost is $125/week. You can register for any one or all twelve weeks. Contact White Pine Resort for more information, 367-6606 extension 3 or 6, www.whitepineski.com.