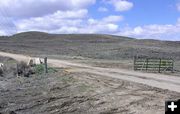 Mesa road open

The gate on the Mesa road (Tyler Ave extension) is unlocked and open now.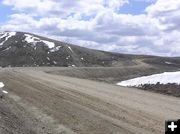 Mesa road

Main road is mostly dry. Road edges are soft. Open sagebrush areas are still soft, wet and some areas still have snow.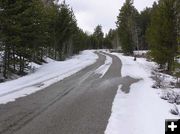 Skyline Drive

As of Sunday, May 1st, hit snow about a mile past the White Pine turn off.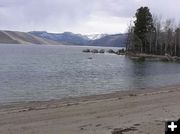 Fremont Lake

Sandy Beach area at lower end of Fremont Lake has open water.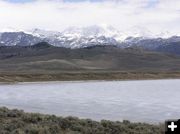 Soda Lake

Soda Lake still has ice as of May 1st, but the edges are melting off.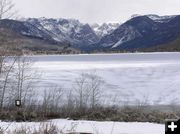 New Fork Lake

Lower New Fork Lake has ice. People are doing some boating on the upper lake.


Current conditions around Pinedale
May 1st scouting drive around the area
by Dawn Ballou
May 3, 2005

For those wondering about current conditions around Pinedale, we took a scouting trip to check out several areas people have written in asking about lately. While Memorial Day weekend at the end of May is the traditional kick-off for the tourist season here, May 1st is also an important date. Thatís when the Museum of the Mountain Man opens for the season, restrictions on roads and wildlife areas are lifted, and many areas open up enough to get outside to ward off the cabin fever from winter.

The valley has opened up, but there is still snow in the surrounding mountains. For those who want to do some very late season snowmobiling or donít mind a good hike to get into snow for cross country skiing, there are still places to go. We have the best of winter and spring right now, depending on where you go and what you want to do. Even though the ski area is closed now, those of you in good physical condition who havenít had enough winter yet, and donít mind snowmobiling/snowshoeing in and climbing up mountains, can still find snow for your self-guided back-country ski thrills.

For those who just want to do a relaxed day drive on our back roads to get out of the house and see pretty country and wildlife, there are many places to go now in the valley. In another three or four weeks the wildflowers will start to bloom and more back roads will dry out and be accessible. Most of the remote guest ranches and lodges will officially open the end of this month on Memorial Day weekend, but you can call or e-mail now to make reservations.

For anyone planning for a summer trip for Rendezvous Days (second weekend in July), or the peak July/August months, we strongly recommend making your lodging reservations right now. A lot of rooms are taken up by oil and gas field workers, and things fill up quickly here during the summer

We checked out the Mesa, Skyline Drive, Fremont & Half Moon Lakes, Soda Lake, New Fork and Green River Lakes. Hereís a summary of each of those areas:

Mesa
BLM restrictions for the road and off-road travel lifted May 1st. The BLM put up a locked gate to the Mesa from the Pinedale side from Tyler Ave access. That gate is now open. The roads are mostly dry (gravel and dirt). Still some snow on the sides. The road edges are still very soft, so stay on the firm part and be careful where you pull off on the road edge to make sure you donít sink in mud and get stuck. Technically the Mesa is now open to off-road travel for ORVs and ATVs. There are still a lot of wet areas out there where a vehicle can create a mess of deep ruts or get stuck, so be careful where you go. These roads are getting a lot of use by the oil & gas industry folks. Expect to encounter a lot of traffic from pickups and large semis. These are not the quiet back roads they used to be. If you leave your vehicle unattended here to go check something out, be sure your rig is parked well off the road and out of the way.

Skyline Drive
This road is clear and open to about a mile past White Pine Ski Area. After that there is snow on the road, although people have obviously tried to push their way through. We didnít go up past that to check up how far people have plowed up through the snow drifts. The Forest Service prefers people stay off that road until it opens up to avoid accidents and damage to the road. This is paved road all the way to the top (17 miles one way), and an incredibly scenic drive. There is lots of wildlife to be seen along this drive between the Fremont Lake overlook and White Pine. Grass is greening up, but still no sign of the balsam root which will bloom in another month and a half. No leaves on any bushes or trees yet. The views of Fremont and Half Moon Lake are spectacular.

Fremont and Half Moon Lakes
Fremont is breaking up. The lower end has free water. The upper end is still frozen over but breaking apart rapidly. The view of the breakup from Skyline Drive overlooks is pretty neat. Roads around the lower end of Fremont are bare and dry in the open areas. Lakeside Lodge restaurant (www.lakesidelodge.com) is now open for dinner. Their cabins and RV park are also open-call for reservations. We didnít go into the Forest Service campground or summer homes area to check if those are drivable, but typically there are still good size snow banks once you get into those treed and shady areas. A 4-wheel drive high clearance pickup might get through, but a sedan will likely get stuck. The closest campsites to the entrance are probably accessible though. We got 5 inches of new snow last week and need some more days of 50-60 degree weather to clear out those shady areas. Half Moon is also starting to break up. There is some free water on the end by the summer homes. The road into Half Moon is dry (gravel/dirt). Half Moon Resort (www.halfmoonlake.com) is finishing up their remodel project and still on track to open up Memorial Day weekend, according to latest reports. Call them for advance reservations for their summer season, restaurant or to reserve dinner on the paddlewheeler this summer. If no one answers, leave a message on the answering machine. They are still closed, but do check messages and someone will call back. You can also e-mail them.

Museum of the Mountain Man
While enjoying the Skyline Drive outing, be sure to stop by the Museum of the Mountain Man along the way. They opened up May 1st for the summer season. They are open 7 days a week from 9 am until 5 pm. Admission is only $5 for adults, $4 for senior citizens, $3 children. They have wonderful displays on the fur trade era, mountain men, Native Americans and Sublette County history. (www.museumofthemountainman.com)

Soda Lake
This popular lake is only a few minutes drive from Pinedale. Fishing wonít open up officially until May 10th. This lake is right next to an elk feed ground and the road is gated and locked until May 1st. The gate is now open and the road is dry and in good shape getting in (gravel and dirt). As of Sunday, the lake still had a skin of ice on it, but the edges are melting off. If we get more warm days, it will lose this ice fast. The side roads are dry and good for taking out the ATVs and motorcycles here. This is open sagebrush terrain with lots of room to explore. The Game & Fish horses are out free-ranging by the elk feed ground. These massive work horses are always a treat to see. For the latest info on fishing conditions and what the fish are biting on, check with the Great Outdoor Shop (www.greatoutdoorshop.com) or Two Rivers Emporium (www.2rivers.net) in Pinedale.

New Fork Lake
The road is mostly dry getting in and the elk gate is open at the forest boundary. The lower end of the lake still has ice. We didnít drive all the way up into the campground because time was running short that day. But we have reports that people have been boating on the upper part and we passed someone going in with a drift boat, so the ice is apparently partly off near the boat ramp. There is snow on the side of the road going in, and the two tracks going off the main road still have snow, not ready yet for 4-wheeling. No leaves on any of the trees or bushes yet. Chilly up there, too, due to the elevation gain and proximity to the mountains.

Green River Lakes
The paved road is bare and dry to the forest boundary parking lot. The dirt road looks dry from the parking area, but the Forest Service has signed the road closed for now to keep people off it. Typically this road can get pretty muddy in spots this time of year while it is thawing out. Weíve seen it get pretty rutted when people try to drive up to see how far they can get to Green River Lakes and make a mess of certain sections of road. Give it a couple more weeks to dry out. The road closed sign will move back as areas dry out and access opens up for fishing along the river. Check with the Pinedale Ranger District office for the most current reports on this road, 307-367-4326. The Green River Guest Ranch/The Place, along the way, is closed until May 20th as they finish some remodeling and get ready for the summer season. You can still call or e-mail to make reservations now. They have cute guest cabins and offer horseback rides, fishing trips and extended back-country trips into the wilderness. They also offer 4-wheeler rentals (8 machines available) and close access to forest trails! (www.grguestranch.com)




Related Links