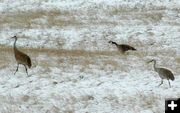 Cranes and Geese

Two sandhill cranes and a Canadian goose brave the winter blizzard that hit Friday afternoon. Photo by Clint Gilchrist, Pinedale Online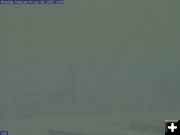 Sideways Snow

The big blizzard was captured by the Pinedale Entertainment Center web cam around 3 pm on Friday.

Spring Thaw/Winter Blizzard
April 8, 2005
Friday afternoon a classic spring Wyoming blizzard hit Pinedale. The day started out warm and sunny. That transitioned to clouds that brought rain, lightning and thunder. Around 3 pm, a 'welcome to Wyoming' spring blizzard hit dropping 3-4 inches of very wet snow on Pinedale. Strong gusty winds blew snow sideways, plastering windows and reducing visibility to near zero.

Despite the spring storm and snow, there are many signs of spring. Geese, sandhill cranes, bluebirds, killdeer and robins are returning. Green grass is starting to come up. Rancher's fields are full of new, playful calve. Buds are swelling on the willows, although we still haven't seen any green leaves on bushes or trees yet. Gophers and prairie dogs are scampering about and can be seen ducking for traffic driving over cattle guards.