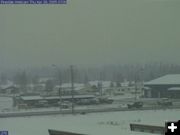 Spring Snow Storm

View of Pinedale from the Pinedale Entertainment Center webcam early Thursday morning. By 8 pm, much of this snow had already melted off.

Pinedale gets 4 inches of new snow
April 28, 2005
Pinedale woke up to about four inches of new snow Thursday morning with this latest storm, bringing back winter for a few more days. The storm hit worse further south near Rock Springs and caused portions of I-80 east to be closed part of the day due to drifting snow and lack of visibility. By evening, the interstate was reopened east of Rock Springs and the warmer daytime temperatures had melted a lot of the new snow. The eastern side of the state got between 2-5 inches of new snow, and records were set for Casper and Lander for daily snow totals.

The only road still closed by Thursday evening was a stretch of Hwy 191 south of Rock Springs to the Utah border. Roads around Pinedale and north to Bondurant are dry as of Thursday evening. Roads south towards Farson, LaBarge to Rock Springs are wet with snowfall and slippery in spots. Snow showers are expected to continue for the next couple of days, with snow turning to rain during the warm times of the day.

Current road report information for southwest Wyoming is available online on the Wyoming Department of Transportation website:
http://www.wyoroad.info/highway/conditions/Dist3.html

Storm snow totals from the National Weather Service in Riverton
Sublette County:
SNIDER BASIN SNOTEL, 2"
BONDURANT, 3"
PINEDALE, 4-5"
BIG PINEY, 3-4"
BOULDER, 4"
BIG SANDY OPENING SNOTEL, 8"
CORA, 8"
GUNSIGHT PASS SNOTEL, 9"

Other areas around Wyoming:
FARSON, 6"
ROCK SPRINGS, 6"
AFTON, 1"
FOSSIL BUTTE MONUMENT, 6"
KEMMERER, 5-8"
THERMOPOLIS, 1"
LANDER, 5.5"
RIVERTON, 3-5"
SOUTH PASS SNOTEL, 5"
DUBOIS, 8"
SINKS CANYON, 9"
CASPER, 6-9"