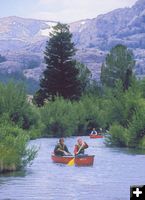 Youth Camp

Canoeing at Game & Fish Youth Camp. Photo courtesy Mark Gocke, WGFD.

Game and Fish Youth Camp deadline May 2
Free camp for kids age 15-18 near Dubois
April 15, 2005
The Wyoming Game & Fish Department is offering teenagers a camp where they will learn about wildlife and the outdoors, make new friends, and create plenty of good memories this summer. The Game and Fish Department's Annual Youth Conservation Camp is scheduled for July 31- August 5, 2005.

The camp is open to fifty Wyoming youth, ages 15-18 years. Participants will enjoy a week of outdoor studies, conservation ethics, shooting sports, fishing skills, hiking, canoeing, and campfire time. "We give the kids an opportunity to experience a variety of fun outdoor activities plus introduce them to some basic wildlife and habitat management practices," says Game and Fish Information Specialist Mark Gocke. "And it all takes place in beautiful and rugged Wind River Mountains for no charge."

Whiskey Mountain Wildlife Conservation Camp is located in the Wind River Mountains near Trail Lake, ten miles southeast of Dubois, Wyoming.

Gocke says the camp application process can be competitive, with only fifty slots being offered. There are some specific application rules so applicants should be sure to read all the material carefully before submitting an application. Students must live in Wyoming and be sponsored by a teacher or youth leader. Applications can be found at any Game and Fish regional office or on the Department's website at: http://gf.state.wy.us, or by calling the G&F Education Section office at (307) 777-4538. Applications must be in the Cheyenne Game and Fish office by 5 p.m. May 2, 2005.

Most equipment is provided. Each camper is required to provide his or her personal gear, including sleeping bag, hiking boots, rain gear, and cool-weather clothing.

The camper's day is full of activities with some free time built into the schedule for activities such as fishing, canoeing, and socializing," says Gocke. "The first part of the week introduces participants to basic fish and wildlife management principles, then the emphasis shifts to learning skills like shooting a shotgun, black powder and 22 rifles, archery, rappelling, hiking, canoeing, and more."

Campers also will learn to work as a team, being a member of a "color group" all week. "There is some time set aside for journaling and individual reflection," says Gocke, "but it's generally pretty busy throughout the week. If you like being active, working with other kids, and want to learn more about your natural/outdoor environment, this camp is for you."

Interested individuals in the Jackson/Pinedale region may also call Mark Gocke for more information at 1-800-423-4113.