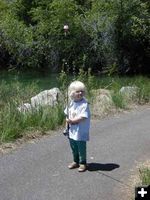 Kids Fishing Day

Kid's Fishing Day at the CCC Ponds will be held on Saturday, June 4th this year.

Free Fishing Day in Wyoming June 4
Non-residents won't need a license to fish that day
February 3, 2005
In 2003, the Wyoming Legislature approved the creation of an annual Wyoming Free Fishing Day, to be designated by the Wyoming Game and Fish Commission, as part of the National Fishing and Boating Week. This year, Free Fishing Day falls on Saturday, June 4, 2005, to coincide with the beginning of the National Fishing and Boating week. Residents and nonresidents may fish Wyoming waters (excluding Wind River Indian Reservation and Yellowstone National Park, which are not regulated by the State of Wyoming) without a fishing license or conservation stamp.

Pinedale will be holding our annual Kid's Fishing Day at the CCC Ponds in conjunction with Free Fishing Day. This is always a great opportunity for kids to get to fish with a family member or friend, learn how to fly cast or bait hooks, and get great educational material. The event is sponsored by the Wyoming Game & Fish Department, US Forest Service, Sublette County Conservation District, Bureau of Land Management, National Resources Conservation Service, RC & D Council, Town of Pinedale, Sublette County, Sublette County Recreation Board, Sublette County School District #1, and the Green River Chapter of Trout Unlimited.

If you are planning a family reunion or get-together in Pinedale for next June, add fishing to the June 5th festivities—nonresidents won't need to get a license!