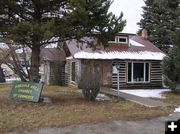 Sublette Chamber of Commerce

The Sublette Chamber of Commerce has moved from the A-frame hut next to the courthouse over to a larger building just around the corner, one block north on Tyler Avenue, across the street from the Cow Mural.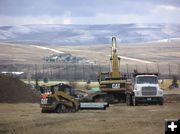 AmeriHost Motel

Lots of earthmoving going on the west end of town just north of the golf course where the new motel will be going in.


Pinedale Drift
by Dawn Ballou
October 29, 2004

Big sports weekend! Big Piney played Lyman today down in Piney Friday afternoon. Big Piney won 17-6. This means they move up to the state playoffs to be played on November 6th. Pinedale didn't make it to the playoffs, so the entire county is now rallying behind the Big Piney Punchers as they move on to state again this year. Way to go Big Red! To follow the Big Piney team, see www.bigpiney.com. Also, a big thanks to Bob Rule and KPIN 101.1 radio for doing live local broadcasts of our local school sports games!

Here in Pinedale, we're moving on into winter. Days are chilly and sometimes blustery. We get snow sprinkles, and then rain, and then the sun pokes out. Not much is sticking on the ground, but we know it won't be long before the white stuff stays permanently. White Pine Ski Resort currently has about 2 feet on the ground at the top of the Great Spirit lift. They are closed now while they get things ready for the ski season. Looks promising to perhaps open the week before Thanksgiving this year, depending on the weather. Snowmobilers are already enjoying the high country terrain in many places.

Big surprise this week to see activity going on over at the Pinedale Town Shop. There are people putting up trusses and hustling and bustling all around over there with trucks and lifts and activity. For those who don't appreciate this, the contract to do these buildings was let two years ago. Something happened between the contractor & town, not sure quite what the disagreement was. But anyway work came to a screeching halt with the buildings sitting there as shells with no walls, windows, doors or anything except just the insulation on the outside when things stopped. You know we live in a small town when something like this gets chatter going on in the stores, and probably over coffee at the Wrangler Café, "Hey! Did you see they have started work back on the Town Shop?! No??! Really!!" With the flurry of activity going on there this week, they could make great progress really quickly and maybe they will really get done and be real, usable buildings. That will make the Town happy, and Julie will get her new runs for the animal shelter!

The Best Western is to the point of putting siding on the outside on their new addition in behind the main building. The additional rooms in town are sorely needed. On the west end of town off Hwy 191, there are all kinds of big earth moving equipment and huge mountains of dirt appearing out by where the new AmeriHost motel will be going in. Over north of the hockey rink, workers are extending Wilson Street, which runs in front of the Entertainment Center (parallel to the highway) on west to connect up with Country Club Lane. Plans are also in the works to expand both the Pinedale and Big Piney/Marbleton medical clinics. Lots of changes going on in sleepy little Pinedale.

Hey you Utah snowmobilers, if you're planning on going to the SnoWest trade show in Salt Lake City over the weekend at the Convention Center, be sure to swing by and say hi to our Sublette County Tourism Directors, Kathy & Eric Sechrist, while you are there. They will be there with a booth and lots of great info on snowmobiling in our county.

I'll wrap this up by saying a big thank you to all of you who sent in the many great comments about what you like about Pinedale. Makes me want to go visit there, and I live here! Also, for the interesting comments about the lodging tax in our recent informal survey earlier this week. We really do enjoy hearing from you all! We're looking forward to seeing those of you who head our way for snowmobiling and skiing over the winter, and say a fond farewell to our SnowBirds who depart for warmer climates until things thaw out again in the spring. Special hello and happy birthday to a certain someone in Hawaii basking on the sunny beach right now! - Dawn Ballou, Editor, Pinedale Online!