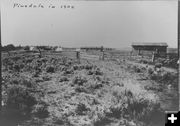 Pinedale in 1904

View looking north at what today is south Franklin Avenue, across Hwy 191, to North Franklin Avenue.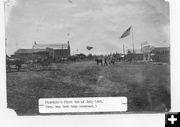 4th of July 1905

Pinedale's first 4th of July, 1905. Looking south on Franklin Avenue.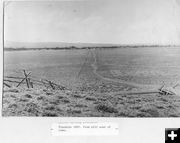 Pinedale 1907

Pinedale in 1907. View looking west from what is now the sledding hill on the east end of town.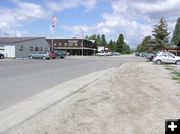 Historic District

South Franklin Avenue looking north across Hwy 191 to North Franklin Avenue.


Pinedale Centennial Sept. 25
Celebrating 100 years of our town's rich history
by Dawn Ballou
September 6, 2004

Pinedale is 100 years old! Officially platted on September 26, 1904, Pinedale began with the four blocks at the intersection of Franklin Avenue and Pine Street (Hwy 191). The first buildings were a newspaper (the Pinedale Roundup), general store (Franklin Mercantile), hotel (Pinedale Hotel), saloon (Fremont Saloon), school and community hall (Woodman Hall). The only original building (Pinedale Hotel) left from those first buildings is known today as McGregor's Pub on North Franklin Avenue.

The Town of Pinedale has designated the original four blocks as the Pinedale Historical District. The Sublette County Historic Preservation Board, a county-appointed board composed of local community members, will be dedicating the District during the Centennial Celebration and plaque dedication ceremony on Saturday, September 25th at 2 PM. The ceremony will be followed by a walking and wagon tour of the historic district. Local historian, Ann Noble, will be giving a lecture about the town's history at 5 PM at McGregor's Pub including free hors d'oeuvres and a no host bar.

The Sublette County Chamber of Commerce has planned many other fun events for Friday and Saturday to surround and compliment this historically significant day for Pinedale. Other events include the dedication of the newly-completed senior citizen center Rendezvous Pointe, the EnCana Half Marathon, 10K and 1 mile fun Walk/Runs by Fremont Lake, a chili cook-off, BBQ lunch, and parade of stores in Pinedale. Horse-drawn wagon rides will be available to take people from the BBQ lunch at American Legion Park over the several blocks to the Historic Dedication if they do not wish to walk on Saturday afternoon.

Saturday evening centennial lecture is being given by local historian, Ann Noble, who has extensively researched Pinedale history and is in the process of writing the Pinedale Centennial book, "Pinedale A Centennial History 1904-2004". The book is targeted to be available around Christmas. The 3-foot high, 2-foot wide Historic District plaque is being created by the Sublette County Historic Preservation Board. The plaque weighs approximately 150 lbs and cost about $3,000. The plaque will be installed at the corner of Franklin and Pine Street (Hwy 191) near the Cowboy Shop, the heart of the Historic District.

The Sublette Chamber of Commerce received $2,500 from the Town of Pinedale to help with the centennial celebration expenses. The Town of Pinedale is providing a mounting structure for the plaque and David Klaren of Dire Wolf Studio is facilitating the purchase of the historic plaque. The EnCana Half Marathon is being sponsored by a $10,000 gift from EnCana, one of the world's leading independent oil and gas companies and North America's largest independent natural gas producer, with operations in Sublette County. All marathon events are free due to EnCana's generous support. Participants will receive a long sleeve wind shirt, finishers' medals and post-race refreshments.

The historical events are being coordinated by the Sublette County Historic Preservation Board, members Clint Gilchrist, Museum of the Mountain Man Director Laurie Hartwig, local historian Ann Noble, Janet Montgomery, Paul Jensen and Delsa Allen. The Sublette County Historical Society/Museum of the Mountain Man is also assisting with the historical activities of the centennial celebration. The EnCana Half Marathon, 10K and 1 Mile fun Walk/Runs are being organized by Robyn Blackburn, 307-367-7433. The Pinedale community founder's day activities are being coordinated by Sublette County Chamber of Commerce Director Kathy Sechrist. For more information about specific events, please call the Chamber at 1-888-285-7282 or e-mail: sublettechamber@wyoming.com.

Centennial Celebration Schedule:

Friday, September 24:
* Noon-6 PM, Packet pickup for EnCana Half Marathon races
* 4 PM, Big Piney/Pinedale football game in Big Piney
* 6 PM, Grand Opening of Rendezvous Pointe, the new Pinedale Senior Center. Dinner, variety show, family dance with Valdez & Co. Tickets $15
* 8 PM, Dance, Rendezvous Pointe. Free.

Saturday, September 25:
* 8:30 AM - Noon (est), EnCana Half Marathon. Free.
* 9:30 AM, EnCana 10K. Free.
* 9:30 AM, Chili Cook-Off, American Legion Park
* 11:00 AM, EnCana 1 mile. Free.
* Noon-2 PM, BBQ Lunch and entertainment by George and Daniel Chicks, American Legion Park
* Noon, Chili Cook-Off judging begins
* 2-3 PM, Unveiling of Historic District Plaque, corner of Pine and Franklin, next to Cowboy Shop. Followed by riding/wagon tour of Historic District.
* 3-5 PM, Parade of stores, Historical Game*
5-6 PM, Pinedale A Centennial History Lecture by Ann Noble. McGregor's Pub, free hors d'oeuvres and no host bar.
* 7:30 PM, Centennial Gala at Rendezvous Pointe. Entertainment by Wyoming Red and Stampede, cowboy poetry by Andy and James Nelson, Pinedale High School melodrama, music and dancing.




Related Links