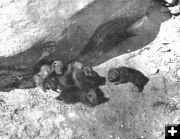 Wolf Pups, Big Piney, Wyoming

Nine wolf pups in front of a den near Big Piney, Wyoming in 1906.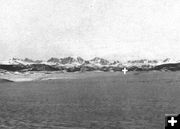 Cora, Wyoming Wolf Dens

White cross indicates location of two wolf dens in the foothills, 8 miles distant, near Cora, Wyoming in 1906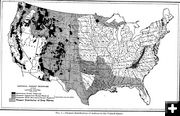 U.S. Wolf Distribution

Distribution of wolves in the United States in 1906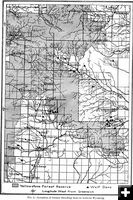 Wolf Dens in Wyoming

Location of twenty breeding wolf dens in western wyoming in the spring of 1906.


Wolves in the Upper Green - 1906
A Bit of History
by Clint Gilchrist
June 10, 2004

Wolves were virtually eradicated in Wyoming as well as most of the rest of the United States during the first half of the 1900s. Canadian Wolves were reintroduced into Yellowstone National Park and Idaho starting in 1996. In the past 8 years, their numbers and territory have expanded quickly. It is still not common to see a wolf in the Upper Green River Valley, but they are here. Sightings are becoming more frequent every year and they are having an impact on elk herds and livestock. They are a common topic of conversation and debate. One hundred years ago wolves were also a topic of conversation, but from a different perspective. Forest Service Bulletin (No.72) from 1906 titled "Wolves in relation to Stock, Game, and the National Forest Reserve" gives a snapshot on the views and impacts of wolves at the beginning of the last century. All though the bulletin covers wolf activity all over the United State, the author, Vernon Bailey, made a trip to the Upper Green River Valley in the spring of 1906 looking for wolves and much of the report focuses on the findings of that trip. It is a unique and interesting look at our history. Parts of the report of specific interest to our valley are quoted here.

Introduction
"The enormous losses suffered by stockmen on the western cattle ranges and the destruction of game on the forest reserve, game preserves and national parks through the depredation of wolves have led to special investigations by the Biological Survey, to ascertain the best methods for destroying these pests."

Distribution
"Wolves still occupy most of their original range, except where crowded out of the more thickly settled regions."
"Over thinly settled ranching country of Montana, Dakotas, Nebraska, Wyoming, Colorado, New Mexico and western Texas … wolves have held there own, and in favorable sections have increased since the destruction of their former prey, the buffalo, and the introduction of still greater numbers of domestic cattle."
"Wolves are not a product of the Forest Reserve. In talking with hunters, trappers, ranchmen, and forest rangers who have been much in the northern mountains in winter I have not found one who ever saw wolf tacks in the mountains during the breeding season or knew of a wolf den above the foothills. All agree that the wolves leave the mountains when the cattle come down in the fall, and return only when the cattle are driven into the mountains again in June, just as they originally followed migrations of buffalo."

Abundance of Wolves
"In the upper Green River Valley of Wyoming, between the Salt River and Wind River mountains, wolves were apparently just as numerous in March 1906, as on a previous trip I made through the valley thirteen years before. Fresh tracks were seen on the snow almost every day, usually of wolves in pairs, but in one case a band of 9. Between March 24 and April 21, 1906, four dens, consisting of 32 wolf pups, were found, with 2 old wolves at each den; and evidently there were two or three other dens in the valley. Forty old wolves or approximately one to a township, would seem a fair estimate of the number in this valley, while as far as could be learned, the number that had been killed over the same area during the previous fall, winter, and spring was but 16."

Destruction of Stock by Wolves
"The stock killed by wolves is mainly cattle. Calves and yearlings are generally selected, but if these are not available, cows, and even full grown steers are killed. They are usually attacked from behind and literally eaten alive…. Evidently, the wolves prefer freshly killed beef. In summer they rarely return for even a second meal on the same animal; but in winter… they often return to a carcass until its bones are picked"
"A considerable number of colts and a few grown horses are killed by wolves, but the number is insignificant compared with that of cattle."
"Herded sheep are rarely troubled by wolves, which are kept at a distance by the presence of herders and dogs."
"In the Green River Basin, Wyoming, on April 2, 1906, Mr. Charles Budd had 8 yearling calves and 4 colts killed in his pasture by wolves within six weeks. At Big Piney a number of cattle and a few horses had been killed around the settlement during the previous fall and winter. At Pinedale members of the local stockman's association counted 30 head of cattle killed in the valley around Cora and Pinedale in 1905, between April, when cattle were turned out on the range, and June 30, when they were driven to the mountains. In 1906 wolves were said to have come into the pastures near Cora and Pinedale and begun killing cattle in January on the 'feed grounds,' and Mr. George Glover counted up 22 head of cattle killed by them up to April 10. Just north of Cora Mr. Alexander, a well known ranchman, told me that wolves killed near his place in June 1904, a large 3-year-old steer, a cow, 3 yearlings, and a horse."

Destruction of Game by Wolves
"Judging from the evidence obtained, wolves kill far less game in the Western United States than either coyotes or mountain lions"
"At Big Piney, Wyo., I examined wolf dung in probably fifty places around dens along wolf trails. In about nine-tenths of the cases it was composed mainly or entirely of cattle and horse hair; in all other cases but one, of rabbit fur and bones, and in this one case mainly of antelope hair…. While wolves are usually found around antelope herds, they are probably able to kill only the sick, crippled, and young."
"About a den near Cora the numerous deposits of wolf dung on the crest of the ridge, not far away were found to be composed of horse and cattle hair, though fresh elk tracks were abundant over the sidehills on all sides of the den, while cattle and horses were then to be found only in the valley, 8 miles distant…. Mr. George Glover, a forest ranger long familiar with the Wind River Mountains in both winter and summer, said that he had found a large black tail buck, which the wolves had eaten, but that he suspected it had been previously shot by hunters. In many winters of trapping where elk were abundant, Mr. Glover has never found any evidence that elk had been killed by wolves."
"Over the Central Plains region of the United States wolves in great numbers originally preyed on the buffalo herds, but the buffalo wolf has now become preeminently the cattle wolf."

Bounties
"Bounties, even when excessively high, have proven ineffective in keeping down the wolves, and the more intelligent ranchman are questioning whether the bounty system pays…. In many cases three bounties are paid on each wolf. In the upper Green River Valley, the local stockman's association pays a bounty of $10 on each wolf pup, $20 on each grown dog wolf, and $40 on each bitch with pup. Fremont County adds $3 to each of these, and the State of Wyoming $3 more."

Number of Wolves on which bounty was by the State of Wyoming
1895: 1699 wolves ($3 per wolf)
1896: 3365 wolves ($3 per wolf)
1897: 897 wolves ($4 per wolf)
1898: Not reported separately, but $14,160.25 paid on wolves, coyotes, and mountain lions
1899 – 1900: 4908 wolves ($3 per wolf)
1901 - 1902: 4480 wolves ($3 per wolf)
1903 – 1904: 2256 wolves ($5 per wolf)
1905 – 1906: 3214 wolves ($3 per wolf)

Destruction of Wolves
"The methods usually employed for the destruction of wolves are hunting with a rifle or with dogs and horses, capturing the young in the dens, trapping and poisoning"
"In the upper Green River Valley, in April, 1906, the three Alexander brothers showed me the skins of 8 wolves which had been taken the previous fall and winter, in most cases by running them with horses. Men who have made a business of hunting wolves for bounty assert that they are usually able to shoot one or two of the old wolves at the den by watching the trails or hiding near the den early in the morning before the wolves return from the night's rounds."
"In no other way can the number of wolves be kept down so surely and so economically as by destroying the young in the breeding dens…. The large size of litters makes this method peculiarly important. The usual number is 8, 9, 10 or even 11, and the outside limits 5 and 13. In six dens found in the Green River Valley, the young numbered, respectively, 5, 5, 8, 9, 10, and 11.

Source:
"Wolves in relation to Stock, Game, and the National Forest reserves." By Vernon Bailey, Assistant in Charge of Geographic Distribution, Biological Survey. U.S. Department of Agriculture, Forest Reserve – Bulletin 72. Issued January 19, 1907.