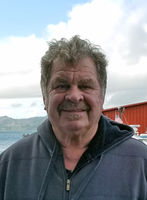 Don Norris

Obituary: Don Norris (posted 11/8/18)
Memorial services November 18, 2018 in Evanston
Moapa Valley Mortuary
Donald Brian "Don" Norris, age 62, passed away Thursday, November 1, 2018 at his home in Logandale, Nevada surrounded by his family. He was born April 7, 1956 in Gary, Indiana. His parents were Richard Lawrence and Francis Lillian Schultz Norris. On February 21, 1991 he married Crystal Lee DeGroot in Las Vegas, Nevada.

Don grew up in Southern California until at the age of 13 when his family moved to the area near Challis, Idaho where he spent his next 4 years. His family then moved to the rural area of Selway-Bitterroot Wilderness in Idaho near Orofino, where he finished high school. There he gained a great love for the outdoors - fishing, hunting, horseback riding and helping his family with their outfitting business.

Don served in the US Air Force from 1974 to 1977 before moving to Wyoming to work in the Gas & Oil Industry with his brother, Dave. He found great success in this industry, moving up as his experience grew. In 2003 he and a business partner, along with their wives, began their own oilfield business which was jointly operated for 6 years. That business is still in operation.

He and Crystal raised their family in Big Piney, Wyoming until 2005 when they moved to Evanston, Wyoming and then semi-retired to Las Vegas, Nevada. In March of 2018 they downsized their home to Logandale, Nevada with plans of living a quiet life enjoying the outdoors and warm weather.

Some of Don's passions were muscle cars, classic rock and sport fishing. He always made sure his family had a great time together.

He and Crystal enjoyed yearly fishing trips to Mexico, Costa Rica and many other places to fish for marlin and sailfish. He and his friends placed in several fishing tournaments in Manzanillo, Mexico.

Survivors include his sweetheart, Crystal of Logandale, Nevada; two daughters and two sons: Amber (Jason) Laird of Casper, Wyoming; Jennifer Gaston of Salt Lake City, Utah: Bryon (Jada) Gaston of Pinedale, Wyoming; Brian (Cara) Norris of Cheyenne, Wyoming; seven grandchildren: Ava, Kyler, Eli, Korbin, Sterling, Macayle and Rogan; two brothers: David Norris of Loveland, Colorado and Darrell (Bev) Norris of Evanston, Wyoming.

Memorial services will be held Sunday, November 18, 2018 at 11:00 am at the Bear Center Pavilion in Evanston, Wyoming with a reception immediately following. Friends and family are invited to sign our online guest book at www.moapavalleymortuary.com.
---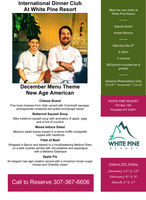 International Dinner Club

International Dinner Club at White Pine (posted 11/8/18)
The International Dinner Club is the first Friday/Saturday of each month: December, January, February & March dinners. Enjoy fresh, seasonal, local dishes and meet the new chefs at White Pine Resort: Amber Benson and Dakota Schell.

The December dinner will be on Saturday, December 8th. It will feature 5 courses:

Cheese Board
5 local cheeses' from Utah State served with Creminelli sausage, pomegranate mostarda with grilled sourdough bread

Butternut Squash Soup
Silky butternut squash soup with aromatics of apple, sage
and a hint of coconut

Mixed lettuce Salad
Mesclun salad leaves tossed in a lemon truffle vinaigrette
topped with hazelnuts

Fillet of Beef

Cost is $42/person includes tax & gratuity. Advance reservations only. Call White Pine Resort at 307-367-6606 to reserve your place for dinner. www.whitepineski.com

---
Veterans Day observances (posted 11/7/18)
Sunday, November 11th is Veterans Day. Veterans Day is an official public holiday, observed annually on November 11, that honors military veterans, people who served in the United States Armed Forces.

Sunday, November 11:
11AM:. The Pinedale VFW and the American Legion Post will perform a 21-gun salute at the Veterans Memorial Monument in the Pinedale American Legion Park to commemorate the 100 year anniversary of the Armistice that ended World War I on November 11, 1918. Later in the day on Sunday, Wind River Brew Pub will offer a 20 percent discount on lunch to all veterans.

6:00PM: Remembrance Day Taize Service at St. Andrews in the Pines Church, 524 W Pine in Pinedale. A service to commemorate the 100th anniversary of the end of World War I. Time to remember, reconcile and honor all veterans and their families. Bring a photo of a loved one who served in any war or conflict, if you wish.

Monday, November 12:
The Pinedale American Legion has planned ceremonies to honor veterans at local schools.
7:45AM: At the Pinedale Middle School
8:45AM: at the Pinedale Elementary School
11AM: at the Pinedale High School

The American Legion is sponsoring a luncheon for veterans in Pinedale after the 11 am ceremony at the high school - the luncheon will be at the VFW, 1033 W Pine Street in Pinedale.

11:00AM: Veteran's Day Service in Big Piney. The American Legion will conduct a ceremony at the Big Piney High School gymnasium.

Tuesday, November 13:
The American Legion Auxiliary will hold a lunch for veterans at the Southwest Sublette County Pioneers Senior Center in Marbleton.
11:30AM: A salad bar will open
Noon: Luncheon for veterans

---
Christmas Craft Bazaar in Big Piney Nov. 17 (posted 11/7/18)
There will be a Christmas Craft Bazaar in Big Piney on Saturday, November 17th. The Bazaar is presented by St. Anne's CCW. It will be in the Big Piney High School from 9AM to 2PM. Crafters: space available for $25. For reservations call 307-276-3880. Lunch will be available.

---
Pinedale Turkey Trot 5000 Nov. 22 (posted 11/5/18)
Don't miss the 28th running of the Pinedale Turkey Trot 5000 to be held Thanksgiving morning starting at the Sheppard's house (22 Sportsmans Loop in Pinedale). This is a 3 mile fun run, walk or trot and it starts at 9 AM. All levels of fitness are welcomed. Everyone needs to register, however there is no charge to enter. Registration starts at 8:30 AM. We have had over 200 participants in the past, so hope to add to the growing field again this year. Any questions call 307-367-4654 or email craig.sheppard@hotmail.com for more details. This is a good way to burn some calories before you eat all the turkey, dressing and pie that day!

---
Wyoming Food Bank of the Rockies in Marbleton Nov. 20 (posted 11/5/18)
Wyoming Food Bank of the Rockies Mobile Pantry will be in Marbleton on Tuesday, November 20th. They provide food to community members. There are no restrictions, membership fee or eligibility forms. Anyone in need is welcome to come by from 3-5PM at the SW Sublette County Pioneers Senior Center, 429 E 1st Street in Marbleton. This food distribution is generously sponsored by Jonah Energy LLC.

---
Learn About Life Flight Memberships Nov. 20 (posted 11/5/18)
Everyone is invited to a presentation on Tuesday, November 20th to learn more about area life flight options and purchasing life flight insurance. The presentation will be at 6:30PM in the Lovatt Room of the Pinedale Library. It is being presented by the Sublette County Library, the Pinedale Medical Clinic, and Sublette County EMS to help the public learn about emergency air medical transport services.

Residents of Sublette County live in a rural area with no local hospital. In life-threatening emergencies, patients must be transported out of area to larger communities with more advanced medical services. The cost of air ambulance services to get you or family members to a hospital can range from $14,000 to more than $60,000. The cost of Life Flight membership is around $65/year. As a member, there is no cost for medically-necessary emergency transport flights. Membership can cover you, your spouse or domestic partner, and dependents. (Medicaid beneficiaries should not apply for membership.) Come to the talk to learn more.

Related Links:
www.lifeflight.org Life Flight Membership
Sublette County Rural Health Care – Medical Flight Memberships

---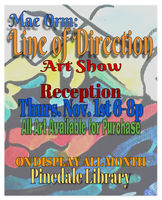 Mae Orm art show

Line of Direction Art Show in November (posted 11/1/18)
Art Show by Mae Orm
Everyone is invited to see the new art show at Pinedale Library for local artist Mae Orm. The artwork will be on display through the month at the Library. Many pieces are for sale and would make great ideas for gifts for the art lovers on your holiday shopping list.
---
Benefit Dinner Auction & Raffle Nov. 13 (posted 11/1/18)
To benefit Brenda Miyake for ongoing medical expenses
Everyone is invited to a Benefit Dinner Auction & Raffle on Tuesday, November 13th at 5:30PM at the Baptist Church Fellowship Hall in Big Piney. The dinner begins at 5:30PM, admittance by donation (suggested $10/person). Dinner provided by the Pioneer Smokehouse Barbeque & Grill. Dinner is BBQ pulled pork sandwiches, coleslaw, sauces and lemonade. Bidding items include gift baskets, gift certificates, photography, paintings, baked goods. Items have been donated from Just Imagine, The Cut Above, Williams Auto, Altitude Drug, Old Stones Smokehouse & Country Pizza, The Rock Shop, Turquoise Buffalo Coffee, Amanda Templar, Becky Doyle, Rita Jo Putney and more. Bidding tables will be open from 6:30PM-8:00PM. Jay Fear will be the auctioneer. The Baptist Church Fellowship Hall is located at 1501 Circle Way in Big Piney. For more information or to donate, please contact Angie Frazier (208) 716-0389.

---
2018 Pre-Winter Ozone Meeting Nov. 28 (posted 10/31/18)
Wyoming DEQ is holding their 2018 Pre-Winter Ozone Meeting on Wednesday, November 28th in Pinedale. It will be in the Sublette County Weed and Pest Building from 6-8PM. There will be an Open House sponsored by Wyoming DEQ Air Quality staff.

WY DEQ Air Quality staff are looking for a few folks to meet either on the afternoon of Nov. 28 or morning of Nov. 29 to talk about WyVisNet (www.wyvisnet.com). DEQ is looking for some feedback/input on what citizens do/don't like about WyVisNet and what features they use most often. Please contact cara.keslar@wyo.gov if you have interest.

---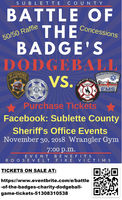 Battle of the Badge's Dodgeball Nov. 30

Sublette County Battle of the Badge's Dodgeball Nov. 30th (posted 10/31/18)
The Sublette County Battle of the Badges's Dodgeball game will be held on Friday, November 30th. This is an event to help raise funds for recovery efforts for the victims of the Roosevelt Fire. Teams will be the Wyoming Highway Patrol and Sublette County Sheriff's Office vs Sublette County Unified Fire and Sublette County EMS. The game will be at 7:00PM in the Wrangler Gym in Pinedale. There will be a 50/50 Raffle. FFA will be selling food and concessions. Early Bird tickets are $10 until November 25th at 6PM. Early Bird Family of 4 tickets are $30. Full price tickets the week of the event and at the door, $15/single, $45 for family of 4. More information and link to online ticket purchase on the Sublette County Sheriff's Office Facebook page: https://www.facebook.com/events/1136055483213387/. (Note, the online ticket purchase has a service charge).

---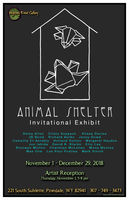 Art exhibit

ANIMAL/SHELTER Art Exhibit Nov. 1 – Dec. 29 at Mystery Print Gallery (posted 10/30/18)
Reception Nov. 1
Have you ever stopped to wonder how our animal neighbors protect and shelter themselves? That has always been an avid interest of Mystery Print Gallery's owner, David Klaren. He has pondered and noted nests, hives, colonies, burrows, eggs, shells, chrysalises, skins, or camouflage, just to name a few.

With that in mind, he has invited members of a current generation of contemporary artists who are tackling and interpreting environmental and animal subject matter in fascinating ways and with a solid conceptual foundation executed in contemporary and traditional materials and styles to exhibit thematic pieces of art in his gallery. David says, "I personally gravitate towards this kind of work, finding it refreshing and exciting."

Entitled "ANIMAL/SHELTER", the exhibit opens on November 1, 2018, with a reception from 5:00 to 8:00 P. M., public invited. It will close on December 29, giving the public an opportunity to visit the gallery during Pinedale's Christmas festivities and the holiday season.

Local participating artists are: Cristy Anspach, Richard Burke, Mae Orm, Delsa Allen and David Klaren of Pinedale; JB Bond of Daniel; Holland Dutton of Cora; and Charmian McLellan of Boulder. Out-of-Sublette County participants include Alissa Davies, Boulder, Colorado; Jenny Dowd, Alpine, Wyoming; Camellia El-Antably, Eric Lee, and Mark Vinich of Cheyenne, Wyoming; Margaret Haydon, Laramie, Wyoming; Jun Ishida, Brooklyn, New York; Mona Monroe, Alta, Utah; Bronwyn Minton, Jackson, Wyoming; and Paul Postam, Farson, Wyoming.

David is encouraging and welcoming the artists to approach the theme seriously or humorously. The artwork may be fun, funky, fantasical, science fictional, intellectual, minimal, or environmental, giving show viewers the opportunity for interaction and deep discussions with the artists about the creative process and the significance of each piece.

---
Local Services:
Abortion Alternatives
Accounting & CPA
Apartments/Townhomes
Arts & Entertainment
Attorneys & Legal
Auction Services
Automotive
Aviation Services
Banks & Financial
Bars
Beauty Salons
Bed & Breakfasts
Boating
Bookkeeping
Builders & Contractors
Building Material
Business Services
Cabins
Cellular
Child Care
Churches
Cleaning Services
Clothing
Commercial Art
Computer Supplies
Condos
Consultants
Convenience Stores/Fuel
Convention/Meeting
Dentists
Dining
Dry Cleaning
Events
Fabric & Crafts
Fencing
Fishing
Flooring
Food & Drink
Funeral Homes
Furniture
Gifts/Western
Government
Graphic Design
Grocery & Market
Guest Ranches & Lodges
Handyman Services
Hardware & Feed
Heating
Health Care & Medical
Horseback Adventures
Insurance
Interior Design
Internet/Web/Advertising
Landscaping
Laundry
Liquor Stores
Lodging
Log Homes
Marketing
Massage Therapy
Modular Homes
Motels
Mountain Biking
Movie Theaters
Museums
Nails
Newspapers
Office Supplies
Oil Field Services
Optometrists
Organizations
Outdoor Equipment
Outfitters & Guides
Packaging & Shipping
Painters
Pet Stores
Pharmacies
Photography
Plumbing
Professional Services
Radio
Real Estate Agencies
Real Estate-FSBO
Remodeling
Retirement
Retreats
RV Camping
Schools
Scrapbooking
Septic Services
Skiing
Snowmobiling
Snow Plowing
Storage and Storage Units
Tanning
Tattoos & Body Art
Tax Preparation Services
Taxidermy
Transportation/Shuttle
Trash Services
Trucking
Veterinarians
Visitor Services