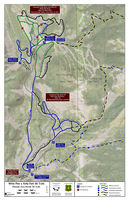 Nordic Ski Trail map courtesy Sublette County Recreation Board.

Nordic ski trail grooming report – February 21, 2017 (posted 2/21/17)
Mike Looney, Groomer, Sublette County Recreation Board
Tuesday, February 21, 9:30AM report: Warm, 40F degrees. 4" of heavy wet new snow. Starting to groom right now. Will get Kelly Park at least and try to do Kelly-Tie-In, Half Moon Tie-In and Old Road Trail. Nice right now, not breezy snowy or raining, flat light. Road, Kelly parking lot and Half Moon overlook plowed.

This Nordic Ski Trail grooming report is courtesy of the Sublette County Recreation Board.

Related Links:
X-C Ski Trail Map - (356K PDF)
Road and Weather links
www.visitpinedale.org Pinedale tourism website (lodging, dining, area information)
www.whitepineski.com White Pine Resort, 307-367-6606, (food services, restroom)
www.greatoutdoorshop.com The Great Outdoor Shop, 307-367-2440
www.sublettechamber.com Local businesses & services, 307-367-2242
www.golfpinedale.com Rendezvous Meadows Golf Course (food services, restroom)

---
Pancake Supper Feb. 28 (posted 2/20/17)
Everyone is invited to the St. Andrew's in the Pines Episcopal Church Annual Pancake Supper on Tuesday, February 28th at the Church. All you can eat pancakes, eggs, sausage served for a free-will donation from 5:00 - 6:45 pm. St. Andrew's in the Pines Episcopal Church. 524 Pine Street in Pinedale.

---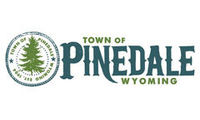 Town of Pinedale

Town of Pinedale update – Town budget and the CAH (posted 2/16/17)
Public meeting Feb. 27th
Town of Pinedale
As most of you know there has been a great deal of discussion about the future of health care in Sublette County. It appears a final decision from the County Commissioners regarding the Critical Access Hospital may be coming relatively soon. Part of the equation is the financial participation from the towns. It is my understanding that Big Piney and Marbleton have decided not to participate in the financing of this project. The Pinedale Town Council previously decided to set aside 1 million dollars to help support the Critical Access Hospital. How this money was to be dispersed and used was briefly discussed but nothing was decided. It could be anything from a loan to an outright donation with no strings attached. If we move forward, obviously, the details need to be worked out.

The Council is doing a budget realignment and has added the 1 million dollars to this year's budget. The new budget must have 3 public hearings before it becomes official. It has passed one reading and must pass two more. We are having a public meeting on Monday, February 27 at 5:00 at the library to discuss this matter. I would like to encourage you to come and express your opinion regarding the town's financial support of this project.

Health care is a very important part of life in Sublette County. The town's financial viability is also very important. Everyone has felt the results of declining revenues in the County and Towns. We can no longer support every good idea that comes along. This is a lot of money to take out of our reserves and the councils needs your input on this one. 1 million dollars is a lot of money for the Town of Pinedale. Please do your best to come to the meeting on the 27th of February at 5:00PM.

Related Links:
www.townofpinedale.us Town of Pinedale

---
Archaeology talk in Pinedale Feb. 21 (posted 2/16/17)
'Protohistoric Archaeology on the Mesa' talk by Wade Haakenson
The Upper Green River Basin Chapter of the Wyoming Archaeology Society (WAS) will be having a meeting on Tuesday, February 21st, at 6:30 pm at the Museum of the Mountain Man in Pinedale. There will be a short business meeting followed by a presentation by archaeologist Wade Haakenson. Everyone is welcome.

The presentation will be "Protohistoric Archaeology on the Mesa" by Wade Haakenson. His talk will focus on a Protohistoric site located along the southern edge of the Mesa and how this site relates to other Protohistoric sites in southwestern Wyoming. The site was discovered in the fall of 2009 during a monitor of construction. A temporary shelter was erected over it and it was excavated in December and January of 2009/2010. The excavation identified a cooking hearth and an associated midden with stone tools and the remains of an elk.

Wade Haakenson has been an archaeologist for Western Archeological Services in Rock Springs, Wyoming since 2008, and has extensive experience working in the Pinedale Anticline. He got a start in archaeology as a volunteer with the University of North Dakota and was hooked. Wade has worked as a professional archaeologist since 1989. His areas of interest in archaeology are periods of change, transitional regions and how people adapted to these regions, and the Protohistoric period.

Dues for 2017 WAS membership are due by end of February. Dues are $20/Individual, $25/Family. If you have not paid already in 2017 and would like to be a member, please bring payment to the February meeting, or print and mail the membership form (http://www.sublette.com/was/pdf/Membershipform.pdf) along with your dues. Membership dues help support WAS efforts at the state and local level including paying travel for speakers to come here to give great presentations.

For more information contact Clint Gilchrist, Secretary/Treasurer UGRB Chapter WAS. clint@sublette.com or go online to www.sublette.com/was.
---
Share the Love Food Drive during February in Sublette County (posted 2/16/17)
Helping those in need in the community
Sublette County 4-H Clubs from across the county are putting out boxes to help collect items for local food banks during February. Each year, the 4-H program junior leaders work to collect items to assist local food banks in meeting the demands of people in need in the community.

Marbleton and Big Piney collection boxes:
The Bench
Big Piney Post Office
Bank of the West
Burney's
Obo's
Southwest Sublette County Pioneers Senior Center
Big Piney Library
Green Pastures
Loaf and Jug
Big Piney Rec Center

Pinedale collection boxes:
Ridley's
Pinedale High School
Pinedale Elementary School
1st Bank

New collection box locations are being added daily.

Please consider helping the 4-H program collect items to assist community members in need. According to the Big Piney Food Closet, there are currently about 45 families that rely on donations. In Pinedale, there currently are about 71 families (218 people with 70% being kids) that rely on donations. Of those people, about 15-20% are retired members of the community with too little income to make ends meet. Additionally, about 70% of the Food Basket patrons have at least one family member who is employed.

Items needed most are non-perishable and non-expired food items, paper products such as paper towels and toilet tissue, and personal hygiene items such as soaps, shampoos and toothpaste.

"Thank you for helping us help those in need this week of Random Acts of Kindness!" - Garett Schamber, Sublette County 4-H.
---
Request for Bids - 2017 Pathway Fence Project (posted 2/15/17)
Town of Pinedale
PUBLIC NOTICE: The Town of Pinedale, Sublette County, Wyoming is seeking bids to construct a fence near the Pinedale Elementary School. The 2017 Pathway Fence Project Request for Bid package may be obtained at the Town Hall or by email. For questions call 307-367-4136 or email hayleyryckman@townofpinedale.us. Sealed bids shall be received by the Town of Pinedale at 69 Pinedale South Road, Pinedale, Wyoming 82941, no later than Thursday, March 9, 2017. All bidders are required to have proof of Liability and Workman's Compensation insurance with their bid. The right is reserved by the Town of Pinedale to reject any and all bids.
---
Request for Bids – Limited Janitorial Services in the Pinedale Library Addition (posted 2/15/17)
Sublette County Library
PUBLIC NOTICE The Board of the Sublette County Library System will be accepting bids for limited janitorial services in the addition of the Pinedale Library. The work will be limited to ensuring the Lovatt Room, foyer, hallway and bathrooms are cleaned after the last meeting on Sunday and ready for use by 6:00 am on Monday. There may be meetings in the Lovatt Room that go as late as 10:00 pm on Sundays. Bidders must be insured. Sealed bids shall be submitted to Sid Stanfill, Sublette County Library, PO Box 489, Pinedale, WY 82941 by Monday, February 27, 2017. Bids will be opened at the board meeting on Tuesday, February 28, 2017. The Library reserves the right to accept and/or reject any or all bids.
---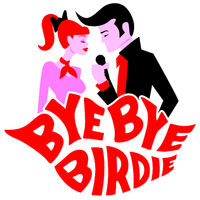 Pinedale High School performs 'Bye Bye Birdie' March 24 & 25.

Pinedale High School performs 'Bye, Bye Birdie' March 24 & 25 (posted 2/11/17)
Pinedale High School will present the musical "Bye, Bye Birdie" on Friday and Saturday, March 24 & 25th at 7:00PM in the Pinedale Auditorium. Tickets are $5/seat. Tickets can be purchased at the high school front office, NAPA, Office Outlet in Pinedale, or from any cast member.

---
Spring classes at the PAC (posted 2/11/17)
The Pinedale Aquatic Center offers fun classes and activities all year long. Here are spring highlights. For more information call 307-367-2832 or go online to www.pinedaleaquatic.com.

March 3: Family Formal Dance, Pinedale Aquatic Center, 7-9pm
Get gussied up and dance the night away! Photo booth, refreshments, music, and dancing! $5/pair or $10/family

April 14: Underwater Easter Egg Hunt, Pinedale Aquatic Center, 5:30pm
Join us for this FREE event! Goodie bags and photo opportunities with the Easter Bunny. Parents of children under 8 are expected to join in on the fun with their kid(s)!

May 3: Summer Expo, Pinedale Aquatic Center, 3:30-6:30pm
Hear about summer offerings here in Sublette County. Registration for all PAC summer programs will open May 3.

March 18: Climbing Competition, Pinedale Aquatic Center, 10am
New routes will be set and awarded a point value for this friendly competition. Price includes t-shirt and snacks. Amazing prizes for the winners in each division. $15/person

May 6 & 7: Wilderness First Aid, Pinedale Aquatic Center
This two day course will give you tools to access injuries and illness in the backcountry. Instructed by NOLS Wilderness Medicine Institute. More info and pricing to follow.

---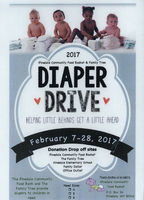 2017 Diaper Drive through February 28th

2017 Diaper Drive (posted 2/11/17)
The Pinedale Community Food Basket and Family Tree are hosting a Diaper Drive through February 28th. The diapers are provided to families in need with young children. Sizes needed are 4, 5 & 6.

Diaper drop off locations in Pinedale are:
Pinedale Community Food Basket
The Family Tree
Pinedale Elementary School
Family Dollar
Office Outlet

Monetary donations can be made mailed to:
Pinedale Community Food Basket
PO Box 34
Pinedale, WY 82941

---
Local Services:
Abortion Alternatives
Accounting & CPA
Apartments/Townhomes
Arts & Entertainment
Attorneys & Legal
Automotive
Banks & Financial
Bars
Beauty Salons
Bed & Breakfasts
Boating
Bookkeeping
Builders & Contractors
Building Material
Business Services
Cabins
Cellular
Child Care
Churches
Cleaning Services
Clothing
Commercial Art
Computer Supplies
Condos
Consultants
Convenience Stores/Fuel
Convention/Meeting
Dentists
Dining
Dry Cleaning
Events
Fabric & Crafts
Fencing
Fishing
Flooring
Food & Drink
Funeral Homes
Furniture
Gifts/Western
Government
Graphic Design
Grocery & Market
Guest Ranches & Lodges
Handyman Services
Hardware & Feed
Heating
Health Care & Medical
Horseback Adventures
Insurance
Interior Design
Internet/Web/Advertising
Landscaping
Laundry
Liquor Stores
Lodging
Log Homes
Marketing
Massage Therapy
Modular Homes
Motels
Mountain Biking
Movie Theaters
Museums
Nails
Newspapers
Office Supplies
Oil Field Services
Optometrists
Organizations
Outdoor Equipment
Outfitters & Guides
Packaging & Shipping
Painters
Pet Stores
Pharmacies
Photography
Plumbing
Professional Services
Radio
Real Estate Agencies
Real Estate-FSBO
Remodeling
Retirement
Retreats
RV Camping
Schools
Scrapbooking
Septic Services
Skiing
Snowmobiling
Snow Plowing
Storage and Storage Units
Tanning
Tattoos & Body Art
Tax Preparation Services
Taxidermy
Transportation/Shuttle
Trash Services
Trucking
Veterinarians
Visitor Services