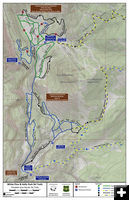 Nordic Ski Trail map

Nordic Ski Trail Grooming Report – Jan. 18, 2021 (posted 1/18/2021)
Mike Looney, Groomer
Monday, 8:50AM: All trails above groomed this morning except for Looney Lane and Aspen. Dusting of new snow from last night. Slight breeze. 14F degrees.

This Nordic Ski Trail grooming report is courtesy of the Sublette County Recreation Board.

Related Links:
White Pine-Kelly Park Ski Trail Map - (10.3MB PDF)
CCC Ponds Ski Trail Map - (1.84MB PDF)
Road and Weather links
www.visitpinedale.org Pinedale tourism website (links to lodging, dining, area information)
www.whitepineski.com White Pine Resort, 307-367-6606, (Nearby alpine skiing, food services, restroom)
www.greatoutdoorshop.com The Great Outdoor Shop, 307-367-2440
www.sublettechamber.com Local businesses & services, 307-367-2242
www.golfpinedale.com Rendezvous Meadows Golf Course (Additional Nordic ski trails, food services, restroom)

---
Sublette County Commissioners meeting January 18 (posted 1/16/2021)
Carrie Long, Sublette County Clerk
Public Notice: The Sublette County Commissioners will be participating in a ZOOM meeting from the County Commission Room at the Sublette County Courthouse on Monday, January 18th at 3:00 p.m. with participation in legislative discussion and remote polling of proposed bill priority.
---
Wyoming Legislature update – January 13, 2021 (posted 1/16/2021)
Albert Sommers, House District #20 Representative
1/13/2021
Hello Sublette County, this is Albert Sommers reporting from Cheyenne on January 13, 2021. On Friday January 8, I was sworn into office for my fifth term in the Wyoming House of Representatives. The pandemic this past year has created enormous challenges for workers, families, businesses, and government at all levels. We worked on some of these challenges in a Special Session in May 2020, giving the executive branch of government authority to create programs and expend federal relief dollars to help mitigate the impacts created by COVID-19.

The Legislature convened virtually on Tuesday, January 12 to elect officers, pass temporary rules, and introduce bills. Eric Barlow, a rancher/veterinarian from the Gillette area, was elected Speaker, and Mike Greear, a manager of a sugar company from Worland, was elected Speaker Pro Tempore. These offices are constitutional offices and are voted on by the entire House of Representatives. In November, I was elected by the Republican Majority Caucus as the 66th Legislature's House Majority Floor Leader, which by rank is the number two position in the House. Jared Olsen, an attorney from Cheyenne, was elected by the Republican Majority Caucus as House Majority Whip.

After a couple of weeks of discussion, the presiding officers, in consultation with the rest of the Majority Leadership, determined the schedule for the 2021 General Session. The schedule consists of the January 12 opening day, followed by an eight-day virtual segment starting on January 27 and ending on February 5. The session will continue on March 1 and end by April 2, and it is leadership's hope that this will be an in-person session. Some legislators and members of the public wanted the Legislature to meet in-person starting January 12, but that option was not feasible. During sessions, we hire session staff, and these staff members are older retired individuals who work for the Legislature because they enjoy the process. We cannot subject our staff, both session staff and permanent staff, to this higher risk of infection. We have been told that few session staff would return for an in-person session. In the end, leadership created a schedule that gets the Legislature working quickly, and the session will finish up only a few weeks later than normal. We will get our work done, while doing our best to protect our staff, the public, and legislators.

The bills introduced by the presiding officers on January 12 will be worked in standing committees during the week of January 18. Committees will report these bills out to the House and the Senate, and when we reconvene January 27, we will consider the easiest of them. These committee bills have been vetted by joint committees during the interim, and have already had substantial public input. This eight-day session will have a crossover day, where bills will swap between the House and the Senate. The likely result of this eight-day virtual session is bills getting sent for the Governor's signature by early February.

During the week of February 22, standing committees will meet and debate more bills, and the budget bill will be available to the public and legislators for review no later than February 22. The budget bill and many other important bills will be debated during the March segment of the 2021 Regular Session. I am working on a handful of personal bills, including HB39. House Bill 39 amends the practice act for optometrists, and would give optometrists more tools in their tool box to treat patients.

I can be reached at albert@albertsommers.com with questions or comments.

---
Sublette Co Commissioners agenda for Jan. 19 (posted 1/14/2021)
Carrie Long, Sublette County Clerk
BOARD OF COUNTY COMMISSIONERS
SUBLETTE COUNTY, WYOMING
AGENDA
LOVATT ROOM, PINEDALE, WYOMING
TUESDAY, JANUARY 19, 2021

9:00 a.m. Call to Order
• Pledge of Allegiance
• Request approval of the agenda
• Request approval of the prior meeting minutes (1/5/21).

9:05 a.m. Billy Pape, Road & Bridge, Update on Activities
Rio Verde Engineering – Update on projects

9:30 a.m. Matt Gaffney, County Administrator
• Sublette County Federal Land Use Policy Update
• County Sanitarian Discussion
• Life Insurance Eligibility for County Employees

10:00 a.m. Carrie Hatch, Ultra Petroleum – Ozone Monitoring at the Boulder Fire Battalion #4

10:30 a.m. Elected Officials & Department Heads – Introduction to Commissioners

11:30 a.m. Todd Hurd, Forsgren & Associates – Update on Daniel Fire Hall Construction

11:45 a.m. Library Update (Requested by Commissioners Noble & Vickrey) – Update on Big Piney remodel

12:00 p.m. Lunch – Brew Pub

1:00 p.m. Susan Kramer, Happy Endings Animal Rescue – Gratitude for Donation

1:15 p.m. Jeff Goltz, Children Discovery Center – Plat Redraw for CDC Discussion

1:30 p.m. Mike Henn, Sublette County Conservation District
– Update on the water Quality RFP

1:45 p.m. Emily Paravicini, Treasurer – Adoption of Fee Resolution

2:00 p.m. Executive Session pursuant to W.S. 16-4-405(a)
(i) – Security of Public Property

Monthly Reports:
• Accounts Payable
• Board Signature Certification
• Assessor – Laila Illoway (State Assessed Notice of Valuation Changes)
• Treasurer – Emily Paravicini – Bond Approval, Tessa Manning (Treasurer, Silver Lake Irrigation District)

Old Business:

ZOOM participation will be available at: ID# 891-3589-2014 with pass code 096299

Click on this link for a printable version of this agenda.

Related Links:
www.sublettewyo.com Sublette County website

---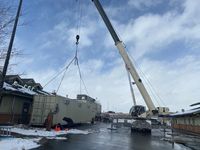 COVID Isolation container delivered to the Pinedale Medical Clinic.

Pinedale Clinic gets COVID Isolation Unit (posted 1/13/2021)
Sublette County Rural Health Care District
Even with local COVID case numbers decreasing and surrounding hospital beds opening up, the Sublette County Rural Health Care District (SCRHCD) is prepared for a spike in cases.

On Wednesday, January 13th, 2021 the Pinedale-based company, Enviremedial Services, Inc. delivered their second COVID isolation unit to the Pinedale Clinic. The first unit was delivered to the Marbleton/Big Piney Clinic in November.

Both units have been specially fabricated for the Sublette County Rural Health Care District. These containers are essential to operations of the clinics and will be used to test, monitor, treat, and if necessary, house any COVID positive, or possible COVID-positive patients. These containers are fully insulated with three isolated patient rooms. Each has their own negative pressure system, running water and electricity.

Funding for these containers came from the State of Wyoming CARES Act. Both containers will be up and running once an equipment delivery arrives, which was also funded by the CARES Act.

Related Links:
www.sublettehealthcare.com Sublette County Rural Health Care District

---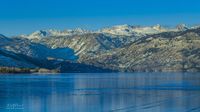 Fremont Lake has frozen clear. Photo by Dave Bell.

Fremont Lake freezes clear (posted 1/12/2021)
Photos by Dave Bell
Over the past couple of days, Fremont Lake has frozen clear – something which only happens every five or more years. It began freezing on Friday night (January 8th) and by Saturday morning the lower end was 80% frozen. By Sunday, the ice measured, generally, a couple inches. Many skaters and ice fishermen are already enjoying this beautiful treat of Mother Nature. Dave Bell took photos on Friday evening and again on Saturday morning, enjoying a beautiful sunrise through lake-induced fog. "You need to see it to believe it-it is a magnificent sight!" Click on this link to see Dave Bell's photos: Fremont Lake Freezes Clear – January 9-11 album

Related Links:
Dave Bell Photo Gallery

---
Sublette County Public Health announces new office hours (posted 1/10/2021)
In order to conduct off-site COVID vaccination clinics, the Sublette County Public Health Office is modifying their hours for their Pinedale office. The Pinedale Public Health Office will close on Tuesdays and Thursdays. The Marbleton Public Health Office will continue their normal hours on Tuesdays at that location. These hour modifications are only for the Public Health Office and not for the Pinedale Medical Clinic.

New Pinedale Public Health Office Hours:
• Tuesdays & Thursdays Pinedale Public Health Office CLOSED for offsite COVID-19 vaccination clinics around Sublette County.
• Mondays, Wednesdays, & Fridays 8—12, 1—5PM by appointment, for our regular Public Health services at our Pinedale Office. Please call 307-367-2157 to schedule your appointment.
• Tuesdays 9—4 at our Marbleton Public Health Office by appointment (no change in hours for Marbleton Office). Call 307-276-3575 to schedule your appointment.

---
Local Services:
Abortion Alternatives
Accounting & CPA
Apartments/Townhomes
Arts & Entertainment
Attorneys & Legal
Auction Services
Automotive
Aviation Services
Banks & Financial
Bars
Beauty Salons
Bed & Breakfasts
Boating
Bookkeeping
Builders & Contractors
Building Material
Business Services
Cabins
Cellular
Child Care
Churches
Cleaning Services
Clothing
Commercial Art
Computer Supplies
Condos
Consultants
Convenience Stores/Fuel
Convention/Meeting
Dentists
Dining
Dry Cleaning
Events
Fabric & Crafts
Fencing
Fishing
Flooring
Food & Drink
Funeral Homes
Furniture
Gifts/Western
Government
Graphic Design
Grocery & Market
Guest Ranches & Lodges
Handyman Services
Hardware & Feed
Heating
Health Care & Medical
Horseback Adventures
Insurance
Interior Design
Internet/Web/Advertising
Landscaping
Laundry
Liquor Stores
Lodging
Log Homes
Marketing
Massage Therapy
Modular Homes
Motels
Mountain Biking
Movie Theaters
Museums
Nails
Newspapers
Office Supplies
Oil Field Services
Optometrists
Organizations
Outdoor Equipment
Outfitters & Guides
Packaging & Shipping
Painters
Pet Stores
Pharmacies
Photography
Plumbing
Professional Services
Radio
Real Estate Agencies
Real Estate-FSBO
Remodeling
Retirement
Retreats
RV Camping
Schools
Scrapbooking
Septic Services
Skiing
Snowmobiling
Snow Plowing
Storage and Storage Units
Tanning
Tattoos & Body Art
Tax Preparation Services
Taxidermy
Transportation/Shuttle
Trash Services
Trucking
Veterinarians
Visitor Services