Pinedale Homecoming Week Sept. 22 – 28 (posted 9/20/19)
The Pinedale Wranglers will host a full week of events for 2019 Homecoming Sept. 22 – 28th. Below are the highlights:

Sunday, Sept. 22: Painting the Street, Help the Wrangler Booster Club fill the town with team spirit.
Monday, Sept. 23: Homecoming Bonfire,. On the grounds of Pinedale Self Storage, south of Pinedale on US 191, starting at 8PM.
Tuesday, Sept. 24: Buff Puff Volleyball, in the Wrangler Gym at 7PM and Powder Puff at Gene Andrews Stadium.
Thursday, Sept. 26: Sublette County Swim Team vs Rock Springs, 4PM, Pinedale Aquatic Center.
Friday, Sept. 27: Homecoming Parade, on Pine Street (US 191 through town will be closed for about an hour during the parade) starting at 10AM. Wrangler football vs Greybull at 4PM at Gene Andrews Stadium.
Saturday, Sept. 28: Wrangler Volleyball vs Big Piney Punchers,. Freshmen start at 1PM, followed by Junior Varsity and Varsity.
Saturday, Sept. 28: Homecoming Dance, location to be announced.

Related Links:
http://www.sub1.org Sublette County School District #1

---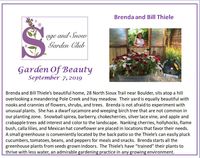 Sage & Snow Garden Club Garden of Beauty - Brenda and Bill Thiele

Garden of Beauty – Brenda and Bill Thiele (posted 9/19/19)
Sage and Snow Garden Club
Brenda and Bill Thiele's beautiful home, 28 North Sioux Trail near Boulder, sits atop a hill overlooking a meandering Pole Creek and hay meadow. Their yard is equally beautiful with nooks and crannies of flowers, shrubs and trees. Brenda is not afraid to experiment with unusual plants. She has a dwarf sycamore and weeping birch tree that are not common in our planting zone. Snowball spirea, barberry, chokecherries, silver lace vine, and apple and crabapple trees add interest and color to the landscape. Nanking cherries, hollyhocks, flame bush, calla lilies, and Mexican hat coneflower are placed in locations that favor their needs. A small greenhouse is conveniently located by the back patio so the Thieles can easily pluck cucumbers, tomatoes, beans, and peppers for meals and snacks. Brenda starts all the greenhouse plants from seeds grown indoors. The Thieles have "trained" their plants to thrive with less water, an admirable gardening practice in any growing environment.

Related Links:
Sage & Snow Garden Club website
Sage & Snow Garden Club Facebook page

---
Local foster families needed (posted 9/19/19)
Wyoming Department of Family Services
Not many people are aware of this, but at any given time, there are children in foster care in Sublette County.

Recently, there have been children in need of a home, but there were limited local homes available. Sublette County has only three foster care homes to serve the entire county.

Rhonda Watson, the local Foster Care Coordinator through the Department of Family Services (DFS) is leading a recruitment effort. "We are fortunate to have wonderful foster parents already, but sometimes there just aren't enough of them!" Watson remarked. Foster parents go on vacation, or already have a foster child or two, so when a home is needed, it is crucial to have a longer list of families to call. Having multiple families at the ready allow caseworkers to find a home that best fits a particular child. "Some families prefer babies or young children while other families are more comfortable with pre-teen or teens so it's best when you can place a child with a family that 'fits'," Watson said. Foster parents can be single or married adults, employed or stay-at-home parents, young or retired.

If you would like more information about becoming a foster parent to help children in this community, please contact the Pinedale DFS office at (307) 367-4124.


---
Flu Clinics offered in October (posted 9/19/19)
Sublette County Public Health
Flu season is right around the corner and the state's Department of Health is urging residents to get their flu shots. It is nearly impossible to predict the severity of the flu season ahead of time, but we can always predict that it is coming.

Flu is a contagious respiratory illness caused by influenza viruses that infect the nose, throat, and sometimes the lungs. It can cause mild to severe illness, and at times can lead to death.

The best way to prevent flu is by getting a flu vaccine each year. Flu vaccinations are recommended for most individuals over 6 months of age. Flu shots can be obtained at your local Public Health Office. Please call Sublette County Public Health for more information at 307-367-2157.

Sublette County Public Health is sponsoring several immunization clinics:
October 1, 2019 - Marbleton
Southwest Sublette County Pioneers Senior Citizen Center
429 East 1st Street Marbleton, Wyoming
10AM—4PM

October 3, 201 - Pinedale
Sublette County Public Health Office
617 East Hennick Street
Pinedale, Wyoming
1—6PM

October 7, 2019 - Pinedale
Rendezvous Pointe Senior Center
425 East Magnolia
Pinedale, Wyoming
11AM—1PM

October 8, 2019 - Marbleton
Southwest Sublette County Pioneers Senior Citizen Center
Marbleton, WY
11AM—1PM

Thursday/Friday Afternoons Pinedale
Sublette County Public Health Office
Pinedale, Wyoming
307-367-2157
Afternoons 1—5PM and By Appointment

For more information call Sublette County Public Health, 307-367-2157.

---
Funeral Service for Mike Ramsey Sept. 20 (posted 9/18/19)
Covill Funeral Home
Michael Allen Ramsey, 59, of Pinedale passed away Saturday, September 14, 2019 from a motor vehicle accident. A funeral service will be held Friday, September 20th at 11:00 AM at the Pinedale Bible Church. A viewing will take place Thursday evening from 5-7 pm at Covill Funeral Home. Interment will follow the services in the Pinedale Cemetery.

Related Links:
Obituary - Michael Allen Ramsey


---
Funeral Service for Verna Walker Sept. 21 (posted 9/18/19)
Covill Funeral Home
Verna Walker, 85, of Pinedale passed away Sunday, September 15, 2019 at the Sublette Center. A funeral service will be held Saturday, September 21st at 11:00 AM at the Pinedale Community Church. Interment will follow the service in the Pinedale Cemetery.

---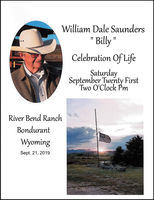 Celebration of Life

Celebration of Life for William Saunders Sept. 21 in Bondurant (posted 9/18/19)
In the early morning hours of September 13, 2019, William D. Saunders (93) was sent to guard the heavens after a fatal motor vehicle/ATV accident outside of their home in Bondurant, Wyoming.

Funeral services will begin with a private gravesite service in Wilson, Wyoming. The family asks that all who shared their lives with Bill please join them for a celebration of life at their home, River Bend Ranch, in Bondurant, Wyoming at 2pm on Saturday, September, 21, 2019.

Dinner and refreshments will be provided. Libations are welcome.

In lieu of flowers, the family gratefully requests that donations be made to Shriners Hospital, Disabled American Veterans, and Bondurant History (POPS). For any further information, please contact Stacy Saunders at bondogirl@hotmail.com.

---
Free smoke alarms offered to Sublette County residents (posted 9/13/19)
Installations on Saturday, September 28th – call for an appointment
Red Cross of Wyoming and Sublette County Unified Fire will be installing FREE smoke alarms in Sublette County on Saturday, September 28, 2019. Families will also receive information on creating an evacuation and communication plan. Appointments take less than 30 minutes. To make an appointment, please call Gehrig Haberstock at 307-439-4167 or email him at Gehrig.Haberstock3@redcross.org.

---
Open House at Proactive Rehab & Fitness Sept. 19 (posted 9/13/19)
Everyone is invited to an Open House at Proactive Rehabilitation & Fitness in Pinedale on Thursday, September 19th, 317 N Faler Ave, from 5-8PM. They are celebrating 30 years in business in Sublette County. Please come for food, drink, fun and prizes.

Related Links:
www.proactiverehabilitation.com

---
Death Notice: Robert Scott Thompson (posted 9/13/19)
Robert Scott Thompson, 70, of Big Piney, Wyoming, passed away in Idaho on August 24, 2019. A private service will be planned in Big Piney at a future date.

Related Links:
Obituary – Scott Thompson

---
ServSafe Food Handler course and certificate available (posted 9/11/19)
Free of charge to Sublette County residents through Sublette BOCES
Sublette County Food Handlers: Here is an opportunity to take a course and get information and be certified for safe food handling through the ServSafe® program. There is a $15 fee for the online course, but that will be reimbursed by Sublette BOCES upon successful completion of the program.

The ServSafe® program was developed by the National Restaurant Association with the help of food service industry experts who face the same risks you do every day. Your concerns are our concerns.

Our years of experience and inside knowledge of the food service industry are at the core of our courses, exams and materials. We can prepare you to handle food sanitation risks because we have direct experience with it. We also have reliable materials, flexible options, and expert food safety educators.

Upon successful completion of the program, Sublette BOCES will reimburse any Sublette County resident, 16 years of age and older, the $15.00 registration fee for the online certification.

To register go to: www.subletteboces.com/classes

Upon registration, students will receive the following link:
https://www.servsafe.com/ServSafe-Food-Handler. Students then have to create an account with ServSafe and pay for the course. The student then must complete the online course and should print the Certificate of Completion so reimbursement can be provided.

In order to be reimbursed for the course, students must:
● Bring in their Certificate of Completion to the Sublette BOCES office (665 N. Tyler, Pinedale) or the Sublette 9 BOCES in Big Piney.
● Complete the Reimbursement form that we will provide you at that time.
● Reimbursement will follow the regular meeting of the Sublette BOCES (first Thursday of every month).

---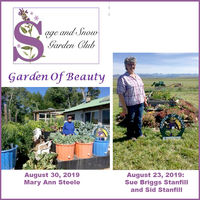 Sage & Snow Garden Club Gardens of Beauty

Gardens of Beauty (posted 9/11/19)
Sage & Snow Garden Club
August 23, 2019: Sue Briggs Stanfill and Sid Stanfill
Sue Briggs Stanfill and Sid Stanfill's beautiful yard has earned this week's Sage and Snow Garden of Beauty Award. They have showcased the beauty of flowers with heirlooms from their parents and grandparents. Sue filled an antique manure spreader from her family's ranch with potentilla, yarrow, and sedum. Another flower bed is decorated with pieces of wood from a very old oak tree belonging to Sid's mother. A bed of petunias is planted in a wooden chicken feeder built by Sue's grandfather, James Jorgensen. A plow used by Nels and James Jorgenson is the centerpiece of yet another bed of flowers. Sue uses many varieties of perennial flowers in her beds, including snow in summer and snow on the mountain, columbine, delphinium, sedum, and penstemons. The perimeter of their yard is surrounded by lilacs, currants, chokecherry, flowering plums and willows. Not only is their yard a colorful array of flowers, it also showcases their appreciation of family heirlooms.

August 30, 2019: Mary Ann Steele
Sage and Snow looks for innovative and interesting gardening projects, as well as beauty. Mary Ann Steele's gardens and greenhouse on Steele Lane in Boulder fit all three categories. At 84 years of age, Mary Ann plants and tends 55 ranch lick tubs of vegetables in her outdoor garden and maintains a greenhouse full of tomatoes, cucumbers, and peppers in 5-gallon buckets. Her innovative watering system consists of PVC pipe sections placed in the bottom of the tub to create a water reservoir. The pipe is covered with screen, then native soil and manure is placed on top. She extends a 2-inch PVC pipe from the top of the tub to the bottom to fill the water reservoir. The soil and plant roots absorb water via capillary action to keep the plants consistently moist. In the tubs, she grows beans, miners' lettuce, carrots, kale, cabbage, broccoli, potatoes, green beans, cantaloupe, zucchini, peas, and barley. Mary Ann only grows heirloom varieties so she can save seed for next year's plantings.

Related Links:
Webpage Sage & Snow Garden Club
Facebook page Sage & Snow Garden Club

---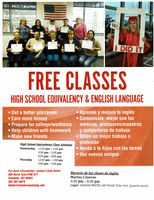 HSE classes offered

High School Equivalency and English Language Acquisition classes offered (posted 9/10/19)
High School Equivalency and English Language Acquisition classes have started. For more information contact Linda Baker, 307-367-6873, lbaker@westernwyoming.edu.

---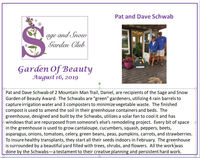 Sage & Snow Garden Club Garden of Beauty - Pat & Dave Schwab

Sage & Snow Garden Club Garden of Beauty – Pat & Dave Schwab (posted 8/30/19)
Sage & Snow Garden Club
Pat and Dave Schwab of 2 Mountain Man Trail in Daniel are recipients of the Sage and Snow Garden of Beauty Award. The Schwabs are "green" gardeners, utilizing four rain barrels to capture irrigation water and three composters to minimize vegetable waste. The finished compost is used to amend the soil in their greenhouse containers and beds. The greenhouse, designed and built by the Schwabs, utilizes a solar fan to cool it and has windows that are repurposed from someone else's remodeling project. Every bit of space in the greenhouse is used to grow cantaloupe, cucumbers, squash, peppers, beets, asparagus, onions, tomatoes, celery, green beans, peas, pumpkins, carrots, and strawberries. To ensure healthy transplants, they start all their seeds in February. The greenhouse is surrounded by a beautiful yard filled with trees, shrubs and flowers. All the work was done by the Schwabs – a testament to their creative planning and persistent hard work.

Related Links:
Sage & Snow Garden Club website
Sage & Snow Club Facebook page
Cassie & Tom Johnston 2019 Garden of Beauty – August
Barb & Dave Harper 2019 Garden of Beauty – August
Bettina & Rollie Sparrowe 2019 Garden of Beauty – July
---
PAC 2019 Fall/Winter Expo Sept. 24 (posted 8/30/19)
Sign up now for free booth space
The Pinedale Aquatic Center will be hosting their 2019 Fall/Winter Expo on Tuesday, September 24th from 3:30-6:00PM.

This is a free opportunity for local organizations to showcase activities, gather registrations, and promote their youth and family-focused happenings for the year ahead. Table space is available at no charge. Vendors are encouraged, although not required, to donate an item for a door prize raffle. Table space will be available for set-up the day of Expo, beginning at 2pm. PAC will provide tables and chairs. There will be free food, raffle prizes, and information about all of Sublette County happenings. The PAC Expos average around 400 visits.

Visit the PAC website for the participant application form to reserve booth space. For more information call Deanna Fildey, PAC Recreation Manager, (307)367-2832 ext. 6244.

---
Local Services:
Abortion Alternatives
Accounting & CPA
Apartments/Townhomes
Arts & Entertainment
Attorneys & Legal
Auction Services
Automotive
Aviation Services
Banks & Financial
Bars
Beauty Salons
Bed & Breakfasts
Boating
Bookkeeping
Builders & Contractors
Building Material
Business Services
Cabins
Cellular
Child Care
Churches
Cleaning Services
Clothing
Commercial Art
Computer Supplies
Condos
Consultants
Convenience Stores/Fuel
Convention/Meeting
Dentists
Dining
Dry Cleaning
Events
Fabric & Crafts
Fencing
Fishing
Flooring
Food & Drink
Funeral Homes
Furniture
Gifts/Western
Government
Graphic Design
Grocery & Market
Guest Ranches & Lodges
Handyman Services
Hardware & Feed
Heating
Health Care & Medical
Horseback Adventures
Insurance
Interior Design
Internet/Web/Advertising
Landscaping
Laundry
Liquor Stores
Lodging
Log Homes
Marketing
Massage Therapy
Modular Homes
Motels
Mountain Biking
Movie Theaters
Museums
Nails
Newspapers
Office Supplies
Oil Field Services
Optometrists
Organizations
Outdoor Equipment
Outfitters & Guides
Packaging & Shipping
Painters
Pet Stores
Pharmacies
Photography
Plumbing
Professional Services
Radio
Real Estate Agencies
Real Estate-FSBO
Remodeling
Retirement
Retreats
RV Camping
Schools
Scrapbooking
Septic Services
Skiing
Snowmobiling
Snow Plowing
Storage and Storage Units
Tanning
Tattoos & Body Art
Tax Preparation Services
Taxidermy
Transportation/Shuttle
Trash Services
Trucking
Veterinarians
Visitor Services