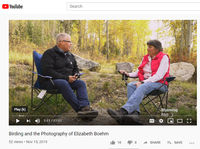 Craig Blumenshine from WyomingPBS interviews Pinedale photographer Elizabeth Boehm about birding in Wyoming. The program, "Birding and the Photography of Elizabeth Boehm" will air Friday, Saturday and Sunday, November 15-17 on WyomingPBS.

Local photographer Elizabeth Boehm to be featured on WyomingPBS (posted 11/15/19)
Local photographer Elizabeth Boehm will be featured on the WyomingPBS program Wyoming Chronicle on Friday, November 15th at 7:30PM and on Saturday, November 16th at 6:30PM, and at noon on Sunday, November 17th on the WyomingPBS network. The program can be viewed and shared here: Birding and the Photography of Elizabeth Boehm.

Boehm was one of the photographers featured at the 10th Annual Audubon Photography Awards in which her photo of two male sage grouse won the award for Professional Division Birds. Her work is on display and for sale at Art of the Winds in Pinedale.

Related Links:
www.elizabethboehm.com

---
Grant funds early education initiative (posted 11/12/19)
Sublette County School District #1
Sublette School District #1 and Sublette BOCES began a collaboration that provides the community with an Early Childhood Community Liaison for this year. The vision was to use the Early Childhood Community Liaison to build partnerships with the pre-schools, community members, Sublette County School District #1, and families to help children be ready for Kindergarten.

The District hired Tamara Currah to serve as the Liaison. Tamara is a National Board Certified Early Childhood educator with many years of experience teaching in kindergarten and 1st grade. She has also taught as an early childhood educator in Pinedale. Her efforts this year will be dedicated to working with all of the preschools, families, and the community to help children get ready for school.

Recently, the District received a grant from the State Department of Education to help Tamara do more to help the pre-schools and parents. The grant will provide an additional $30,000 to assist with several activities. In the spring, there are plans for an Early Childhood Expo where parents will be able to discover the services available to them. It will also be a celebration of the young child. Tamara is also working with Jennifer Zook of the Wyoming Early Learning Professional Development Community to put on a free professional development conference for teachers in Pinedale. An important aspect of the grant work will be to reach out to families and provide them with free reading and math materials that can be used in their homes. Grant funds will also be used to provide free programs for preschool kids and their parents. These programs will be available in December in one of the Sublette BOCES rooms.

It is a goal of Sublette BOCES and Sublette County School District #1 to reach out to every family to help them prepare their kids for school success as soon as they start kindergarten. Every family should choose their own approach to raising their children but that doesn't mean they have to do it all by themselves. Early education is a very important part of our lives and the recent initiatives should help Pinedale become a leader in the region.

Related Links:
www.sub1.org - Sublette County School District #1
www.subletteboces.com - Sublette BOCES

---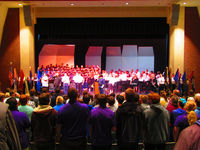 2019 Veterans Day program in Pinedale

Veterans Day 2019 (posted 11/11/19)
Dawn Ballou, Pinedale Online!
The American Legion Phillips-Edwards Post 47 in Pinedale, Wyoming held Veterans Day programs on Monday, November 11th, 2019 in Pinedale. They had programs at the Elementary and Middle Schools and at the Pinedale High School. The program included patriotic musical selections by the Pinedale High School Combined Choirs and the Pinedale High School Concert Band. Keynote speakers were Michael Edison, Commander of Post 47 and Phil Vrska, US Marine Corps- Retired.

Special recognition was given to Girls State Delegates and the Voice of Democracy winners. A luncheon followed at the VFW in Pinedale. Special awards were given, including a Freedom of the Press Award to Pinedale Roundup reporter Robert Galbreath; Oathkeeper Award to Sublette County Sheriff K C Lehr; Commanders Award to James Noble, For continuous membership of the American Legion for over 50 years. Also, in recognition of his service for all Americans in the Korean War (1950-53) in support and defense of our US Constitution. Indeed, we honor and thank "Jim" for his service to his fellow man." Preston Goulette carried the award to Jim.

Click on this link for more pictures.
__________________________

A Bit of History: The Phillips-Edwards Post 47 of the American Legion was named in the honor of two men from Pinedale who were killed in action in France during World War I. Clifford Phillips was killed by a sniper in 1918. He is buried in France. Sydney Edwards was in a hospital recovering from an attack of appendicitis in 1918 when the hospital was shelled by an airplane and he was killed. His body was exhumed from its initial grave in France and he was brought back to Pinedale and reinterred in the Pinedale Cemetery in 1921.

Related Links:
What Makes America Great By Michael Edison, Commander, American Legion Post 47
Newspapers call for WWI volunteers By Robert Galbreith, Sublette Examiner, Nov. 6, 2018
Sydney Edwards and Clifford Phillips photos Pinedale - Images of America, by Ann Chambers Noble
Sydney Edwards gravestone (photo) In the Pinedale Cemetery


---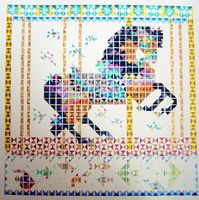 'Romancing the Memory' by Charmian McLellan

Animal|Totem Invitational Exhibition in Pinedale (posted 11/11/19)
Opening Reception Nov. 14
David Klaren, Mystery Print Gallery
Mystery Print Gallery in Pinedale, Wyoming invites you to our holiday exhibition, Animal|Totem, an invitational exhibit of small works, from November 14 – December 28, with an opening reception on Thursday, November 14th from 5-8pm.

Spinning off from last years' very popular and successful Animal|Shelter exhibit, this year we are exploring the theme of animal totems.

Animals have been represented in paintings and sculptures since man's earliest visual works on cave walls in Europe, Asia, Africa, Australia and the Americas. In many instances, animal imagery has been used to harness, co-opt, or identify with the traits of a specific animal. Tribal cultures carve animal masks used in ceremonies, many believing they become that animal through transformation, during the ceremony itself. Humans have, and still do, demark periods of time through the Chinese Calendar and the Zodiac with animal symbols, believing that a person born in that particular year, or under that particular sign, imbues them with certain personality traits. Shields, flags, and other heraldry are emblazoned lions, wolves, eagles and other animals, including fantastical beasts such as dragons, gryphons or thunderbirds. We use animals every day to convey the spirit of what we make, or sell, or do; the swiftness of the impala, the wild strength of the mustang, or the quiet elegance of a jaguar.

I invited a group of contemporary artists whose work I find fresh and interesting to explore the theme of animal totems in fun and thoughtful ways. The hope being, that the artists are provided an opportunity to explore ideas, materials, or processes that they may normally not use in their day to day studio practice.

Their work could be based in reality, the fantastical, or the mythological. The work could be serious or humorous. It could be fun, funky, science fictional, intellectual, minimal, environmental, or any other adjective you may choose.

This is considered a small works exhibit, which allows a broader spectrum of artists and works to be presented, as well as a selection of reasonably priced artworks for going into the holiday season.

The artists invited to provide work for this exhibition include:
Christopher Amend – Gillette, WY
Richard Burke – Pinedale, WY
Jenny Dowd – Alpine, WY
Sam Dowd – Alpine, WY
Holland Dutton – Pinedale, WY
Camellia El-Antably – Cheyenne, WY
Lea Hardy – Laramie, WY
Margaret Haydon – Laramie, WY
Favian Hernandez – Laramie, WY
Jun Ishida – Brooklyn, NY
Eric Lee – Cheyenne, WY
Lyndsay McCandless – Jackson, WY
Charm McLellan – Boulder, WY
Bronwyn Minton – Jackson, WY
Mae Orm – Pinedale, WY
Mark Ritchie – Laramie, WY
Sue Sommers – Pinedale, WY
Robin Sruoginis – Pinedale, WY
Mark Vinich – Cheyenne, WY

Click on this link for more pictures

---
Former Pinedale woman featured in Women in Wyoming exhibit (posted 11/11/19)
Megan Grassell founded the company Yellowberry
A former Pinedale woman is being featured as part of an exhibit on display at the Buffalo Bill Center of the West in Cody, Wyoming. Megan Grassell, who grew up in Pinedale, is one of the women featured as founder of her new company 'Yellowberry' which creates undergarments for pre-teen girls. The Women in Wyoming multimedia exhibit, "Portraits and Interviews of Women Who Shape the West," officially opened to the public on Friday, October 25 and will be on display through August 2, 2020. The project director was Lindsay Linton Buk.

Related Links:
Women in Wyoming exhibit opens in Cody Buckrail.com, October 31, 2019
Women in Wyoming – Megan Grassell womeninwyoming.com

---
DEQ Pre-Winter Ozone Season Meeting and Open House Nov. 18 (posted 10/30/19)
At the Boulder Community Center
The Wyoming Department of Environmental Quality (DEQ) will host a Pre-Winter Ozone Season Update on Monday, November 18, 2019. The meeting will begin with a presentation of information. After the presentation, multiple stations will provide one-on-one opportunities to answer questions and exchange information. The Wyoming Department of Health will also be in attendance. In addition, DEQ has invited industry and CURED to participate at stations to answer individual questions. The public meeting will be from 6:00 p.m. until 8:00 p.m. at the Boulder Community Center, located at 304 Adams Street, Boulder, Wyoming.

---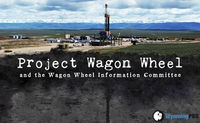 Project Wagon Wheel

Special Film Screening of 'The Story of Project Wagon Wheel' on Nov. 18
On Monday, November 18th, the public is invited to a special film screening of the Wyoming PBS documentary, "Atomic Fracking in Wyoming: The Story of Project Wagon Wheel ." There will be two showings, at 1PM and 6PM in the Lovatt Room of the Pinedale Library. This is a new Wyoming PBS documentary about the Project Wagon Wheel. It will feature interviews with local residents involved. The film is rated G and is approximately 1 hour. Local historian and author Ann Chambers Noble will be present at both screenings to speak about the Wagon Wheel Project and the film. Prior to the 6PM screening, a light meal will be provided free of charge at 5:30 pm. Panel discussion with the filmmaker Gregory Asay, Ann Chambers Noble, and local participants with the film will follow the screening.

Background
In 1968, an area 10 miles south of Boulder (18 miles east-northeast of Big Piney) and 9,220 feet underground was proposed to be exploded by five nuclear bombs to release natural gas trapped in layers of sandstone. Known as Project Wagon Wheel, it was designed as an experiment to study the effectiveness of using nuclear power to extract natural gas. It was estimated that the five bombs would create a blast 25 times greater than the explosion that destroyed Hiroshima. Citizens from Sublette County and surrounding areas formed a local committee to research the effects of the project on residents and to bring their concerns to area lawmakers and eventually the nation's capitol.

Atomic Fracking in Wyoming: The Story of Project Wagon Wheel is a new documentary about the defeat of the project by local residents. The documentary will air on Wyoming PBS on November 19th. It tells the complete story through interviews with Bernie Gosar, Jim Noble and others, as well as the voices of key people involved such as Sally Mackey, John Perry Barlow, Floyd Bousman, Mary Ann Steele, and more. Sublette County citizens can preview the film in its entirety during two opportunities at the Pinedale Library on Monday, November 18th: at 1 pm and again at 6 pm. Local historian and author Ann Chambers Noble will be present at both screenings to speak about the Wagon Wheel Project and the film.

Learn more about the Wagon Wheel Project here: https://www.wyohistory.org/encyclopedia/wagon-wheel-project

---
Local Services:
Abortion Alternatives
Accounting & CPA
Apartments/Townhomes
Arts & Entertainment
Attorneys & Legal
Auction Services
Automotive
Aviation Services
Banks & Financial
Bars
Beauty Salons
Bed & Breakfasts
Boating
Bookkeeping
Builders & Contractors
Building Material
Business Services
Cabins
Cellular
Child Care
Churches
Cleaning Services
Clothing
Commercial Art
Computer Supplies
Condos
Consultants
Convenience Stores/Fuel
Convention/Meeting
Dentists
Dining
Dry Cleaning
Events
Fabric & Crafts
Fencing
Fishing
Flooring
Food & Drink
Funeral Homes
Furniture
Gifts/Western
Government
Graphic Design
Grocery & Market
Guest Ranches & Lodges
Handyman Services
Hardware & Feed
Heating
Health Care & Medical
Horseback Adventures
Insurance
Interior Design
Internet/Web/Advertising
Landscaping
Laundry
Liquor Stores
Lodging
Log Homes
Marketing
Massage Therapy
Modular Homes
Motels
Mountain Biking
Movie Theaters
Museums
Nails
Newspapers
Office Supplies
Oil Field Services
Optometrists
Organizations
Outdoor Equipment
Outfitters & Guides
Packaging & Shipping
Painters
Pet Stores
Pharmacies
Photography
Plumbing
Professional Services
Radio
Real Estate Agencies
Real Estate-FSBO
Remodeling
Retirement
Retreats
RV Camping
Schools
Scrapbooking
Septic Services
Skiing
Snowmobiling
Snow Plowing
Storage and Storage Units
Tanning
Tattoos & Body Art
Tax Preparation Services
Taxidermy
Transportation/Shuttle
Trash Services
Trucking
Veterinarians
Visitor Services