Sublette COVID-19 update August 6 (posted 8/5/2020)
The Sublette COVID-19 Response Group will hold their weekly community update at 11:30AM on Thursday, August 6th. These weekly Facebook Live sessions are moving to the Response Group Facebook page instead of the Sheriff's Office. Representatives from Sublette County Public Health, the Sublette County Rural Health Care District, and the Sublette County Public Health Officer will be giving updates. The update will also be broadcast live on KPIN 101.1FM Radio. For continuing updates, go to www.sublettewycovid.com
---
What Happens When COVID Happens (posted 8/5/2020)
Jay Harnack, Superintendent Sublette County School District #1
Dear SCSD 1 Families:
I received the following question in the comments section of a previous blog and I thought it was a good starting point on the topic of what happens when students and or staff are symptomatic or we have a confirmed case of COVID for a student or staff member.

I would like to understand the expected procedure should a student in our District be exposed to COVID outside school, should a student (or teacher) have a confirmed diagnosis of COVID after having been at school, and/or should a student or teacher be suspected of having COVID. I'm sure it was all in the plan you sent, but I'll be honest that I was overwhelmed at the size of that document. I wasn't even sure where to begin.

I should first acknowledge the plan is overwhelming. It's designed to be comprehensive and despite my best efforts to keep it simple, it's just a lot of ground to cover.

Let's start with what happens if a student or staff is symptomatic.

SYMPTOMATIC STUDENTS OR STAFF
The plan requires all parents and staff members to be screened for COVID symptoms before coming to school. This includes prior to getting on a bus.

Appendix C of the plan contains the required health screening. If a student or staff member has any of the symptoms outlined in the screening, if anyone in the household has the symptoms, or if a member of the household has been in contact with anyone suspected or confirmed to have COVID, the student or staff member must stay home. If a student or staff member exhibits these symptoms at school, they will be sent home.

Appendix D of the plan describes the health requirements for symptomatic students or staff to return to work. It's a flowchart with a couple of different pathways, but let me try and make this as simple as possible. If you are symptomatic, you need to be home until you test negative or are symptom-free, including fever free for 24 hours. This means that if you are fever breaks at 6PM on Tuesday, you should not return to school until Thursday. If you are fever-free, but still exhibiting other symptoms, you must remain at home. If you send your student to school while they remain symptomatic, we will simply be required to send them right back home. I know you are tired of hearing me say this, but this is required of us.

Now let's talk about what happens if we have confirmed positive tests of students or staff.

CONFIRMED POSITIVE TESTS OF STUDENTS OR STAFF
What happens when a student or staff member tests positive for COVID is really at the discretion of our county health officer. Confirmation of a positive test will come to us from county health or from the family. When we are notified that a student or staff member has tested positive, we will share that with our school community. Please be aware that while we can share that a student or staff member in a particular building has tested positive for COVID, that will be the extent of what we are allowed share. The Health Insurance Portability and Accountability Act (HIPAA) prohibits us from sharing more.

After notification, we will work with the county health officer to enact cleaning and prevention protocols. This will occur on a case-by-case basis and could include anything from simply quarantining students and/or staff and deep cleaning specific areas of a building to closing the school for a period of time. It could also include closing specific classrooms or portions of a building.

Any closure of a building or a portion of a building from any public health order would move that building or that portion of the building from Tier I to Tier II in our plan.

Students affected by the closure will receive instruction through classroom-based virtual delivery (distance learning). In plain language, that means that any building, pod, or class that is closed due to COVID will transition from in-person instruction to distance learning for the period of closure. That could be one day, it could be ten days, or it could be more.

THE STOCKDALE PARADOX
Success for school districts during the COVID era will rely heavily on the Stockdale Paradox. We must maintain unwavering faith that we can and will prevail in the end, regardless of the difficulties AND at the same time have the discipline to confront the brutal facts of our current reality, whatever they might be (1).

While some families in our district may choose distance learning for an entire semester or year, the current reality is that we all need to be prepared for distance learning at some point. As much as we all would like to be able to envision a school year that resembles something prior to COVID, we aren't there yet. When we cannot social distance, we will need to wear masks. Schedules, events, and learning will look different. Our classrooms, schools, and even our district may be closed at some point.

There is no doubt in my mind that this year will be unprecedented in the number of challenges we face. I also have no doubt that we have the best students, families, and staff; that together we will all make the most of our learning opportunities, both in-person and distance learning, and that we will prevail in the end.

Source: Superintendent's Blog

---
Sublette County COVID-19 update – August 4 (posted 8/4/2020)
Sublette County Case Counts:
Lab confirmed: 30
Probable: 8
Active cases: 10
Deaths: 0
Recovered: 28

Sublette County has one new confirmed COVID-19 case today (August 4, 2020). The female patient in her mid-50s is recovering at home. Sublette County Public Health reports that there are currently 16 people in isolation or quarantine in Sublette County due to COVID-19. These individuals are located in the towns of Big Piney, Bondurant, Boulder, Cora and Pinedale.

The Wyoming Department of Health (WDH) reports there have been 683 tests completed from Sublette County, with a positivity rate of 2.64%

Statewide public health orders remain in effect through August 15th.

Antibody Testing is now available at both medical clinics in Sublette County. Antibody tests are used to tell if a person had a past infection with the virus that causes COVID-19, but are not used to diagnose a current infection. Call the Pinedale Clinic at 307-367-4133, or the Marbleton Clinic at 307-276-3306 for an appointment with the lab. A $50 fee is due at the time of service.

The Pinedale Clinic has expanded its testing hours for symptomatic patients with symptoms of COVID-19. Call 307-367-4133 for an appointment. For those without insurance, call Public Health at 307-367-2157 to learn if you qualify for a free test voucher.

For more updates on the status of coronavirus in Sublette County, so to sublettewycovid.com.

---
Sublette County annual blood draw cancelled (posted 8/4/2020)
Sublette County Public Health
Sublette County Public Health regrets to inform residents of Sublette County that we will not be hosting our annual blood draw for Pinedale or Marbleton this year. Earlier this spring, we postponed the Marbleton draw due to COVID-19 concerns. With input from our County Health Officer, Dr. Fitzsimmons, Public Health has decided to cancel both of our events this year.

This has been a difficult decision with many considerations taken. Sublette County continues to see a rise in COVID-19 positive cases. Bringing together large groups of people at this time is not advised by our health officials—this is especially the case for our usual venues at Rendezvous Pointe and the Southwest Sublette Pioneers Senior Center. Concerns for the health of our community members, staff and volunteers have led us to the conclusion that we need to proceed differently at this time.

Sublette County Public Health is moving forward with our partnership with Wyoming Health Fairs (WHF). This partnership will allow us to provide low cost screenings to Sublette County residents. We have been working with WHF to get set up to provide office draws at our Pinedale Public Health Office. This will allow us to serve residents in a safer, smaller scale during this COVID-19 pandemic. Services will be by appointment only, masks required—more information will be coming as we finalize details and dates for in-office blood draw services to begin.

New Services Available with WHF:
• Low cost blood screenings--expanded list of blood screenings available.
• Wyoming Health Fairs is a preferred provider for Blue Cross/Blue Shield. WHF will submit the claim for you (you will be responsible for any claims not paid by your insurance plan).
• Wyoming Health Fairs accepts all forms of payment—check, credit/debit cards, HSA. WHF will prepare an itemized bill for you to submit to insurance for reimbursement (if requested). WHF is unable to bill Medicare.
• Online results within 3—5 days, mailed results within 10—14 days

Thank you for your continued support and understanding! Please call Public Health Nursing at 307-367-2157 for more information. Watch for Wyoming Health Fair promotions—coming soon.

---
Project begins to document historic buildings in Big Piney and Marbleton (posted 8/3/2020)
A Sublette Centennial Project
The Sublette County Historic Preservation Board/Certified Local Government is beginning a survey project to document historic buildings in Big Piney and Marbleton. This is being done as one of the many Centennial projects over the next three years to highlight Sublette County history and shared heritage.

The Big Piney/Marbleton historic buildings survey will focus on all remaining buildings in the two towns that were constructed before 1940. This will help document the development of the two communities, identify any unique architecture, and provide a record of historic buildings before more are lost.

The landowners of the historic buildings will receive a letter in the mail soon requesting permission to allow researchers to visit and document the historic buildings on their property. The support of landowners is critical to documenting local area heritage. This is only a documentation project and in no way changes or hinders landowner's property rights. Researchers will notify landowners before visiting their property.

Onsite recordation will focus on the outside of buildings, documenting and taking pictures of architectural features. Landowners will receive a copy of the site form with the information about the history of the buildings on their property.

The Historic Preservation Board-CLG is a government board appointed by the Sublette County Commissioners. Volunteer board members serve two-year terms. Funding for this project has been provided by the Wyoming State Historic Preservation Office and Sublette County. There will be no cost to the landowners.

For more information or any questions, contact any of the members of the Preservation Board, http://www.sublettewyo.com/200/Certified-Local-Government-CLG.

For more information on the Board, please visit www.sublette.com/preservation.

---
Sublette County ballot preview (posted 8/3/2020)
August 18, 2020 primary election
Click on the links below to preview the Sublette County ballots. Primary election day is Tuesday, August 18th. Voters may also vote by absentee ballot by contacting the Sublette County Clerk's office.

Republican Precinct sample ballots:
Precinct 1-1
Precinct 1-3
Precinct 1-4
Precinct 2-1
Precinct 2-2
Precinct 4-1
Precinct 4-2
Precinct 5-1

Democratic Precinct sample ballots:
Precinct 1-1
Precinct 1-3
Precinct 1-4
Precinct 2-1
Precinct 2-2
Precinct 4-1
Precinct 4-2
Precinct 5-1

---
Tip Top SAR short haul team responds fall victim (posted 8/3/2020)
On Sunday, August 2nd, 2020, Sublette County Dispatch received multiple SOS spot device activations near Warrior Peak in the Wind River Range. The reporting parties indicated a woman had fallen approximately 80-100 feet and needed immediate assistance and had significant injuries.

The TTSAR short haul team and contract helicopter were paged to respond. TTSAR Search Manager Dave Lankford coordinated the response where members Cody Wilson, Milford Lockwood, Andrew Masters, John Kochever responded to the given coordinates. Upon arrival to the coordinates team members found the female who had sustained serious bodily injuries. She was transported via life flight from the scene to Eastern Idaho Medical Center for treatment.

---
Wyoming Legislature update – July 28, 2020 (posted 7/29/2020)
Albert Sommers, House District #20 Representative
7/28/2020
Hello Sublette County, this is Albert Sommers reporting to you from interim committee meetings of the Wyoming Legislature. I serve on the Joint Appropriations Committee (JAC), and we met July 13-14. During this meeting, JAC had an update on budgetary shortfalls from Governor Gordon. JAC also had an update from the Department of Administration and Information on the State Employee and Officials Group Health Insurance (EGI) program, and heard from the Department of Enterprise Technology Services (ETS) on the evaluation of IT costs for state government. The Legislative Service Office provided us a synopsis on Wyoming's revenue declines. The Joint Appropriations Committee also reviewed bill drafts on emergency state funding and state funded capital construction.

Governor Gordon opened up our July 13 meeting on with a discussion on the historic decline in revenues for the state of Wyoming, and his response to those declines. In May, the Consensus Revenue Estimating Group (CREG) had projected a $1.5 BILLION reduction in State revenues through fiscal year 2022, which would result in an $877 million budget shortfall. In May, the CREG provided three projections based upon a pessimistic, middle of the road, and optimistic view of state revenues, but even their optimistic projection shows over a $1 billion loss of State revenues. Projecting out through 2024, we have a structural shortfall in our budget of more than $2 BILLION, and we will have burned through Wyoming's entire "Rainy Day Fund" of $1.5 Billion. In his presentation to the JAC, Governor Gordon explained that his first step in correcting this historic shortfall is to cut 10% from the existing General Fund budget, which amounts to about $275 million. His second step was to ask agencies to identify another 10% in reductions, for a 20% total reduction to the General Fund. However, it will take a 33% reduction to balance our revenues with our appropriations. The CREG provided a July update to its revenue projections that resulted in revenues increasing by about $150 million, which is somewhere between May CREG's middle of the road and optimistic projections.

The Legislature and our last two Governors previously cut 15%, reducing the 2015-16 GF budget of $3.51 billion to the 2021-2022 budget of $2.98 billion. Governor Gordon recognized that substantial cuts and some additional revenue will be necessary to survive this downturn, and I would agree. I mentioned in an earlier press release, we would have to cut EVERY General Funded state employee to make up the $877 shortfall.

One of the biggest and continually rising expenses for individuals, businesses, and government is the cost of health insurance. The State health insurance program, EGI, is expecting double digit percentage cost increases to the State for employee health insurance, without an adjustment in benefits. JAC is continuing to review the cost of health insurance, and whether a change in program or benefits is warranted to reduce costs.

The cost for IT services for state agencies has exploded in the last several years. The Legislature is in the process of hiring a consultant to review State's IT costs, and to recommend any efficiencies that can be found. The Department of Enterprise Technology Services (ETS) is the agency responsible for the State's IT program. It gave JAC a short report on the review process.

The Legislative Service Office provided JAC with a report outlining the revenue declines for the State of Wyoming. This very instructive report can be found at https://wyoleg.gov/InterimCommittee/2020/02-2020071320200628_StrategicRevenueDeclines_FINAL2.pdf

JAC reviewed two bill drafts that could be brought in a special session. One would provide some emergency funding to prop up our budget until the Legislature convenes at the 2021 General Session in January. The other bill would address some capital construction issues, including reducing funding for State major maintenance, increasing contingency funding for ongoing state construction projects, and funding for Western Wyoming College to continue to fix a large maintenance issue. We are also developing a bill to further appropriate money from the federal CARES Act to address needs around the state.

Wyoming will survive this challenge, if we work together to solve the problems that lie ahead. I can be reached at albert@albertsommers.com with questions or concerns.

---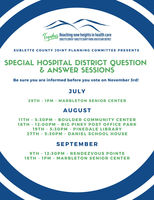 Special Hospital District Q&A Sessions (posted 7/29/2020)
The Sublette County Joint Planning Committee will host several Q&A Sessions on the Special Hospital District ahead of the upcoming November 3rd election.

The Hospital District involves the merger of the Sublette County Rural Health Care District, a government entity, and the Sublette Center, a private non-profit organization, to create a new Hospital District which would then be the governing entity, with an elected board of trustees, for operation of the two clinics and ambulance services for health care in Sublette County. The Hospital District would operate the new combined long-term care center facility ($18 million) and Critical Access Hospital ($29 million), the Marbleton Clinic, and ambulance services for Sublette County.

The vote will include the allocation of an additional 1 mill levy for the Hospital District. The amounts to approximately $20/year for a $200,000 home. The Special Hospital District must be approved by the voters at the November 3rd election for construction of the Critical Access Hospital to move forward. The CAH will allow the Hospital District to receive 100% Medicaid reimbursement instead of the 60% they get now under the Clinic model. Sublette County has approved up to $20 million to build the long-term care facility. The County and Town of Pinedale are putting in an additional $3 million to help pay for relocation of the ball fields to the west end of town.

Q&A Sessions will be:
Wednesday, July 29: 1:00PM, Southwest Sublette County Pioneers Senior Center in Marbleton

Tuesday, August 11: 5:30PM at the Boulder Community Center
Tuesday, August 18: Noon, Big Piney Post Office Park
Wednesday, August 19: 5:30PM, Pinedale Library
Thursday, August 27: 5:30PM, Daniel Schoolhouse

Wednesday, September 9: 12:30PM, Rendezvous Pointe
Wednesday, September 16: 1:00PM, Southwest Sublette County Pioneers Senior Center in Marbleton The Green River Valley Museum in Big Piney is holding scan week July 27-31st. This is an opportunity to preserve and celebrate your historical documents and photographs by bringing them to the Museum to be scanned on their professional-grade archival scanner.

---
3D Mobile Mammography Van coming in September (posted 7/29/2020)
Sublette County Rural Health Care District and Portneuf Health Partners will present the 3D Mobile Mammography Van coming to Pinedale and Big Piney in September.

The Van will be in Pinedale at the Pinedale Medical Clinic parking lot from 8AM to 5PM on Monday, September 28th.

The Van will be in Marbleton at the Clinic parking lot on Tuesday, September 29th from 8AM to 1PM.

Call to schedule an appointment.
Pinedale: 307-367-4133
Marbleton: 307-276-3306

Bring your insurance card and photo ID the day of your appointment.

---
Tyler Draw XC Mountain Bike Race near Pinedale Sept. 12 (posted 7/28/2020)
The Tyler Draw XC Mountain Bike Race will be held on Saturday, September 12th. The race will be in Tyler Draw on Bureau of Land Management land, located 4.5 miles south of Pinedale on the Mesa Road. XC format, 5.5 mile laps based on division. New this year is an e-bike division.

There will be a pre-ride on Friday, September 11th from 6-7PM and on Saturday morning from 7-8AM. The Race Division start time is 8:30AM.

Categories:
Men's Division
Women's Division
Masters: 40+ 4 laps
Expert: 5 Laps
Sport: 3 laps
Beginner (adults only): 2 Laps
Junior 1, 15 -18 - 3 laps
Junior 2, 12-14 - 2 laps

Cost: $45

T-shirt $20
Indicate size: Youth S M L XL
Adult: S M L XL

Contact: Andrew Zook, Geared Up in Pinedale, 307-760-1912

---
Golfing for Veterans Tournament in Pinedale August 15 (posted 7/28/2020)
The 2020 Sublette County Golfing for Veterans tourney will be held on Saturday, August 15th at the Rendezvous Meadows Golf Course in Pinedale. All proceeds go to local Veterans groups.

Opening ceremonies start at 8:00AM. Tee times to follow. There will be a 4-man scramble, prizes and silent auction.

Contact Richard Duginski at 307-231-5251 for sign ups and donations.

---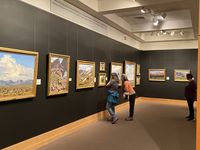 Tucker Smith art exhibit at the National Museum of Wildlife Art in Jackson until August 23rd.

Tucker Smith art exhibit in Jackson through Aug. 23 (posted 7/27/2020)
The National Museum of Wildlife Art in Jackson, Wyoming, is displaying a retrospective exhibit of the paintings of the nationally recognized Sublette County artist, Tucker Smith.

There are about 90 paintings in the exhibit, including some of his award-winning paintings, including Hay Sled, Return of Summer, Making Hay, While the Sun Shines, and Wyoming Sky. The paintings in the exhibit represent 45 years of work.

Tucker and his wife, Jean (Toro), grew up in Pinedale and are Pinedale High School graduates. Tucker is a graduate of the University of Wyoming. They make their home on the Rim.

The exhibit includes a slide show of the Wind River Mountains from north to south. Tucker has spent a lot of time in the Wind Rivers, and still looks forward to his annual trips.

The exhibit will hang at the National Museum of Wildlife Art through Aug 23, 2020. It will then tour to the National Cowboy and Western Heritage Museum in Oklahoma City, the National Sporting Library and Museum, in Middleburg, Virginia, the Booth Western Art Museum in Cartersville, Georgia, and the C.M. Russell Museum, Great Falls, Montana.

---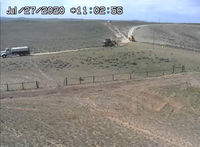 Work has begun on the Trappers Point access road.

Notice of road work – Trappers Point (posted 7/27/2020)
Sublette County Historical Society
Construction crews will be working on improving the access road to the Trappers Point historical site during the week of July 27th. The access road will be closed and historical site will be inaccessible during this time due to heavy equipment at that location. Thanks to the Sublette County Commission, Sublette County Road & Bridge, Rio Verde Engineering, and archaeologist Dave Vlcek for their help with the project. The work is being completed under permit with the Bureau of Land Management with extra care to not disturb buried archaeological resources in the area.

Related Links:
Trappers Point wildlife live webcam www.trapperspoint.com
---
Firewood cutting areas available on the Big Piney Ranger District (posted 7/21/2020)
Bridger-Teton National Forest
BIG PINEY, WYOMING – The Big Piney Ranger District of the Bridger-Teton National Forest has opened additional firewood cutting areas in Snyder Basin. The three additional areas are along Spring Creek Road #10139, behind the gate along South Beaver Creek #10121, and behind the gate toward Marge's Delight off road #10046.

These areas are open from now until August 15, 2020.

All Bridger-Teton National Forest rules, regulations and policies apply to these additional areas. All wood cutting must be within 300-feet of open roads and cut to (at maximum) 8-foot lengths. Contact the Big Piney Ranger District for information about mechanical permits.

For additional questions contact the Big Piney Ranger District at 307-276-5800.

Click on the links below for maps of the three additional firewood cutting areas.
Marges Delight Firewood Map
South Beaver Firewood Map
Synder Basin Firewood Map
---
Local Services:
Abortion Alternatives
Accounting & CPA
Apartments/Townhomes
Arts & Entertainment
Attorneys & Legal
Auction Services
Automotive
Aviation Services
Banks & Financial
Bars
Beauty Salons
Bed & Breakfasts
Boating
Bookkeeping
Builders & Contractors
Building Material
Business Services
Cabins
Cellular
Child Care
Churches
Cleaning Services
Clothing
Commercial Art
Computer Supplies
Condos
Consultants
Convenience Stores/Fuel
Convention/Meeting
Dentists
Dining
Dry Cleaning
Events
Fabric & Crafts
Fencing
Fishing
Flooring
Food & Drink
Funeral Homes
Furniture
Gifts/Western
Government
Graphic Design
Grocery & Market
Guest Ranches & Lodges
Handyman Services
Hardware & Feed
Heating
Health Care & Medical
Horseback Adventures
Insurance
Interior Design
Internet/Web/Advertising
Landscaping
Laundry
Liquor Stores
Lodging
Log Homes
Marketing
Massage Therapy
Modular Homes
Motels
Mountain Biking
Movie Theaters
Museums
Nails
Newspapers
Office Supplies
Oil Field Services
Optometrists
Organizations
Outdoor Equipment
Outfitters & Guides
Packaging & Shipping
Painters
Pet Stores
Pharmacies
Photography
Plumbing
Professional Services
Radio
Real Estate Agencies
Real Estate-FSBO
Remodeling
Retirement
Retreats
RV Camping
Schools
Scrapbooking
Septic Services
Skiing
Snowmobiling
Snow Plowing
Storage and Storage Units
Tanning
Tattoos & Body Art
Tax Preparation Services
Taxidermy
Transportation/Shuttle
Trash Services
Trucking
Veterinarians
Visitor Services