Sublette Co Commissioners meeting April 20 (posted 4/16/2021)
Carrie Long, Sublette County Clerk
BOARD OF COUNTY COMMISSIONERS
SUBLETTE COUNTY, WYOMING
LOVATT ROOM, PINEDALE LIBRARY
TUESDAY; APRIL 20, 2020
AGENDA

9:00 a.m. Call to Order
• Pledge of Allegiance
• Request approval of the agenda
• Request approval of the prior meeting minutes (4/6/21).

9:05 a.m. Billy Pape, Road & Bridge, Update on Activities
• Replace Crusher Position and Seasonal Employees
• Waste management Free Dump Day May 3-7, 2021
• Class 1 Road Classifications
• New Equipment Lease Options
• Wash Rack System – Enviremedial Service Inc.
Rio Verde Engineering – Update on Projects

9:30 a.m. Matt Gaffney, County Administrator
• Medical Air Services Association Presentation
• Executive Session (W.S. 16-4-405 (a)(ii) – Employee Sick Leave Donation
• Extension of families First coronavirus Response Act leave
• Sales offers on 2006 Horton Ambulance (Big Red)
• Request from Sublette County EMS for beds at Sand Draw

10:15 a.m. Shad Cooper, Fire Warden, Annual Operating Plan

10:30 a.m. Janna Lee, Public Health
• Public Health Update
• Review ICS Transition Plan
• County Health Officer Contract

11:00 a.m. Dave Doorn, Tonia Hoffman – Hospital District Update

11:15 a.m. Emily Paravicini, Treasurer
• Lodging Tax Discussion
• Request by Jonah for Exemption

12:00 p.m. Lunch

1:00 p.m. Julie Kraft, Weed & Pest, 2020 Annual Report

1:15 p.m. Amber Anderson, Pinedale Aquatic Center, PAC Budget Presentation

1:30 p.m. Don Schooley, Upper Green River Cemetery District, Easement – Bondurant Cemetery

1:45 p.m. Todd Hurd, Forsgen Associates Inc. – Update on Projects

2:00 p.m. Monthly Reports:
• Accounts Payable
• Contract – Jeremy Christensen (Rendezvous Golf Course)
• Malt Beverage Permit – Sublette County Sporting Assc. – Pinedale Rodeo Grounds (July 8, 9, 10)
• Treasurer – Bond Approval (Craig J. Smith – Treasurer, Recreation Board); (Nancy Espenscheid – Treasurer, Fair Board)
• Laila Illoway, Assessor

2:15 p.m. Sam Bixler, Marbleton Ballfield Discussion

Old Business:

Click on this link for a printable version of this agenda

---
Talk on how to avoid financial scams April 20 (posted 4/16/2021)
The Department of Family Services is hosting a presentation on how to avoid financial Scams. This presentation will be given by APS (Adult Protective Services) specialist Jane Carlson. The presentation will be held Tuesday April 20th at 12:15pm during lunch at both the Southwest Senior Center in Marbleton and Rendezvous Pointe in Pinedale. This is an educational opportunity to protect yourself from being scammed.
---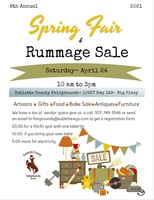 Spring Fair April 24

8th Annual Spring Fair & Rummage Sale April 24 (posted 4/16/2021)
The 8th Annual Spring Fair and Rummage Sale will be held at the Sublette County Fairgrounds on Saturday, April 24th, from 10AM-3PM. There will be artisans, gifts, food, bake sale, antiques, furniture, more. Vendor space still available, call 307-749-3546 or send an email to fairgrounds@sublettewyo.com to get a registration form. $20 for a 10x10 spot with a table, $10 if you bring your own table, $5 more for electricity.
---
Mother's Day Tea in Daniel May 8 (posted 4/16/2021)
A Mother's Day Tea will be held on Saturday, May 8th at 2:00PM at the Daniel Schoolhouse.
---
Mother's Day High Tea May 8 (posted 4/16/2021)
A Mother's Day High Tea will be held at the Chambers House Bed & Breakfast in Pinedale on Saturday, May 8th from 1-3PM. Wear your best posh outfit – there will be a "Best Tea Hat" contest. This event is hosted by Sacred Rim Event Planning. Tickets start at $20, available www.sacredrimeventplanning.com/events.
---
Pinedale Anticline annual planning documents available (posted 4/16/2021)
Will not hold a physical meeting; Comments accepted until May 17, 2021
Bureau of Land Management
The Bureau of Land Management Pinedale Field Office will not hold a physical meeting in 2021 for the Pinedale Anticline Project Area wildlife, air, water and operator planning sessions. Instead, wildlife monitoring reports, operator reports, and agency updates typically presented at the meeting will be available on the Jonah Interagency Office/Pinedale Anticline Project Office (JIO/PAPO) website: https://www.blm.gov/wyoming/jio-papo/papo.

Documents available include:
Annual wildlife planning meeting documents, including required wildlife monitoring and updates on mule deer and Greater sage-grouse populations and mitigation.

Annual air, water and operator meeting documents, including socioeconomics, air quality, water quality/monitoring, reclamation and operator development projections and reports.

Please submit comments to Kellie Roadifer at kroadife@blm.gov or to Doug Linn at dlinn@blm.gov. Comments will be accepted until May 17, 2021.

For information about the Pinedale Anticline Project Area, please visit: https://www.blm.gov/wyoming/jio-papo/papo or contact Kellie Roadifer at 307-699-1279, or Doug Linn at 307-367-5302, or at dlinn@blm.gov.

---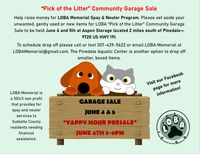 LOBA Memorial fundraiser

'Pick of the Litter' Community Garage Sale June 4 & 5 (posted 4/16/2021)
The 'Pick of the Litter' Community Garage Sale will be held on Friday and Saturday, June 4 & 5th. This event is a fundraiser for LOBA Memorial Spay & Neuter Program. Please set aside your unwanted, gently used, or new items. The sale will be at Aspen Storage, 2 miles south of Pinedale on US 191 on Friday and Saturday. To schedule drop-off, please call or text 307-439-5622 or email lobamemorial@gmail.com. Smaller, boxed items can be dropped off at the PAC. "Yappy Hour Presale" on June 4th from 5-8pm. LOBA Memorial is a 501c3 non-profit for spay and neuter services to Sublette County residents needing financial assistance. More information on the LOBA Memorial Facebook page.
---
Death Notice: Nancy Penton Smith (posted 4/14/2021)
Nancy Penton Smith passed away peacefully on April 6, 2021 at her home in Boulder, Wyoming after many years of battling cancer. No formal services are planned at this time.

Related Links
Obituary – Nancy Penton Smith Covill Funeral Home

---
Children's Learning Center enrolling for Fall (posted 4/15/2021)
The Children's Learning Center (CLC) is now enrolling 2-5year olds for Fall 2021. The CLC provides quality preschool programs and special education services to Sublette County preschool age children. Scholarships are available for qualifying families. Children must be two years age by August 1, 2021 for preschool. Developmental screening is available at no cost to families.
---
Death Notice: Harold W. Gray (posted 4/13/2021)
Harold W. Gray, 68, of Boulder, Wyoming, passed away on April 6, 2021. A graveside funeral service was held on Monday, April 12, 2021 at the Pinedale Cemetery.

Related Links
Obituary – Harold W. Gray - Covill Funeral Home

---
SCSD#1 makes no changes regarding budget reductions (posted 4/13/2021)
Sublette County School District #1 posted the following message regarding their budget situation:
4/13/2021
Dear SCSD 1 Stakeholders:
Despite a number of proposed bills that would have reduced education funding for the 2021-2022 school year, the legislative session has ended without new legislation to do so. As a result, the SCSD 1 Board of Trustees has tabled the proposed budget reduction plan indefinitely. None of the proposed budget reductions will be enacted, with the exception of the reduction of the Curriculum Director Position which has been reassigned.
Jay Harnack, Superintendent

---
South Fort Prescribed Burn planned on the Pinedale Ranger District (posted 4/13/2021)
Bridger-Teton National Forest
The Bridger-Teton National Forest is planning to implement the South Fort prescribed burn, a continuation of the Skyline Wildland Urban Interface Fuels Reduction Project on the Pinedale District in the coming weeks.

The Skyline Wildland Urban Interface Fuels Reduction Project's overall objective is to remove hazardous fuels within and around the wildland urban interface (WUI), to minimize the intensity of any future wildfires in the area. Additional resource benefits include aspen enhancement/restoration, Douglas-fir restoration, old growth tree enhancement and recreational benefits.

The South Fort prescribed burn has three separate burn units (Units 1-3) in the vicinity of Kelly Park and Sweeney Creek. Unit 1 and 2 are located on the south aspect of Fortification Mtn adjacent to White Pine Ski area. Unit 3 is adjacent to Sweeney Creek, Kelly Park and Skyline Drive. Considering local forecast and climatology data, Fire Managers consider a range of potential days/weeks in which the units could be available to burn. This includes ensuring the units are snow free, potential smoke impacts and fuel moistures are conducive for burning while meeting objectives. The current prediction for when ignitions could occur is sometime in late April to mid-May. Ignition operations will occur over the course of 2-5 days. Each unit will be ignited and secured before moving on to the next. The burn units are approximately 380-acres in total size. Ignitions will be accomplished with fire crews utilizing drip torches and a helicopter utilizing a plastic sphere dispenser for aerial ignitions.

Smoke will be visible from Hwy 191/189, Pinedale, and surrounding area during ignition operations and for a short time after lighting has been completed. For the safety of the public and firefighters, Sweeney Road and Kelly Park will be closed during operations. Public information will be available at the Sweeny Creek and Kelly Park parking areas over the course of ignitions.

This project is supported by the Sublette County Forest Collaborative.

For more information on prescribed fire, fuels reduction projects, and defensible space, visit www.tetonfires.com or call the Pinedale Ranger District at 307-367-4326.

---
Boulder Roll Poker Run June 12 (posted 4/13/2021)
Fundraiser for suicide awareness
The 2021 Boulder Roll Poker Run will be held on Saturday, June 12. Money raised will go towards Suicide Awareness and Prevention in Sublette County. Organizers welcome anyone to ride, UTV or vehicle, along (as long as it's street legal). They are also seeking donations for live auction items or sponsors. More information can be found on Facebook here.
---
Musicians Gathering returns April 13th (posted 4/12/2021)
Musicians Gathering is back at the Pinedale Library on Tuesdays starting April 13th. Do you play the guitar or other stringed instrument? This meetup is designed to give local musicians a chance to get together informally to play music, share skills, expand skills, or even learn to play. Bring an instrument. Musicians Gatherings are on the second and fourth Tuesdays of the month in the Pinedale Library Lovatt Room from 2 - 4 pm (drop in when you can).
---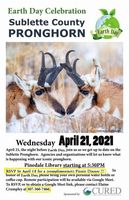 April 21, 2021 at the Pinedale Library. Please RSVP by APRIL 18, 2021 (revised date) so they can get a head count for meals.

Sublette County Pronghorn talk April 21 (posted 4/12/2021)
Earth Day Celebration
April 21, the day before Earth Day, everyone is invited to
a presentation to get up-to-date on the Sublette pronghorn.
Agencies and organizations will be on hand to provide
information. The event will begin at 5:30PM in the Pinedale
Library. Please RSVP by Sunday, April 18th so they can get
a head count for the picnic dinner, or bring your own
picnic. In honor of Earth Day, please bring your own
personal water bottle or coffee cup. Remote participation
will be available via Google Meet. To RSVP, or receive the
Google Meet link, please contact Elaine Crumpley at 307-
360-7466. This event is sponsored by Citizens for
Responsible Energy Development (CURED).
---
Free Tax Preparation document drop off ends Saturday, April 17th (posted 4/12/2021)
Sublette County Library
Have you filed your taxes yet? The IRS extended this season's filing and payment deadline beyond the April 15th cutoff and our dedicated Volunteer Income Tax Assistance (VITA) program volunteers also extended free tax preparation services at the Pinedale Library. This Saturday, April 17th is the last day to drop off your documents if you qualify for free tax preparation. Masks are required for this service.

Prefer to drop documents off at Big Piney Library? Jen Brown is able to receive your documents this week until Friday, April 16th. Save a trip to Pinedale and bring your documents to her this Monday, Wednesday, Thursday or Friday between 10 am - 4 pm and she will deliver them to tax preparers in Pinedale. You will be required to pick up your documents and sign your completed tax return on Saturday, April 24th at the Pinedale Library.

- See if you qualify, what documents to bring, and what to expect from this service at Pinedale Library

- More info about dropping off documents at Big Piney Library

---




Grand Opening May 4

Grand Opening for the Pinedale Library Western Americana Room May 4 (posted 4/12/2021)
A Sublette Centennial event
The Sublette County Library in Pinedale will be holding a Grand Opening for their new Western Americana Room. The event will be on Tuesday, May 4th from 4:00-6:30PM. This is an official Sublette Centennial event. Come enjoy hors d'oeuvres and wine, browse the collection, and survey the meeting area that is available by reservation for small groups.
---
Wyoming Legislature update – End of 2021 General Session wrap-up (posted 4/12/2021)
Albert Sommrers, House District #20 Representative
Hello Sublette County, this is Representative Albert Sommers reporting to you from the ranch, after the end of the 2021 General Session of the 66th Wyoming Legislature. Prior to and during this session, there were 690 drafting requests for bills. Of these, only 441 bills were numbered for introduction. Of the 441 numbered bills, 101 (36 percent) House Bills and 77 (48 percent) Senate Files passed both bodies and were headed to the Governor. I was the prime sponsor on three bills that made it through the entire process this session. They were HB0039, Optometrist practice act amendments; HB0101, Elk feedground closings-requirements; and HJ0011, State sovereignty impacted by federal actions.

One of the more heavily debated issues that swirled around Wyoming during this pandemic was whether an appointed state health officer should be able to restrict the rights of Wyomingites, or should those decisions be made by elected individuals. The Legislature took that issue up through several bills, but the one that passed the legislative process was HB0127, Public health amendments. The bill passed by the House would allow a local health officer's order to stand for only 10 days. Any extension of the health order would be decided by the Governor or by a locally elected body. This was designed to address the issue of restriction of movement and business, but did not apply to health orders that quarantined individuals. Further, the bill provided that the state health officer will be appointed and removed by the Governor, not by the Director of the Department of Health, as current law states.

The Senate passed SF0080, Public health orders-local and legislative oversight, which would have required a 48-hour notice of a health order and legislative ratification to continue a health order after 60 days. This bill did not get heard in the House, because HB127 was determined to be a better vehicle for the discussion. SF0095, Election of state health officer, would have made the state health officer position a statewide elected position. The bill failed in a Senate standing committee.

When the Senate worked HB127, it turned the bill into SF80, which required a vote of the Legislature to continue a health order. The House did not concur with those changes, and the bill went to a conference committee. The compromise put in place a 48-hour notice to allow for public comment, except when the delay will result in immediate and life-threatening physical harm, exposure or transmission beyond the existing affected area. The rest of the bill remained the same as when it left the House.

I was a co-sponsor of HB127, because I believe that the Governor and locally elected officials should be the ones who decide whether a health order should continue after its initial timeframe. I do not believe the Legislature should be the decision maker on health orders. The Legislature is slow, unwieldy, and is not nimble enough to act in a timely manner to respond to a crisis. The Legislature has the power to bring ourselves into a special session, if we choose to question a Governor's order. The Legislature must be careful not to violate the separation of powers, as prescribed by the Wyoming Constitution in Article 2 Section 1. The Legislature makes the laws, it does not execute the law, enforce the law, or interpret the law. I believe HB127 walks a fine line between listening to the science and listening to the people.

The federal American Recovery Plan (ARP) Act will provide the State of Wyoming with over $1 billion to allocate. The ARP Act will also provide K12 education with at least $303 million, local government $175 million, and higher education $44 million. The Legislature will likely convene a special session sometime in July to appropriate the ARP dollars through various programs. I worry about the debt that our nation is taking on, and the long-term consequences of that debt for future generations.

I can be reached at albert@albertsommers.com with question or comments.

---
Wind River Fliers - new flying club in Pinedale (posted 4/11/2021)
Jamie Burgess
The Wind River Fliers, a flying club based at the Pinedale Airport, is in operation with a Cessna 182.

This club is a venue for Sublette County people, of all ages, to become involved in aviation. Now anyone here can learn to fly and experience the joy of learning, further their job horizon, for travel or to fly for the fun and adventure of flying itself.

My life experiences have been broadened by my international and local career in aviation. Ongoing adventures in our own little airplane with my family and aviation friends are a highlight of life even after 45 years of flying.

Congratulations to the cadre of people who have committed to establishing a flying club in Sublette County.

I hope many people here take advantage of this great addition to the community and get involved with our local public airports. It is fun!

The President of the club is John Douglas. He can be reached at 308-413-7888, or talk to any of the other club members you may already know.

---
The End of the 2021 Session: K12 Education Debates (posted 4/10/2021)
Albert Sommers, House District #20 Representatives
Hello Sublette County, this is Representative Albert Sommers reporting to you from Cheyenne at the close of the 2021 General Session of the 66th Wyoming Legislature. We ended the session at 8pm on Wednesday, April 7. The final hours of debate and negotiation in conference committees involved three bills that had implications for K12 education.

The first bill was SF0121, State funds - investments and distributions, which raised the amount of investment earnings that could be spent from the inviolate Common School Permanent Land Fund. The bill also sent a portion of severance tax to grow the corpus of this permanent account. The Common School Permanent Land Fund has $4.1 billion, and the investment income from this constitutionally created account helps fund K12 education.

The second bill, SF0130, Charter schools, was a hotly debated bill that allowed an entity other than a school district to authorize a charter school in Wyoming. The final deal struck between the House and the Senate allowed the State Land and Investment Board (which consists of the Governor, Secretary of State, State Treasurer, State Auditor, and Superintendent of Public Instruction) to be the second authorizer. However, the final agreement allowed only three charter schools to be authorized under this new system before review and further study of the charter school program by the Legislature.

The third bill was HB0173, School finance funding-2, which was designed as a comprehensive solution to the K12 funding shortfall. The 66th Legislature entered the 2021 General Session with a $300 million annual K12 education funding shortfall, with $250 million related to the general operations of schools and $50 million associated with capitol construction. This shortfall is largely the result of Wyoming mining 250 million fewer tons of coal per year, with a subsequent decline in ad valorem tax, federal mineral royalties, and federal coal lease bonus payments. Unfortunately, on our last day, the House and the Senate deadlocked on HB173. The conference committee could not agree on a solution to the K12 deficit, and the bill died.

Let's recap how we got to this point. When HB173 bill passed the House on March 23, it was a four-part solution that included constitutional funding model reductions, diversion of existing revenue flows from savings to education, federal America Recovery Plan (ARP) dollars, and an insurance policy of a half-cent sales tax for education that would kick in only if our "Rainy Day" account dropped below $650 million. By utilizing some of the federal ARP dollars as a local resource, the House created a provision through the distribution of these ARP dollars that would have allowed the State to save $135 million of school foundation money, while still fully funding the K12 funding model. By 2026, the deficit reduction measures created in HB173 would have shrunk a $250 million annual operations shortfall down to a $38 million shortfall.

The Senate did not agree with a comprehensive solution to solving Wyoming's education funding shortfall. It eliminated both the half cent sales tax and the diversion of existing revenue streams from savings to K12 education.

Senate amendments to the House ARP distribution plan produced the following three outcomes. First, they cut K12 education funding to districts by $135 million; second, they captured nearly all of the $273 million in federal ARP dollars in school district reserves; and third, they placed restrictions on the permissible uses of school foundation program dollars and federal resources. These actions were hidden within large Senate amendments, and it took the House conference committee several hours to realize what the amendments did.

The reductions and restrictions the Senate created through the distribution of the ARP dollars would have disproportionately affected districts with higher numbers of disadvantaged Title 1 students, because the federal ARP program was based upon the number of Title 1 students in a district. By accepting these federal dollars, Wyoming is obligated to limit cuts to education. As HB173 left the House, its funding model reductions amounted to about a 3 percent cut, and this cut was within the federal guidelines.

In conference committee, where differences between House and Senate are negotiated, the first compromise that the House brought to the Senate would have reduced the annual K12 funding deficit by $154 million, without taxing Wyoming citizens. Within this compromise, the House agreed to eliminate the sales tax from the bill, and the House met the Senate half-way on the timetable for phasing in cuts. Eventually, the House agreed to alter the revenue diversions and temporarily redirect them.

The Senate would not budge from its position with respect to the distribution of federal ARP dollars. The House remained willing to negotiate a compromise, but the Senate announced the end of discussions on the floor of the Senate in a fiery speech.

In the end, the Senate was unable to move in our direction to help solve the State's largest financial problem, as the only tool it brought to the discussion was cutting education funding.

I am confident that the House and the Senate will rebound from this emotion-filled interaction, and continue to look for solutions to Wyoming's school finance challenges.

I can be reached at albert@albertsommers.com with questions or comments.
Thank you.

---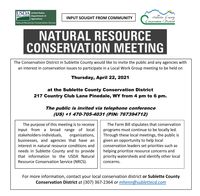 Meeting April 22

Conservation public meeting April 22 in Pinedale (posted 4/10/2021)
Public input sought on Sublette County conservation issues
The Sublette County Conservation District is inviting the public and any agencies with an interest in conservation issues to participate in a Local Work Group meeting to be held on Thursday, April 22, 2021 in Pinedale. The purpose of the meeting is to receive input from a broad range of local stakeholders, individuals, organizations, businesses, and agencies that have an interest in natural resource condition and needs in Sublette County and to provide that information to the Natural Resource Conservation Service (NRCS).

The Farm Bill stipulates that conservation programs must continue to be locally led. Through these local meetings, the public is given an opportunity to help local conservation leaders set priorities such as helping prioritize resource concerns and priority watersheds and identify other local concerns.

The meeting will be held from 4-6PM at the Sublette County Conservation District Office, 217 Country Club Lane in Pinedale, Wyoming. The public is invited via tele-conference +1 470-705-4031 (PIN: 767394712)

For more information contact your local conservation district of the Sublette County Conservation District, 307-367-2364, mhenn@sublettecd.com

---
PAC 2021 Summer Expo May 12 (posted 4/10/2021)
The Pinedale Aquatic Center will host their 2021 SUMMER EXPO at the PAC on Wednesday, May 12th, from 3:30pm-6:00pm. The Pinedale Aquatic Center Summer Expo is an opportunity for local organizations to showcase youth and family-focused happenings they offer for the year ahead. Table space is offered at no charge. This year's Expo will be held outside. Click on this link to register. For more information, contact Deanna Fildey, at 307-367-2832, ext. 6244, or email dfildey@pinedaleaquatic.com.
---
White Pine has Early Bird Season Passes on sale (posted 4/10/2021)
For the 2021/2022 winter ski and snowboarding season
White Pine Ski Area has their 2021/2022 winter season passes on sale now. Enjoy skiing and snowboarding at White Pine next season. Early season 2021/2022 pass purchases are discounted and come with additional perks.

- 20% off FOUR friends and family day lift tickets (valid only for Adult pass purchases)
- 10% off Private Ski/Snowboard Lessons
- Free Junior Snowsports Club memberships for each youth season pass - grades K thru 12. (Free White Pine Junior Snowsports Club membership only available to qualifying youth season pass purchases during the April and May Early Bird Season Pass Sale.)
- Indy Pass Add-On Discount! (more info to come later, ski 2 days free at ALL participating resorts)
- Free and discounted lift tickets at participating Partner Resorts. See www.whitepineski for list of partners and deals. Look for additional Partners to join 2021/2022.

Anticipated ski season opening day for the 2021/22 winter season is usually around Thanksgiving (November 26th), conditions permitting.

White Pine Ski Area is located approximately ten miles east of Pinedale in the Wind River Mountain Range. They operate under a special use permit from the Bridger-Teton National Forest.

For more information call 307-367-6606.

---
BLM to conduct prescribed fire in Sublette and Lincoln Counties (posted 4/9/2021)
Bureau of Land Management
PINEDALE, WYOMING - Bureau of Land Management High Desert District fire crews will conduct prescribed fire operations between May and July as part of a multi-year project. Fire operations will begin only when conditions are favorable for a safe and effective burn on public lands administered by the Pinedale Field Office.

The Burdick prescribed fire project is located approximately 13 miles west of La Barge, Wyoming on the east face of Miller Mountain, south of the La Barge Creek drainage. There are 470 acres of slash and standing conifer targeted to burn on the Burdick prescribed fire project.

This prescribed fire is part of the Wyoming Range Mule Deer Habitat Project which was developed as part of the Wyoming Game and Fish Department's Wyoming Range Mule Deer Initiative that was completed in 2011. The purpose of the project is to reduce hazardous fuels and improve vegetation conditions in crucial mule deer winter range, transition range, and fawning ranges. The vegetation conditions are improved by using prescribed fires to reduce conifer where it is encroaching on native aspen stands and to stimulate new aspen growth.

Fire crews will implement a number of burning tactics to start and control the burn. Smoke will be visible to the public during the operations. Fire crews will remain on scene and monitor the burn areas afterward to ensure safety until the fire is out.

Prescribed fire is a beneficial management tool used to replicate natural wildfire. Many land management agencies conduct prescribed fire to ensure the overall improvement of land, vegetation, and wildlife. It can also help return the ecosystem to its natural composition and healthiest function.

For more information, please contact Mark Randall at 307-367-5350 or visit the Pinedale Field Office located at 1625 West Pine Street in Pinedale, Wyoming.

---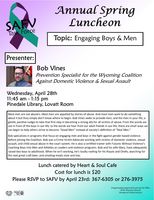 SAFV Annual Spring Luncheon

SAFV 2021 Annual Spring Luncheon April 28 (posted 4/9/2021)
The Sublette County Sexual Assault and Family Violence Task Force (SAFV) will hold their 2021 Annual Spring Luncheon on Wednesday, April 28th from 11:45 am – 1:15 pm in the Lovatt Room of the Pinedale Library. Special guest speaker is Bob Vines, Specialist for the Wyoming Coalition Against Domestic Violence and Sexual Assault – Topic: "Engaging Men and Boys." Cost is $20. The meal will be catered by Heart & Soul. Please RSVP to SAFV by Friday, April 23rd, 307-367-6305 or 307-276-3975.
---
Local Services:
Abortion Alternatives
Accounting & CPA
Apartments/Townhomes
Arts & Entertainment
Attorneys & Legal
Auction Services
Automotive
Aviation Services
Banks & Financial
Bars
Beauty Salons
Bed & Breakfasts
Boating
Bookkeeping
Builders & Contractors
Building Material
Business Services
Cabins
Cellular
Child Care
Churches
Cleaning Services
Clothing
Commercial Art
Computer Supplies
Condos
Consultants
Convenience Stores/Fuel
Convention/Meeting
Dentists
Dining
Dry Cleaning
Events
Fabric & Crafts
Fencing
Fishing
Flooring
Food & Drink
Funeral Homes
Furniture
Gifts/Western
Government
Graphic Design
Grocery & Market
Guest Ranches & Lodges
Handyman Services
Hardware & Feed
Heating
Health Care & Medical
Horseback Adventures
Insurance
Interior Design
Internet/Web/Advertising
Landscaping
Laundry
Liquor Stores
Lodging
Log Homes
Marketing
Massage Therapy
Modular Homes
Motels
Mountain Biking
Movie Theaters
Museums
Nails
Newspapers
Office Supplies
Oil Field Services
Optometrists
Organizations
Outdoor Equipment
Outfitters & Guides
Packaging & Shipping
Painters
Pet Stores
Pharmacies
Photography
Plumbing
Professional Services
Radio
Real Estate Agencies
Real Estate-FSBO
Remodeling
Retirement
Retreats
RV Camping
Schools
Scrapbooking
Septic Services
Skiing
Snowmobiling
Snow Plowing
Storage and Storage Units
Tanning
Tattoos & Body Art
Tax Preparation Services
Taxidermy
Transportation/Shuttle
Trash Services
Trucking
Veterinarians
Visitor Services
Wagon Rides
Well Drilling