Notice of road closure in Pinedale May 30th (posted 5/26/2020)
South Fremont Ave between Mill and Charles Streets
Sublette County Unified Fire
Public Notice: On Saturday, May 30 Sublette County Unified Fire will be closing South Fremont Avenue between Mill and Charles Streets. The closure will last from 9 am until approximately 3 pm. SCUF firefighters will be doing annual hose testing to ensure the fire hose meets service requirements for safety. If you have any questions please contact Spencer Hartman at battalion1@sublettefire.com. Thank you for your patience as SCUF performs this important maintenance.

---
SCSD#1 free meals program continues through June 30, 2020 (posted 5/23/2020)
Sublette County School District #1
May 21, 2020 update: Sublette County School District #1 (SCSD 1) is planning to provide the free meals program through June 30th, 2020. This program is open to all children age 18 and under. We are still taking signups for participation at this link. (note: sign-up only available Monday – noon Thursdays. If you have already signed up, you don't need to reregister. This sign-up is for new registrations to the free program.)

We will not be delivering meals on Memorial Day, May 25th.

With summer approaching and many people traveling, we ask that you email Cyd Alfrey (calfrey@sub1.org) or Jeryl Fluckiger (jfluckiger@sub1.org) if you wish to end your meal deliveries. We ask that you provide us with at least a week's notice to make the change.

Thank you,
Jery Fluckiger, Director of Operations

Visit the Sublette County School District #1 Facebook page for current updates: https://www.facebook.com/sub1.org/

---
Bondurant BBQ cancelled for 2020 (posted 5/21/2020)
The Bondurant Community Club has regrettably made the decision to cancel the Bondurant BBQ for this year because of social distancing restrictions due the coronavirus pandemic. The annual BBQ is a big event for the Bondurant community and an important fundraiser for the Bondurant Community Club. The event is usually held the last Sunday in June, this year it would have been on June 28th.

---
2020 Fishing for the Fight Tournament cancelled (posted 5/21/2020)
Due to COVID-19 pandemic
Fishing For the Fight is a charitable organization that hosts an annual fly fishing competition that raises funds for Kickin' Cancer in Sublette County. 100% of the proceeds generated from this event go directly to families fighting cancer, people with special needs, and children with chronic illness.

Due to the uncertainty of the COVID-19 pandemic, the Fishing For the Fight Board has come to the difficult decision to cancel the 2020 Tournament. The event was scheduled to be held July 16-18, 2020.

"We thoughtfully considered all the angles and options and felt at this time we needed to make this call to support local and national efforts to keep everyone safe," said Chauncey Goodrich, President & Founder of Fishing For the Fight.

"We are so thankful for our generous donors and sponsors. We simply could not put this tournament on without all of you. Because of your ongoing support we have a strong balance sheet that allows us to continue to financially support many families. We will not be soliciting donors and sponsors this year, but we hope for your continued support for the 2021 tournament. FFF also wants to thank all our landowners for the years of their continued support. The donations of land use are what allows the FFF Tournament to be successful," Goodrich said in a letter to supporters.

The Board will continue to review and act on all requested applications they receive. They will make good use of the pause to continue to work on new ideas and improvements to ensure the 2021 Tournament will be the best one yet.

The FFF organizers hope to gather all the guides and have them tour all possible fishing sections to be more familiar with all the tournaments fishing beats. They hope to be able to do this on the preset dates of the tournament since the guides would have had this time already set aside. They will be contacting the landowners in hopes of allowing the organization access to do this.

The organization will be contacting teams and sponsors that have already registered and paid for the 2020 FFF Tournament. They will refund the sponsorship or team fee for the 2020 tournament upon request. Payments may also be deposited with the organization to transfer to the 2021 tournament.

For questions or more information, contact the board at boardfff@gmail.com or see the website for more information, https://www.fishingforthefight.com.


---
Rocky Mountain Power Foundation donates towards PAC Learn-to-Swim Program (posted 5/21/2020)
Friends of PAC
Friends of PAC is thankful to the Rocky Mountain Power Foundation for their support of the Pinedale Aquatic Center's Learn-to-Swim Program. These grant funds were used to help sustain affordable, year-round availability of swim lessons and water safety instruction. PAC believes that swimming and water safety are essential life skills and works hard to provide swim opportunities to all in the community. Over the course of this past year, PAC's Learn-to-Swim program reached over 500 youth. Public classes were scheduled nine months of the year and courses within the school district were planned six out of the nine months of the traditional school year.

PAC uses American Red Cross curriculum in their programs. This nation-wide system provides structure for teaching adults and children not just how to swim, but also how to be safe in, on, and around water. The ultimate goal of Learn-to-Swim is to prevent drowning by introducing water and safety skills. This is a unique focus in PAC's Learn-to-Swim Programs. At the start of each public lesson, all students participate in a water safety discussion. Topics include life jackets, assisting someone in need, being aware of weather and water conditions, and swimming with a buddy, to name a few. These classes are taught by certified and trained Water Safety Instructors.

PAC is proud to work directly with the local educators, from preschools through high school, to provide swim instruction to all ages. All Sublette County School District #1 elementary school students who do not receive swim lessons as a part of their grades physical education curriculum receive a voucher good for one free public swim lesson session during the year. In addition to the public and school district lessons, PAC also works closely with the local early childhood education providers. At least one session of swim lessons is scheduled directly with and for each of the four full-day preschools during the school year. Because of these special partnerships it is very rare for a student (who has gone through the public school system in Pinedale) to not have at least basic swimming skills. Grant funds received from Rocky Mountain Power were incredibly valuable in keeping these community partnerships going!

Thank you Rocky Mountain Power for your support of programs in our community!

Related Links:
www.pinedaleaquatic.com Pinedale Aquatic Center
Rocky Mountain Power Foundation

---
1st Annual Walk for Life in Pinedale June 27th (posted 5/21/2020)
Hope Choice Pregnancy Centers and Mentoring Programs will host the 1st Annual Walk for Life in Pinedale on Saturday, June 27th in Pinedale. The Hope Choice Walk for Life is an opportunity for the community to gather together in the belief that every life truly matters. Bring the family and walk with Hope Choice. Food, games, face painting, and lots of fun. Everyone welcome to join the walk in support of life on June 27th. For more information, call Emmy at 307-367-7077 or email edaniels@hopechoice.com.

---
50 State License Plate Survey returns (posted 5/20/2020)
How will COVID-19 change visitation to Pinedale in 2020?
Dawn Ballou, Editor, Pinedale Online!
We began our "50 State License Plate Survey" in 2002 and continued it for eight years. It started as a fun way to show how many people come visit, or pass through, our little town each summer. As time went on, we realized we pretty much get almost every state in the Union by summer's end. We stopped the survey in 2010. Now, ten years later, the world has been hit with the terrible coronavirus pandemic. Wyoming is just now slowly easing out from all the restrictions, hoping everyone takes extreme care in their travels and health habits to not spread the virus anew as everyone tiptoes into reopening. We decided to bring back the 50 State License Plate Survey and see how quickly the map fills in this year.

In year's past, we started our survey on Memorial Day weekend at the end of May. Later, we bumped it up to the beginning of the year in order to give ourselves more chance to find Hawaii, Delaware and Rhode Island. This year we are starting the survey on May 20th, for no particular reason.

This is not at all a scientific study, but is just for fun, so watch our map and see how quickly we find all the states this summer! We started it today, Wednesday, May 20th, chalking up four states: Wyoming (of course), Idaho, California, and Maine.

Click on this link to go to our 50 State License Plate Survey page. We'll keep updating it through the summer adding to the list.

---
Sublette County seeks RFP for Centennial Committee Coordinator (posted 5/19/2020)
Sublette County is looking for Requests for Proposal for a Coordinator for the Sublette County Centennial Committee.

Duties of the Coordinator:
• Work in conjunction with, and at the direction of, the Centennial Committee to develop the Centennial Celebration beginning on February 15, 2021 and ending on January 2, 2023.
• Serve as the Point of Contact for the Centennial Celebration.
• Work with community groups, organizations, business, and individuals to develop their own Centennial projects and events.
• Arrange and direct meetings, generate minutes, plans, and relevant documents.
• Develop proposals for and help implement County sponsored projects and events.
• Maintain schedule, organize County sponsored projects/events.
• Duration of this engagement will begin on July 1, 2020 and terminate on January 4, 2023.
• This proposal will be a Contract for Services with a not-to-exceed amount for the entire 30-month project.

Deadline for Requests for Proposal: Wednesday, May 27, 2020 at 5 p.m.

Submit Proposals To: Matt Gaffney, Matthew.Gaffney@sublettewyo.com.
Sublette County reserves the right to accept or reject any or all proposals.

---
Sublette County Centennial Committee volunteers wanted (posted 5/19/2020)
Help plan Sublette County's Centennial celebrations
The 100th anniversary of the formation of Sublette County is a major milestone in our history and a great time to collectively look back and celebrate our rich heritage! Sublette County is seeking volunteers to serve on a committee to plan events in celebration of the Sublette County Centennial, working with a Centennial Coordinator.

Purpose: Encourage the celebration of Sublette County's Centennial and guide the process over the next three years.

Timeline: July 1, 2020 through January 2, 2023. Appointment will be made for 30 months.

Goals of the Centennial Committee:
• To generate ideas for and encourage participation in the Centennial Celebration,
• Hold regular public meetings throughout the County, especially in 2020, leading up to Centennial.
• Develop a logo, theme, look and feel to brand the Celebrations.
• Establish important anniversary dates.
• Encourage and enable community groups, organizations, business, and individuals to develop their own Centennial projects and events.
• Develop proposals for County sponsored events and projects with budgets. The County should probably do at least one official celebration event, likely the feature event.
• Be a clearing house and help promote all things Centennial.
• Establish and maintain a central list and schedule of Centennial events and projects
• Provide direction and supervise Coordinator.
• Manage the Project budget and consider fundraising opportunities.
• Regularly report to the Board of County Commissioners.

Potential Committee Members: The Committee will consist of 5-9 volunteer members representing the county, towns/communities, museums/historians, schools, chamber, tourism, organizations, businesses, individuals. The Committee members will be appointed by the Board of County Commissioners in June, 2020.

Deadline for Applications: Wednesday, May 27, 2020 at 5 p.m.

Submit Application Letter to: Matt Gaffney, Matthew.Gaffney@sublettewyo.com
---
Sublette County Libraries begin phased reopening May 19 (posted 5/19/2020)
No one under age 18 admitted at this time
Under guidance from Sublette County Public Health, the Pinedale and Big Piney Libraries will begin a phased reopening starting Tuesday, May 19th with abbreviated hours and services.

Pinedale Library*
Open Tuesdays through Fridays
12 noon until 6 pm
Special Senior/At Risk Hour
Tuesdays and Thursdays 11 am until 12 noon

* In Pinedale: Please enter through the Tyler Ave. entrance - the library's Charles St. addition and Storytime Room are closed.

Big Piney Library
Open Tuesdays through Thursdays
3 – 6 pm
Special Senior/At Risk Hour
Tuesdays and Thursdays 8:30 – 9:30 am

What to expect when visiting the Libraries
The libraries are open for checking out of materials and using public access computers only. While we strive to serve as a community center, sadly our spaces cannot be a place for browsing, gathering or lingering at this time. The libraries' meeting rooms are currently only available to government meetings. The photocopier is available for use.

We encourage you to plan your visit ahead of time to make it an efficient and brief (15 minutes or less) visit while limiting interactions with others. Please don't come if you are not feeling well. The wearing of a mask is encouraged per Wyoming Department of Health and CDC recommendations.

- No one under the age of 18 is permitted.

- Please use the hand sanitizer provided upon your arrival.

- You must sign in inside the library's entrance for the purpose of Contact Tracing. This information is required by Sublette County Public Health and will be kept private and destroyed after two weeks.

- Social distancing of 6 feet is required in the libraries. Please respect the space around our staff. We suggest stepping outside to catch up with a friend.

- Public access computers and the photocopier will be sanitized by library staff after each use. We are unable to provide one-on-one help with computers and the photocopier at this time.

Library staff will be wearing masks and wiping down surfaces to ensure a clean environment. You will see new plexiglass shields at our circulation desks. All recently returned materials have been quarantined for three days and sanitized by library staff according to public health and CDC guidelines before circulation back into the community.

Our free unlimited WiFi remains available outside the library buildings.

Make a list of desired books and movies
We advise that you prepare at home so that you know exactly what you want before you come. Search our library catalog, or bring a list of your favorite authors or subjects.

To minimize cross contamination, DVD browsing cards and other high-touch items will not be available. We recommend browsing the library catalog before your visit. We've also placed tools on our website to help you decide what DVDs you'd like to enjoy next. All the DVDs in our collections are listed in our online library catalog with their call number.

We look forward to serving you
The Libraries take both our service to the community and the safety of our patrons and staff very seriously. We thank you for your patience as we adjust and expand our services amid changing government directives and public health recommendations in the coming weeks and months.

Expanding our Curbside Pickup Service
Our no-contact Curbside Pickup Service is expanding in Pinedale to Tuesdays, Wednesdays and Thursdays 3 – 6 pm, and in Big Piney to Tuesdays and Thursdays 3 – 6 pm. We are happy to collect specific items for you, add them to your library card account and bag them for your outdoor pickup. We will call you to let you know that your items are ready for pickup. There is a limit of 10 items per library card per day.

Pinedale Library
Tuesdays, Wednesdays and Thursdays
3 - 6 pm

Big Piney Library
Tuesdays and Thursdays
3 - 6 pm

There are three ways to reserve items for pickup:
• Place holds using our online library catalog and your library card. (This is the preferred method!)

• Email Pinedale Library: circulation@sublettecountylibrary.org or Big Piney: BPBranch@sublettecountylibrary.org

• Call Pinedale Library (307) 367-4114 between 10 am - 12 pm or Big Piney Library (307) 276-3515 from 12 - 3 pm.

---
Thank You Valerie Lee! (posted 5/18/2020)
Guest Contribution
Having successfully navigated a virtual Spring Festival this weekend, many of us in Sublette County wanted to extend a HUGE thank you to Valerie Lee for her visionary leadership in bringing unique musical experiences to so many of us over the past many years.

- First it was her commitment to musical theater that brought us the newly coined Pinedale Theatre Company with its premier of The Sound of Music and now six magnificent productions later, we are still reeling from Beauty and the Beast.

- From her commitment of teaching Latin to those theatrical nuns singing Dixit Dominus, her passion and leadership for singing with this group of women transformed into a hospice choir, Sisters of the Heart, where respite can still be found in singing at the bedside of the sick and dying.

- Seeing the depth of musical expertise in the community, her desire to push individual vocalists to perform and enhance their skills beyond the theater, found a place in the amazing group Voices 8, in what is described as "a consortium of soloists dedicated to ensemble singing, performing house concerts to raise money for the arts". They have raised money for Pinedale Fine Arts, the Pinedale Community Choir and the Skyline Theater Project. You might want to book them for your Christmas Party this December!

- Val coined the liaison of Arts Supporting Arts after she sang several seasons with Cathedral Voices in Jackson and without this connection with Pinedale Festival Choir, Pinedale High School's Petrichoral and Voices 8, the 70 voices of this weekend's virtual choir would not have happened.

Valerie, THANK YOU for your thousands of hours of volunteering your time and vision to all of us who love to sing for and with you! You create. You push. You encourage. You cheer us on. We love you!

---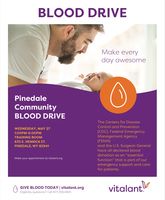 Blood Drive May 27th in Pinedale

Pinedale Community Blood Drive May 27th (posted 5/12/2020)
There will be a community blood drive in Pinedale, Wyoming on Wednesday, May 27th from 1:00PM to 6:00PM at the Sublette County Rural Health Care District EMS Station. For appointments: Call Bill Kluck at 307-367-2315, Vitalant: 1-800-456-7057, or go to www.vitalant.org – Use Sponsor Code: Pinedale

Important Info: Donors must be well and healthy, have an appointment and must wear a mask to donate.

PLEASE help spread the word and make your appointment today!

-The Centers for Disease Control and Prevention (CDC) has developed guidance for limiting "mass gatherings" but those "mass gatherings" do not include blood drives. Blood drives—which represent more than 60% of the nation's blood supply—are now considered critical care events, and, if canceled, could jeopardize patient care.

"In these difficult times, giving blood is something healthy individuals can do to help the sick. The only source for blood—literally in many hospital procedures, the source of life—is another human being," said Dr. Ralph Vassallo, Vitalant's chief medical and scientific officer. "We need people to donate blood today, while following guidance from the CDC and other agencies."

Your upcoming blood drive is absolutely critical to avoiding another public health crisis: not having enough blood to meet basic patient needs.

Vitalant's highest priority is the safety of the blood supply, our donors, patients and staff. Blood donors must be healthy, feeling well and free of respiratory illness symptoms, including fever, to be eligible to donate.

Additionally:
• There is no inherent risk of getting coronavirus from the donation procedure itself. To minimize the risk of contracting it from others at a blood drive or donation center, our staff follow rigorous safety and disinfection protocols that include wearing gloves and personal protective gear, wiping down donor-touched areas often and after every collection, using sterile collection sets for every donation/collection, and arm scrubbing for 30 seconds.
• Blood donation does not impact or weaken a donor's immune system.

Due to the nature of the virus, it is highly unlikely that it can be transmitted through blood transfusions—there are no reported cases.

Currently, Vitalant is telling people not to donate if they have visited specific countries within the past 28 days or have been exposed to someone suspected of having a COVID-19 infection.

---
Pinedale Municipal Election moved to June 23rd (posted 5/9/2020)
Due to the COVID-19 pandemic, the Pinedale Municipal election was postponed from May 5th to June 2nd. Town officials learned that the postponement to the June 2nd date did not allow for proper notification for voter registration. Because of this, the election has again been rescheduled for Tuesday, June 23rd. The last day for Pinedale residents to register to vote in this election is June 9th. The new date does not change the filing date for candidates. Any new candidates must be written in on the ballot.

---
Local Services:
Abortion Alternatives
Accounting & CPA
Apartments/Townhomes
Arts & Entertainment
Attorneys & Legal
Auction Services
Automotive
Aviation Services
Banks & Financial
Bars
Beauty Salons
Bed & Breakfasts
Boating
Bookkeeping
Builders & Contractors
Building Material
Business Services
Cabins
Cellular
Child Care
Churches
Cleaning Services
Clothing
Commercial Art
Computer Supplies
Condos
Consultants
Convenience Stores/Fuel
Convention/Meeting
Dentists
Dining
Dry Cleaning
Events
Fabric & Crafts
Fencing
Fishing
Flooring
Food & Drink
Funeral Homes
Furniture
Gifts/Western
Government
Graphic Design
Grocery & Market
Guest Ranches & Lodges
Handyman Services
Hardware & Feed
Heating
Health Care & Medical
Horseback Adventures
Insurance
Interior Design
Internet/Web/Advertising
Landscaping
Laundry
Liquor Stores
Lodging
Log Homes
Marketing
Massage Therapy
Modular Homes
Motels
Mountain Biking
Movie Theaters
Museums
Nails
Newspapers
Office Supplies
Oil Field Services
Optometrists
Organizations
Outdoor Equipment
Outfitters & Guides
Packaging & Shipping
Painters
Pet Stores
Pharmacies
Photography
Plumbing
Professional Services
Radio
Real Estate Agencies
Real Estate-FSBO
Remodeling
Retirement
Retreats
RV Camping
Schools
Scrapbooking
Septic Services
Skiing
Snowmobiling
Snow Plowing
Storage and Storage Units
Tanning
Tattoos & Body Art
Tax Preparation Services
Taxidermy
Transportation/Shuttle
Trash Services
Trucking
Veterinarians
Visitor Services