Mugs with the Mayor Chats (posted 7/18/18)
Matt Murdock, the new Mayor of Pinedale, will be holding "Mugs with the Mayor" gatherings on Fridays at 8am at the Pine Coffee Supply every two weeks for a while then move to once a month. The first meeting will be July 27th at 8am.

---
Upcoming Candidate Forums & Meet & Greets (posted 7/18/18)
The Sublette County Republican Party has scheduled two candidate forums for the upcoming primary election.

Tuesday, July 24: Sublette County Republican Party Forum
Lovatt Room, Pinedale Library
5:30 pm: Meet and Greet. Get to know the unopposed Republican candidates
Break/Snacks/Meet and Greet
2nd Forum is for County Clerk and County Attorney candidates

Monday, August 6: GOP Events for Governor/US Senate/US Representative candidates
Events in Marbleton and Pinedale
8AM: Cinnamon rolls/coffee, Marbleton Senior Center, Marbleton
1:00 - 2:30PM: Meet and Greet for candidates at Rendezvous Pointe Senior Center in Pinedale (to reserve lunch, must call 307-367-2881 by Friday, 8/3, by 4 pm).
5:30PM: Candidate Forum, Lovatt Room, Pinedale Library
Meet and Greet
Forum for Governor candidates

---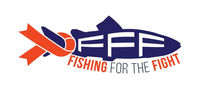 Fishing for the Fight - fly fishing tournament fundraiser for Kickin' Cancer in Sublette County

Fishing For the Fight Tournament July 19-21 (posted 7/18/18)
Banquet July 21st is open to the public
Fishing for the Fight is an annual limited entry fly fishing tournament to raise funds for Kickin' Cancer in Sublette County, which helps cancer victims. It is sponsored by a group of dedicated fly fishermen who have access to private waters and have the help of great guides. The private fishing beats have been generously provided by local landowners. 100 percent of the proceeds generated go directly to families who are in the fight against cancer. The funds raised defray the costs of travel, food and lodging, a cost that results from living in a rural location far from cancer treatment centers.

The team entry deadline was June 1st, 2018. There will be a Meet & Greet on Thursday, July 19th at the Goodrich residence when teams will draw their guides and beats for the tournament. Each team is composed of two contestants and a private fishing guide. Each team will get to do 1-1/2 days of fishing on mostly private, world-class fishing waters in Sublette County. It is a "First, Most, Biggest" tournament.

The banquet will be held on Saturday, July 21st and is open to the public. Tickets cost $50/person. It will be held at the Dogwood Valley Ranch, 10140 US 191, west of Pinedale at 6PM.

The Charles Stough Fishing For the Fight bronze memorial traveling trophy is hosted each year by one of the FFF sponsor hospitals. It was created by Bryce Pettit of Durango, Colorado. The piece is entitled "Breaking Free."

Although the fishing teams are set for this year, new supporters are welcome to attend this year's banquet for more information and to prepare if they want to participate in next year's event.

More information is available at fishingforthefight.com, call 307-367-4454 or email info@fishingforthefight.com.

---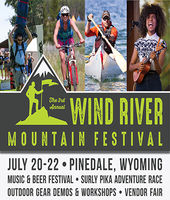 Wind River Mountain Festival July 20-22

Pinedale's Wind River Mountain Festival July 20-22 (posted 7/11/18)
Music Fest, Adventure Race
Pinedale's Wind River Mountain Festival returns July 20-22 for a weekend celebration of the Wind River Mountain Range highlighted by two nights of live music and day-long adventure race.

Again boasting over 50 event sponsors including a who's-who's of outdoor product companies (Patagonia, North Face, et al.), The Wind River Mountain Festival will feature everything from live music and gear demos to kids events and a craft beer festival. Fun vendor booths, outdoor contests and floats down Pine Creek are also part of the festival with many activities taking place at American Legion Park.

The Surly Pika Adventure Race is not a triathlon or relay. It is a team-based adventure race in the front-country of the largest mountain range in the state, the Wind River Range. Team members (Pikas) must navigate with map and compass to track down checkpoints via bike, foot, and boat. There are two race divisions: a six and a twelve-hour option. The Surly Pika will be held Sunday, July 22 and online sign-ups are available at www.windrivermtfest.com

Headlining the music portion of the two-night festival will be Utah's "Cowboy from the Crypt" Timmy the Teeth and his full band on Friday night and Phoenix Indie-Rockers Jared & the Mill on Saturday night. Music will kick off at American Legion Park at 4:00 p.m. on both nights.

Friday Night Full Music Lineup:
4:00 PM: Jason Tyler Burton
5:30 PM: Whippoorwill
6:45 PM: Timmy The Teeth

Saturday Night Music Lineup:
4:00 PM: Aaron Davis & The Mystery Machine
5:30 PM: The 502s
6:45 PM: Jared & The Mill

Music for the Wind River Mountain Festival is presented by The Pinedale Fine Arts Council (PFAC) as part of their 11th Annual Soundcheck Summer Music Series.

Home to over 140 miles of the Continental Divide Trail (CDT), the Wind River Range is one of Wyoming's most sought-after destinations.

In February of 2016, Pinedale was officially accepted as Wyoming's first CDT Community – a designation reserved for communities in close proximity to the Trail that apply through the CDT Coalition and promise to promote good stewardship and, among other things, plan a corresponding event, which has blossomed into the 3-day festival.

For a full schedule of WRMF events visit www.windrivermtfest.com.

For information about the music line-up, please see the Pinedale Fine Arts Council website, www.pinedalefinearts.com

---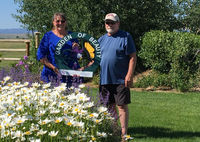 Sage & Snow Garden Club Garden Of Beauty July 6, 2018 - Doris & Paul Woodbury

Garden Of Beauty July 6, 2018 - Doris & Paul Woodbury (posted 7/9/18)
Sage & Snow Garden Club
This week, the Sage and Snow Garden Club recognizes Paul and Doris Woodbury on South Bench Road as the recipient of the Garden of Beauty Award. The Woodburys built a large hoop house a few years ago, and, recently, it was wrecked by the wind. This spring they rebuilt it stronger and better and have filled it to the brim with rows of vegetables growing in in-ground beds. The large hoop house garden is watered with an efficient drip irrigation system. Their beautifully landscaped yard is eye-catching with the vibrant colors of daisies, catmint, hostas, currants, nine bark, and many other varieties of plants and shrubs. Ranch lick tubs are overflowing with tomatoes, carrots, beets, and salad greens. Their love of herbs is evident in all their gardens, including a "barrel" of horseradish. The Woodburys are adventurous gardeners, always willing to try new things in our challenging growing environment.

Related Links:
Sage & Snow Garden Club

---
Rendezvous at the Pinedale Library (posted 7/9/18)
Rendezvous is approaching and the Sublette County Libraries have several events this coming weekend to include in your festivities.

Tuesday, July 10th - Sandy Beach Picnic
11 am, Sandy Beach, Fremont Lake - It's our annual fun-in-the-sun outing at Fremont Lake's Sandy Beach... bring your sunscreen and best beach toys! Also, help us reduce waste by bringing your own favorite beverages. Children must be accompanied by a caregiver. The Library is not responsible for transportation.

Wednesday, July 11th - Book Club
12 noon, The Pinedale Library Western Americana Room
If you've read Educated: A Memoir by Tara Westover stop in to Book Club on Wednesday to share your thoughts. Book Club meetings are held on the second Wednesday of each month at 12 noon in the Western Americana Room. This club welcomes new participants.

Thursday, July 12th at 6:30 pm: In Pinedale Library's courtyard there will be a brief dedication ceremony of the bronze statue "Journeys of the Imagination" by Utah sculptor Gary Lee Price. It has been placed in memory of Sublette County Library Director Daphne Platts, 1940-2017. Following will be Music is the Courtyard with Bob McCarty and Chandra Stough on guitar and fiddle. And following Music in the Courtyard there will be a "30 Minute Sneak Peak" of the Rendezvous Book Sale.

Friday & Saturday, July 13th & 14th: 10 am - 5 pm: Rendezvous Book Sale. Gently used best sellers, mysteries, biography, travel books, children's books and DVDs and much more will be for sale at rock bottom prices.

Wednesday, July 18th - Musicians Gathering
Beginning at 5 pm, The Pinedale Library Courtyard
Do you play the guitar or other stringed instrument? This second gathering is designed to give local musicians a chance to get together informally, to play music, share skills, expand your own skills, or even learn to play. Bring your instrument. In case of bad weather, meet in the Lovatt Room.

Thursday, July 19th - Sue Warren Exhibit Opening Reception
5 pm, The Pinedale Library
View original paintings and ceramics by Pinedale Artist Sue Warren, most of which have been loaned by area residents for this exhibit. There will be an opening reception on Thursday, July 19th at 5 pm; the exhibit will be on display through the end of July.

Events at the Big Piney Library:
Tuesday, July 10th - Picnic and Percussion!
12 pm, The Big Piney Library
We continue to have fun with all the ways that "Libraries Rock!" this summer. On Tuesday the 10th come join us for a picnic in the park and explore the rockin' world of percussion. We will have some instruments to try and a craft to make as well.

Tuesday, July 10th - Teen Jewelry Making
12 - 4 pm, The Big Piney Library
Teens and tweens, stop in for this DIY workshop. Bring your ideas for a cool design and go home with an awesome piece. Sign up at the library.

Thursdays until August 16th - Summer Music and Movement for Preschoolers
10:30 am, The Big Piney Library
Introducing a new drop-in weekly program for our littlest library lovers... Music & Movement! Bring your preschool aged child to the library for Thursday morning play, singing, dance and movement led by Amy Loughry.

2nd meetup Tuesday, July 17th - Big Piney Teen Film Club
3 pm at Flicks n' Pins in Marbleton
Teens and tweens, join our Big Piney Film Club taking place at Flicks N' Pins this summer — take a critical look at acclaimed movies along with free admission! Sign up at the library. The Tuesday, July 17th movie is Spirited Away (PG).

More at the Big Piney Library:

• Adult Summer Reading Race: Now through the end of September
• Spanish English Conversation Club: Tuesdays 6 - 7 pm
• Magic Game Night: Wednesdays 3:30 - 6:30 pm
• Yoga at the Library: Thursdays until August 16th at 8 am
• Basic Computer Instruction: One-on-one help available by appointment

Related Links:
www.sublettecountylibrary.org Sublette County Library

---
PAC Youth Sports to include 6th Grade athletes (posted 7/9/18)
The Pinedale Aquatic Center (PAC) has finalized plans for the inclusion of 6th grade Pinedale athletes into PAC's current youth sports programs. The programs will begin in August 2018 for football and volleyball, with basketball beginning in January 2019.

PAC is currently working on further expanding their track options before next spring season. Slight modifications have been made to the programs to accommodate the inclusion of 6th graders, most predominantly the restructuring of age groups. For the fall seasons, the sports will be structured as follows:
• Flag Football: K-1 grade, 2-3 grade
• Tackle Football (8-man): 4-6 grade
• Volleyball: 3-4 grade, 5-6 grade; watch for details about a 2nd grade clinic option

The football and volleyball seasons will begin August 13 and August 27, respectively. Flag football will begin the same date as volleyball. Registration for the programs are currently open by stopping by PAC to register and for more information. Scholarships are available to assist with registration fees for qualifying participants.

PAC's youth sports programs are focused on offering opportunity for player development and fun. PAC wants athletes leaving their programs to look forward to continuing the sport at the middle school level and have the fundamental foundation to build on.

With these goals as the guide, PAC's programs are structured to offer the following:
• Equally divided teams based on early season skill assessments and input from coaches to allow for positive competitive play through the season
• Small teams, meaning more individual attention as well as practice and game play for all athletes
• Guaranteed equal game play time for all participants
• Consistently scheduled and communicated practice and game times allowing for 2-3 practice/game days per week

PAC works closely with varsity coaches to coordinate their programs and develop coaches manuals, providing drills and coaching strategies to their volunteers in an effort to create continuity between all levels of the programs.

For more information, visit the Pinedale Aquatic Center online at www.pinedaleaquatic.com or call 307-367-2832.

---
Wyoming Broadband Advisory Council update (posted 7/9/18)
Albert Sommers, House District #20 Representative
Hello Sublette County, last legislative session the Legislature passed a series of bills that put into policy some of the concepts that Governor Mead's Economically Needed Diversification of Wyoming (ENDOW) Executive Committee put forward. One of these initiatives was to improve broadband in Wyoming. The Legislature passed Senate File 100 to accomplish this goal. The bill creates a broadband grant program for unserved areas of Wyoming. The bill also creates a Broadband Advisory Council and State Broadband Coordinator, who will have the tasks of developing a statewide broadband enhancement plan and a broadband mapping effort. If this state wants to diversify its economy and be relevant in the 21st century, then we need high quality, high speed, affordable broadband across the state. It is essential that the rural parts of Wyoming not be left out, because broadband has become the communication method of choice today, not just in the future.

The Broadband Advisory Council was appointed by the Governor. The Chief Information Officer for the State of Wyoming is also required by statute to sit on the Council. Further, two legislative liaisons were appointed. I was appointed by the Speaker of the House to serve as the House's liaison to the Council. The Council had its first organizational meeting in Riverton June 26-27.

The Broadband Advisory Council must have a Wyoming Broadband Enhancement Plan in place by September 1, 2018, which is a short timeline. The Council heard from both Utah and Minnesota on the direction those states went with a broadband plan. We got updates from the Wyoming Department of Transportation (WYDOT) and Wyoming Enterprise Technology Services (ETS) on broadband efforts in Wyoming. ETS operates the Wyoming Unified Network, a public/private partnership that brings broadband to all of the State's public schools, community colleges, and state facilities. WYDOT is critical to the conversation because they have rights of way corridors throughout the state, which can be a conduit for broadband infrastructure.

How can the State of Wyoming work with its private telecommunication partners to provide better internet to Wyoming citizens and businesses? A business case, where a private internet provider makes a profit, simply does not exist in much of Wyoming to extend fiber to business areas, and fiber is key to business recruitment.

Locally, towns, county, and state representatives continue to work on an effort to improve broadband in the business corridors and create more fiber redundancy in Sublette County.

If you have input for the Wyoming Broadband Advisory Council or our local efforts, please contact me at albert@albertsommers.com. Sublette Senator Dan Dockstader is my Senate counterpart on the Council, which means Sublette County is well represented. Our next in-person meeting is July 30-31 in Cheyenne.

---
Wyoming Legislature update 7-9-2018 (posted 7/9/18)
Albert Sommers, House District #20 Representative
Hello Sublette County, this is Albert Sommers reporting to you from the legislative interim. The interim is that period of time between legislative sessions, when committees meet to work on the issues prioritized by the Legislature. Legislative sessions last 1 or 2 months during the winter, and legislative sessions are constitutionally capped at 60 working days for a two-year period. Sessions are where bills pass or fail, and budgets are debated. During the interim, issues are studied in depth, and committees decide whether to bring bills to the next session pertaining to the issues they study. I serve on the Joint Appropriations Committee (JAC), and we met on June 11-12 in Cheyenne.

The JAC received updates from two state agencies, the Office of Homeland Security and Enterprise Technology Services. However, the bulk of our time was spent discussing three main issues: state investment of funds, revenue streams/budget process, and gambling.

The State Treasurer's office and the Wyoming Retirement System are responsible for investing the various funds of the state. The State Retirement System manages pension plans for state employees and public school teachers, while the State Treasurer manages non-retirement financial assets and the investment portfolio for the state. In 2017, the State Treasurer managed about $20.7 billion and the Retirement System managed about $8.5 billion. Each of these entities has a different mission, and the State Treasurer must manage multiple pots of money with different financial goals. The State's investments provide a substantial return to the state, and the Appropriations Committee was tasked with examining whether improvements could be made to the investment structure to increase those rates of return. Combined, the Treasurer's Office and State Retirement System expend over $110 million annually on external investment firms to manage the State's funds. Should Wyoming manage more of the investments in-house, and save some of that $110 million? Should we create an incentive-based salary structure for the investment staff? Are there any efficiencies that can be realized by combining some of the duties of the Treasurer's office and the Retirement System? How do we maximize our investment income, while managing risk? And, how do we insulate investment decisions from the political whims of the elected? These are some of the questions we hope to answer. During this meeting, some of the best state fund managers in the nation provided us with information on their state's investment structures. The one common theme among the states, a state needs a high quality Chief Investment Officer.

The Appropriations Committee was also assigned the topic of examining Wyoming's revenue flows and budget process. Our budget is complicated and has been ranked as one of the most complicated state budgets in the country. Wyoming is lucky to have two large permanent trust funds, but the spending policies for the income off of those accounts are convoluted to say the least. Many of the State's revenue flows were created years ago, under a different financial picture. One example is Federal Mineral Royalties, which are split among several different agencies. Do those splits make sense today, considering our fiscal challenges could lie in another area? At this meeting we drafted a bill to eliminate the Budget Reserve Account, because it is an artifact from an earlier time, and seems to only complicate the budget picture today. How can we make the budget more transparent to the public and legislators, especially the moving parts of the various accounts?

Humans have gambled for eons. How should Wyoming regulate gambling in this era of the computer and internet? Should the state receive revenue from gambling? We heard that illegal gambling occurs all over Wyoming, and that it appears to be a low priority for local prosecutors. County prosecutors have the enforcement authority for gambling in Wyoming. Should a Statewide Gaming Commission be created to oversee gambling? What is a game of chance as opposed to a game of skill? Currently Wyoming allows legal gambling on the Wind River Indian Reservation, the State Lottery, Pari-mutuel, and charitable bingo/pulltabs. The oversight of these various forms of gambling is a mixture of local, state, and federal.

If you have any thoughts on these issues, I can be reached at albert@albertsommers.com

---
5th Annual Sublette County Fair Lynn Thomas Memorial Art Show July 23 - 28, 2018 (posted 7/2/18)
Reception & Quick Draw July 28th
5th Annual Sublette County Fair Lynn Thomas Memorial Art Show July 23 - 28, 2018
Reception & Quick Draw July 28th

The 5th Annual Sublette County Fair Lynn Thomas Memorial Art Show will be held during the week of July 23 - 28, 2018 from10:00AM - 7:00PM in the Sublette County Fairgrounds Community Hall.

The Quick Draw and Reception will be on Saturday, July 28 from 5:00 - 7:00PM. For more information contact Sharon Schell at 307-749-7661.

---
Local Services:
Abortion Alternatives
Accounting & CPA
Apartments/Townhomes
Arts & Entertainment
Attorneys & Legal
Automotive
Aviation Services
Banks & Financial
Bars
Beauty Salons
Bed & Breakfasts
Boating
Bookkeeping
Builders & Contractors
Building Material
Business Services
Cabins
Cellular
Child Care
Churches
Cleaning Services
Clothing
Commercial Art
Computer Supplies
Condos
Consultants
Convenience Stores/Fuel
Convention/Meeting
Dentists
Dining
Dry Cleaning
Events
Fabric & Crafts
Fencing
Fishing
Flooring
Food & Drink
Funeral Homes
Furniture
Gifts/Western
Government
Graphic Design
Grocery & Market
Guest Ranches & Lodges
Handyman Services
Hardware & Feed
Heating
Health Care & Medical
Horseback Adventures
Insurance
Interior Design
Internet/Web/Advertising
Landscaping
Laundry
Liquor Stores
Lodging
Log Homes
Marketing
Massage Therapy
Modular Homes
Motels
Mountain Biking
Movie Theaters
Museums
Nails
Newspapers
Office Supplies
Oil Field Services
Optometrists
Organizations
Outdoor Equipment
Outfitters & Guides
Packaging & Shipping
Painters
Pet Stores
Pharmacies
Photography
Plumbing
Professional Services
Radio
Real Estate Agencies
Real Estate-FSBO
Remodeling
Retirement
Retreats
RV Camping
Schools
Scrapbooking
Septic Services
Skiing
Snowmobiling
Snow Plowing
Storage and Storage Units
Tanning
Tattoos & Body Art
Tax Preparation Services
Taxidermy
Transportation/Shuttle
Trash Services
Trucking
Veterinarians
Visitor Services