White Pine Open House Dec. 11 (posted 12/7/2021)
White Pine Ski Area will host an Open House on Saturday,
December 11th. Come up and get ski passes, seasonal
equipment rentals, sign up for lessons, clubs, kids camps and
academy. There will be free chili, light refreshments. From
10AM – 3PM. For more information call 307-367-6606 or go to
href="http://www.whitepineski.com">www.whitepineski.com.
---
Pinedale Ranger District seeks comments on Elk Ridge Complex Rangeland Supplementation Project (posted 12/7/2021)
Comments accepted until December 27, 2021
Bridger-Teton National Forest
PINEDALE WYOMING - The Pinedale Ranger District of the Bridger-Teton National Forest has completed an Environmental Assessment (EA) for the Elk Ridge Complex Rangeland Supplementation Project. The Forest is providing an opportunity for the public to comment on the analysis from now until December 27th, 2021.

The proposed action would authorize cattle grazing on the Elk Ridge Complex (four allotments) in conjunction with six allotments in the Upper Green River area. This proposal would not change the number of cattle currently permitted but would provide livestock operators and managers greater flexibility to respond to weather, forage conditions, predation, and wildfire.

To review the EA and supporting documentation visit the Bridger-Teton National Forest website https://www.fs.usda.gov/project/?project=60020 and click on the "Analysis" tab.

The comment period provides those interested in or affected by this proposed project an opportunity to comment on the proposed action and the analysis. Comments may be submitted electronically at https://cara.ecosystem-management.org/Public//CommentInput?Project=60020. To have standing during the objection phase, comments must be received during an official comment period.

For additional information contact Acting Pinedale District Ranger Mark Foster at 307-367-5710 or mark.foster@usda.gov.
---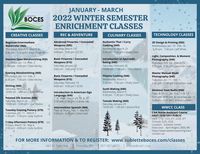 Sublette BOCES offers winter enrichment classes (posted 12/6/2021)
Sublette BOCES (SCSD#1) has announced the schedule for their Winter Semester enrichment classes for January and March 2022. There are culinary classes, technology, basic firearms, painting, photography, recreation and adventure, and more. Costs for classes range from $40 to $85.

Classes include:
Beginning/Intermediate Watercolor
Metalsmithing
Etching
Painted Silk Scarves
Pottery
Firearms/Concealed Weapons
American Sign Language
Spanish
Thai/Curry Cooking
Ayurvedic Cooking
Filipino Cooking
Sushi Making
Tamale Making
3-D Design & Printing
Photography
Amateur Ham Radio
CNA Nurse Assistant Course

For more information and to register, go to www.subletteboces.com/classes or call 307-367-6873, sboces@sub1.org.

---
Wyoming Legislature update – Dec. 6, 2021 (posted 12/5/2021)
Albert Sommers, House District #20 Representative
12/6/2021
Hello Sublette County, this is Albert Sommers reporting to you from interim work of the 66th Legislature. The Joint Corporations Committee met on December 1 and 2 in Cheyenne. I do not serve on this committee, but I attended the meeting to protect Sublette County's interests in redistricting. On December 3, I participated in the Wyoming Wildlife Taskforce meeting in Casper to further discuss the contentious issues of hunting preference points and hunter access.

Every 10 years, each state uses the federal census to apportion members of its state legislature. Changes to apportionment after a census is called redistricting, and the Wyoming Legislature is in the process of realigning legislative districts based upon population changes in the 2020 census. Sublette County had the second largest population decline of any county, losing 1,519 people. What that means for Sublette County is that my house district, HD20, will have to be enlarged significantly. To compound the challenge of Sublette County losing significant population, our neighbors along the I-80 corridor, Sweetwater, Carbon, and Uinta Counties, have declined in population by a total of 3,550, which is a reduction in population of 5,069 for the four counties. At the same time, Lincoln and Teton counties have increased their population by a total of only 3,512.

On December 1, the Joint Corporations Committee discussed redistricting, and listened to each region of the state bring forth its proposals. Region 10 (Sublette, Teton, Lincoln, and Uinta) put forth a plan that kept most of our communities intact, but the house districts were smaller than is likely constitutionally. Several of the regional plans, such as those put forward by Region 9 (Carbon and Sweetwater) and our Region 10, conflicted with each other.

On December 2, the Joint Corporations Committee debated how to pull all of the regional plans together into a statewide plan. House Chairman Dan Zwonitzer of Laramie County proposed a statewide plan. This plan takes a house district away from the west/central I-80 corridor and puts it in Laramie County. Laramie County, mostly Cheyenne, grew by nearly 9,000 people, and is poised to continue growing. The Zwonitzer Plan utilizes Region 10's Option 2, which would merge Sublette County with the LaBarge and Farson areas to reorganize House District 20. This plan solves many issues in western Wyoming, but Carbon/Sweetwater counties loses a house seat, and Cheyenne gains one. Region 10 representatives supported this, and it passed the committee as a draft plan. The plan can be viewed here when it is posted:
https://www.wyoleg.gov/Legislature/LegislatureAbout?tab=4.

The Zwonitzer Plan may not have enough Senate support to pass the Joint Corporations Committee in bill form. It takes a majority of both House and Senate members to move a redistricting bill out of committee to the 2022 Budget Session. One of the Senators who did not like the Zwonitzer Plan suggested splitting Sublette County to make his plan work, and I will fight that approach. Anything could happen at this point!

On December 3, the Wyoming Wildlife Taskforce met in Casper. Its charge is to study top-priority wildlife policy issues facing the state related to the allocation of hunting opportunity, sportsperson access and other issues. The Taskforce discussed the following proposal and passed it as a recommendation to the Legislature on a 14-2 vote:
Effective four years after the effective date of legislation, all preference points held by individuals for bighorn sheep and moose will be converted to bonus points. Applicants for moose and bighorn sheep will earn one bonus point for each year they apply and are unsuccessful in drawing their first choice on their application for the respective species.
Individuals may also purchase a bonus point in years they do not apply for a license.
The draw will be random, but the number of entries an individual has into the drawing for a specific species will be equal to the number of bonus points they have squared (example - 4 points = 16 entries, 10 points = 100 entries).Bonus points will be converted to history (or lost) as before if individuals fail to apply for two years. Specific rules and regulations to be developed and promulgated by the Wyoming Game and Fish Commission.

I did not support this proposal, because I heard from no hunters in my area who supported moving to a bonus point system. This proposal does create more opportunity and better odds to draw, but takes away certainty for some hunters who have accumulated points. The delayed effective date is designed to allow those hunters with the highest number of points to be able to get a license prior to the conversion to a bonus point system. I made a motion to move the effective date out 8 years, in an attempt to preserve the investment of more high point holders. My motion failed.

The Taskforce continued to discuss hunter access issues and landowner tags, which are very passionate issues in eastern Wyoming. Access and landowner tags bring out the old animosities between landowners, hunters and outfitters. I hope the Taskforce focuses on what is possible, and not on issues that create further division. Please submit comments to the Wildlife Taskforce members at https://sites.google.com/wyo.gov/wyomingwildlifetaskforce/home/taskforce-topics.

I can be reached at albert@albertsommers.com with questions or comments.

---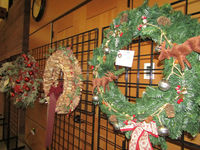 2021 Wreath Auction
Fundraiser for the Museum of the Mountain Man
Pinedale Online!
The Museum of the Mountain Man held their 28th annual Wreath and Chocolate Auction on Friday, December 3rd in the Lovatt Room of the Pinedale Library. The event was once again held in person, a welcome change from 2020 when no gatherings were allowed due to COVID-19 health restrictions. 2020 forced the event to go online, and that actually was a feature that allowed the event to reach many more people to see all the beautiful wreaths and bid on them. This year the wreath part of the auction went back to live in-person bidding only, but people could still preview the wreaths online. The silent auction was done completely online.

Besides being a fun social event and great way to kick off the Christmas holiday season, this annual event is a fundraiser for the Museum's next year's programs and projects. All of the wreaths and chocolates are handmade and generously donated by people in the community. There were 48 wreaths and unique Christmas decorations in this year's live auction. Items sold for from $100 to $1000 in the lively bidding. At the end, some items were donated back to be re-auctioned off which gave attendees a second chance at some of the favorite wreaths, while earning more donation for the cause.

This year the food was catered by The Den, and was generously donated by First Bank in Pinedale, who has sponsored the food for this event for two decades. This year's auctioneer was Dave Stephens. The choral group VOICES 8 sang Christmas carols during the social hour before the live auction.

To see all the wreaths and chocolate creations in this year's auction, go to https://one.bidpal.net/mmmwreath2021/welcome

Related Links:
2021 Wreath Auction


---
COVID-19 through November 2021 in Wyoming (posted 12/4/2021)
The numbers as of the end of November, 2021 for COVID-19 in both Wyoming and Sublette County show cases of the virus have diminished significantly since the surge in November. The first wave, mostly Alpha variant, peaked in Sublette County in November 2020. This is the variant the vaccines were formulated for. The second wave, mostly Delta variant, peaked in mid-September 2021.

The data shows:
- There have been no deaths in Wyoming for anyone age 18 or under in the two years of the pandemic. Although many children have had the disease, all have recovered.

- 98+% of people who have gotten COVID-19 in Wyoming and Sublette County have recovered from it.

It is clear now that none of the COVID vaccines sterilize the virus and people who have been fully vaccinated can still get the disease and transmit it to others. Current data for Sublette County shows 21% of the people testing positive for COVID-19 have been fully vaccinated. As of November 30, 2021, there have been 9,647 cases of COVID-19 in fully vaccinated people in Wyoming. There have been 110 deaths of fully vaccinated people in Wyoming.

There have been a total of 111,812 confirmed positive and probable COVID-19 cases in Wyoming since the beginning of the pandemic two years ago. Current counts are still showing cumulative totals over a two-year time period for the pandemic as health officials have not yet switched to an annual reporting cycle for COVID-19 numbers.

There have been a total of 1,428 COVID-19-related deaths in Wyoming in two years. There have been 1,494 confirmed and probable cases in Sublette County and 23 total deaths. Sublette County has had 116 cases in fully-vaccinated people and two deaths of people who were fully vaccinated.

The pre-COVID average death rate in Sublette County has been approximately 55 people per year. As of the end of November, the count was 73 all-cause deaths in Sublette County for 2021.

Click on this link for additional charts and graphs for Wyoming and Sublette County data.

Click on the links below for more information.

Related Links:
Wyoming Department of Health
Coronavirus reinfection: How long might 'natural immunity' last? medicalnewstoday.com
Had COVID? You'll probably make antibodies for a lifetime nature.com, May 26, 2021
COVID Vaccines' Protection Dropped Sharply Over 6 Months: Study By Ralph Ellis, webmd.com, Nov. 5, 2021


---



Beaver statue in Trapper's Park in Pinedale.

Trapper's Park Dedication Dec. 11th in Pinedale (posted 11/30/2021)
Donation to Pinedale from the Don Tegeler family
Please join the Town of Pinedale and the Tegeler Family for the dedication of the newly developed Trapper's Park. Through the vision and generosity of the late Don Tegeler and his family, this once vacant lot on Pine Street has been transformed into a vibrant public space. The park, located in the heart of downtown, recognizes the region's history while providing a cultural anchor for its present and future. Trapper's Park Dedication 4 p.m. - Saturday, December 11, 2021, 118 East Pine Street, to the east of the Sublette County Courthouse. This event is part of Pinedale's Mountain Man Christmas along with many other fun events that day.
---
Mountain Man Christmas Dec. 11 in Pinedale (posted 11/30/2021)
Mark your calendars, Saturday, December 11th is Mountain Man Christmas in Pinedale. Plan on being in town all day! This schedule of events may have a few additions, so keep your eyes open for updates in the week to come. Any business that is not currently on the schedule and would like to be, call Joanie at the Sublette County Chamber of Commerce, 307-367-2242. This is a great opportunity for a lot of fun and to shop local businesses for your holiday gift needs.

10:00AM:
Heritage Quilts: Sewing Machine Demo, 10AM
Ridley's: $50 Gift Card entry with purchase of 1 dozen donuts, 10AM
Pine Coffee: Cupping, 10AM

11:00AM:
Car Quest: "Too Sexy for my Overalls" – Win $150! 11AM
Bucky's: 10% off except wholegoods – Ice Bucket Challenge, 11AM
Jaks: Mimosas, 11AM

Noon:
Wind River Brewing: Lunch Special, noon
Old Stones Pizza: Lunch Special, noon

1:00PM
Rocky Mountain Power Sports, Mini Clinic, 1PM
Pinedale Properties, Open House, 1PM

2:00PM
Union Wireless, 10% off accessories, 2PM
Mystery Print Gallery, Raku firing, 2PM
Jackalope Motor Lodge, Rim Station, Katie Sims Photography,
Landmark Construction, Xmas Photos

3:00PM
Art of the Winds
NAPA Auto Parts, Toolbox Giveaway for "coolest" vehicle in
the parking lot:

4:00PM
Trapper's Park Dedication 4PM, 118 East Pine Street
Bison's Bounty, Box of Donuts
First American Title
Western Winds Property

5:00PM – Tree Lighting
Patio Grill: $2 off burrito supreme
China Gourmet: Dinner discount

6:00PM: Lighted Parade
Cowboy Shop: 10% off boots
Heart N Soul: Special Bread Barn Pizza

7:00PM:
Country Lane Liquor: Tasting

---
Pinedale Community Choir to perform for holiday season (posted 11/29/2021)
Pinedale Community Choir
We are happy to announce that all rehearsals have come together successfully through October and November, and we are preparing for our upcoming concerts.

The Pinedale Community Choir is a mixed choir with members coming from various Pinedale church denominations. Ages range from teen to 70 plus. Singers have varying levels of singing experience, and no auditions are required; just the personal commitment to regular rehearsals and a willingness to work hard. This group will perform a program of sacred music accompanied by scripture reading in celebration of the Christmas season.

The mission of the Pinedale Community Choir is to come together as a singing community and "Make a joyful noise". After the silence of the 2020 season, we are thrilled to be back singing and celebrating this wonderful time of the year with our Sublette County friends and neighbors.

We hope you can join us for one of our performances!

Times and places for our choir performances are:
Friday, Dec. 10 - Pinedale (Shortened Version) - Sublette Center Heritage Room - 3:00 PM
Saturday, Dec. 11 - Big Piney - Church of Jesus Christ of Latter Day Saints - 1:00 PM
Sunday, Dec. 12 - Pinedale - Sheppard Auditorium - 2:00 PM

---
Sublette Center offering CNA class (posted 11/16/2021)
Sublette Center
The Sublette Center is now hiring the right candidates for CNA class starting December 6-December 21, 2021. Sign-on bonus with a 6-month contract. COVID vaccine required. Please call Lara Hayward or Shelli Davis at 307-367-4161.

Related Links:
www.sublettecenter.org Sublette Center, Pinedale, Wyoming

---
Angel Wreath program underway (posted 11/11/2021)
Helping children in need
The Pinedale Angel Wreath Program has started. Wreaths are located around the community. Each child is represented by a paper angel with both needed and wished-for items. Suggestions for gifts are listed on the paper angels.

Gifts with the attached Angel are due in to the Bank of Sublette County in Pinedale by Friday, December 10, 2021. Earlier drop offs are welcome and encouraged.

Angel Wreaths can be found at:
Altitude Drug
Bank of Sublette County
Bison's Bounty
Cowboy Shop
Family Dollar
First Bank
Great Outdoor Shop
Library
Nested West
Rocky Mountain Bank
Ridley's
Treasurer's Office
VFW
Wells Fargo

The Angel Wreath program is sponsored by Fremont Peak VFW Auxiliary Post 4801 and the Bank of Sublette County. If you have any questions, please call the Bank of Sublette County at 307-367-2672. Thank you for your generous support of this program.

---
Local Services:
Abortion Alternatives
Accounting & CPA
Apartments/Townhomes
Arts & Entertainment
Attorneys & Legal
Auction Services
Automotive
Aviation Services
Banks & Financial
Bars
Beauty Salons
Bed & Breakfasts
Boating
Bookkeeping
Builders & Contractors
Building Material
Business Services
Cabins
Cellular
Child Care
Churches
Cleaning Services
Clothing
Commercial Art
Computer Supplies
Condos
Consultants
Convenience Stores/Fuel
Convention/Meeting
Dentists
Dining
Dry Cleaning
Events
Fabric & Crafts
Fencing
Fishing
Flooring
Food & Drink
Funeral Homes
Furniture
Gifts/Western
Government
Graphic Design
Grocery & Market
Guest Ranches & Lodges
Handyman Services
Hardware & Feed
Heating
Health Care & Medical
Horseback Adventures
Insurance
Interior Design
Internet/Web/Advertising
Landscaping
Laundry
Liquor Stores
Lodging
Log Homes
Marketing
Massage Therapy
Modular Homes
Motels
Mountain Biking
Movie Theaters
Museums
Nails
Newspapers
Office Supplies
Oil Field Services
Optometrists
Organizations
Outdoor Equipment
Outfitters & Guides
Packaging & Shipping
Painters
Pet Stores
Pharmacies
Photography
Plumbing
Professional Services
Radio
Real Estate Agencies
Real Estate-FSBO
Remodeling
Retirement
Retreats
RV Camping
Schools
Scrapbooking
Septic Services
Skiing
Snowmobiling
Snow Plowing
Storage and Storage Units
Tanning
Tattoos & Body Art
Tax Preparation Services
Taxidermy
Transportation/Shuttle
Trash Services
Trucking
Veterinarians
Visitor Services
Wagon Rides
Well Drilling