Nordic Ski Trail Grooming Report – 12/3/2022 (posted 12/3/2022)
Mike Looney, Groomer
Nordic Ski Trail Grooming Report, Saturday, December 3, 2022, 9:00AM: Upper Surveyor, Moose Ridge, Lower Surveyor all groomed this morning for both classic and skating. Old Road Trail is flat groomed. About 1 inch of new snow from yesterday. -8F degrees below zero, slight breeze. Recommend holding out a couple of hours before coming up. The road is clear. Today is the first day open for White Pine Ski Area, so there will be a little traffic on the road.
This Nordic ski trail grooming report is courtesy of the Sublette County Recreation Board.

Related Links:
White Pine-Kelly Park Ski Trail Map - (10.3MB PDF)
CCC Ponds Ski Trail Map - (1.84MB PDF)
Road and Weather links
www.visitpinedale.org Pinedale tourism website (links to lodging, dining, area information)
www.whitepinewyoming.com White Pine Resort, 307-367-6606, (Nearby alpine skiing, food services, restroom)
www.greatoutdoorshop.com The Great Outdoor Shop, 307-367-2440
www.sublettechamber.com Local businesses & services, 307-367-2242


---
Sublette Commissioners meeting Dec. 6 in Pinedale (posted 12/2/2022)
Carrie Long, Sublette County Clerk
BOARD OF COUNTY COMMISSIONERS
SUBLETTE COUNTY, WYOMING
AGENDA
LOVATT ROOM, PINEDALE, WYOMING
TUESDAY, DECEMBER 6, 2022

9:00 a.m. Call to Order
Pledge of Allegiance
Approval of the agenda
Approval of prior meeting minutes (11/15/22)

9:05 a.m. Billy Pape, Road & BridgeUpdate on Activities
Rick Johnson – Green River Ranches Bridge Discussion

9:45 a.m. Andre Irey, Maintenance SuperintendentUpdate on Projects
Update on Maintenance Department Activities
Maintenance Department Job Descriptions and Pay Increase
Discussion

10:15 a.m. Michael Henn, Soil Conservation – Forester Discussion Update

10:45 a.m. Brian Woody, Union – Update Broadband Coverage

11:00 a.m. Clayton Melinkovich, Deputy County Attorney – Contracts
Golf Course Committee

11:30 a.m. Chris Lacinak, Planning & Zoning Board – Request County Email Address

1:00 p.m. Dennis Fornstrom, Planning & Zoning
Partial Vacation and Amendment to a Subdivision Plat, Jim Bridger Est. Third
Dry Wind, LLC requesting a Change of Zoning District Boundary
Dry Wind, LLC requesting a Minor Subdivision
Jackson Fork Ranch, requesting to Amend its Conditional Use Permit for a Guest Ranch

3:00 p.m. County Administrator Job Description & Office Location Discussion

3:30 p.m. NACO Leadership Program

3:45 p.m. Scholarship Deferral Request - Roadifer

Monthly Reports
Payroll in the amount of $1,117,619.53
Accounts Payable
Catering Permit
Emily Paravicini, Treasurer – Bonds
Laila Illoway, Assessor – NOVCs (if applicable)

Old Business / Public Comment

Zoom Link: Meeting ID: 884 4082 3644 Passcode: 809987

---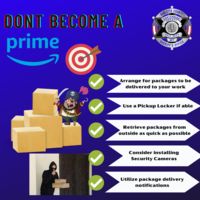 Don't become a Prime target for Porch Pirates (posted 11/29/2022)
The Sublette County Sheriff's Office put out an advisory cautioning residents to be wary for Porch Pirates this holiday season. "Online holiday gift orders are now underway! That gift you bought today for Cyber Monday or even Black Friday for 50% off could be 100% gone from your doorstep if you aren't careful as you wait for your package to arrive."

Protect yourself and your holiday purchases from porch pirates by taking these extra precautions:
1. Arrange for packages to be delivered to your work.
2. Use a pickup locker, if available.
3. Retrieve packages from outside as quickly as possible.
4. Consider installing security cameras.
5. Utilize package delivery notifications.

---
Pinedale High School Art Student's Soup-er-Bowl Dec. 3 (posted 11/29/2022)
Pinedale High School Art students will host a "Soup-er-Bowl" on Saturday, December 3rd from 6-8PM at Rendezvous Pointe in Pinedale. Come enjoy great food for a great cause. Proceeds go to the Pinedale Angel Wreath program. Cost is $15/single, $20/couple, $50/family of 5 or more. There will be a live auction and a silent auction. Live music by Pinedale High School Petrachoral and Jazz Band. Participants get handmade ceramic bowls made by the Pinedale High School ceramics classes.
---
Wyoming Legislature update – Nov. 28, 2022 (posted 11/28/2022)
Albert Sommers, House District #20 Representative
11/28/2022
Hello Sublette County and LaBarge, this is Albert Sommers reporting to you from the interim of the 66th Legislature and the beginning of the 67th Legislature. Starting on November 15, I had a full week of meetings in Cheyenne and Casper.

On November 15-16, I attended the Joint Education Committee (JEC) in Cheyenne. Most of our meeting time was spent reviewing and debating draft bills. When a bill is voted on and approved in committee during the interim, that bill will be introduced into the session in January. On November 15, we discussed bills to address community college funding. The funding model for community colleges had not been updated in years, so the committee during the interim studied the existing funding model for improvements. The JEC approved a bill, with my support, that would give distance education classes the same funding as in-person classes in the community college funding model. The committee heard testimony on how distance education classes require the same level of staff and a higher level of technology than in-person classes. The JEC also approved a bill that would require the Community College Commission to submit an inflationary analysis when it submits its biennial budget. Currently, there is no formal way to review the inflationary pressures on community colleges.

Last Session, we passed a bill that created the Wyoming's Tomorrow Scholarship, an adult education scholarship, and we set aside $10 million for the endowment of this scholarship program. There is a real need for workforce development in Wyoming, and the Ellbogen Foundation funded a successful pilot scholarship program that highlighted the need. At the JEC meeting we approved a bill to add $100 million into the endowment account for this scholarship program. Based upon revenue projections for the State of Wyoming, we will have nearly $1 billion more in revenue than anticipated. Putting money into endowments is a good way to save money for the future, while spending the income from those endowments on worthy projects. I believe the Wyoming's Tomorrow Scholarship is a game changer for workforce development, and could have a generational effect upon its participants.

The JEC approved several bills for introduction, including three bills that I brought to the committee. These three bills address mental health services for children, regional cost adjustment for high housing cost districts, and a bill to provide more Career Technical Education funding to districts that value these courses.

On November 17, I attended a new legislator training. As a member of legislative leadership, I help train new legislators. During this training our legislative staff helped new legislators understand what support they have available, how to put in a bill request, and how to operate their new computers. Legislative leadership was there to provide tips to new legislators to help them deal with their role as legislators. We will have two more days of training in January.

On November 18, I participated in the Wyoming Wildlife Taskforce meeting that was originally scheduled for Casper, but was changed to a remote platform when the weather got bad. I went to Casper anyway, because I had a meeting there on the 19th. The Taskforce continued to discuss emerging technology regulation, as it relates to fair chase. The Taskforce approved a motion to request that the Legislature provide the Wyoming Game and Fish Commission more authority to address emerging hunting technologies. The Taskforce also recommended that non-resident license fees for the Big Five (Bighorns, moose, mountain goats, bison, and grizzly bears) be increased. We heard testimony that they are under market value.

On November 19, the Republican legislative caucus for the 67th Legislature was held in Casper. A caucus is a closed meeting of party members within a legislative body to decide on questions of policy or leadership. The Senate and the House broke off into separate caucuses to determine their leadership slate. The Majority Floor Leaders and the House Majority Whip are determined by the caucus vote. The Speaker of the House, Speaker Pro Tem, Senate President, and Vice-President of the Senate are chosen by their respective chambers on the first day of session. The caucuses choose nominations for these positions, however with a Republican super majority in the both the House and Senate it is assumed these nominees will be elected to their respective positions. I was selected as the Republican nominee for Speaker of the House, and I am very humbled by the confidence placed in me by my peers.

The General Session of the 67th Legislature will begin on January 10. If you have questions or comments, please contact me at albert@albertsommers.com.

---
Grand Reopening of the Big Piney Library Dec. 31st (posted 11/28/2022)
The building remodel project for the Big Piney Library is nearly complete. The Big Piney Library will close its temporary location at the Big Piney Rec location beginning Monday, December 19th and will reopen in its renovated original building at 106 S. Fish Street on Tuesday, January 3rd.

During this time there will be no services as library staff prepares the library building for reopening and moves the library's collection back into the space.

The last day to take home library items from Big Piney Rec will be Friday, December 16th. Digital library items will remain accessible.

The Library will host a Grand Reopening on New Year's Eve, Saturday, December 31st from 6-9PM at the new location for a public unveiling of the newly renovated space. Enjoy champagne, appetizers, and desserts, as well as an art show and live music. "Big Piney Black Tie" attire is encouraged.

---
Volunteer Firefighters wanted (posted 11/15/2022)
Sublette County Unified Fire (SCUF) is accepting applications for volunteer firefighters.

Volunteer firefighters respond to emergencies within Sublette County including but not limited to: Structural Fires, Wildland Fires, Carbon Monoxide Concerns, Motor Vehicle Accidents, and Hazardous Materials Incidents.

SCUF is comprised of six stations throughout Sublette County in Pinedale, Big Piney/Marbleton, Boulder, Daniel, Bondurant and Kendall Valley. Volunteer firefighters respond from home, work or at leisure to their nearest respective stations when dispatched for an emergency.

No prior firefighting experience is necessary. SCUF teaches a yearly recruit academy beginning in January each year and instructs new recruits to be able to obtain the following certifications: Structural Firefighter 1, Wildland Firefighter Type 2, Hazmat Ops.

Certified firefighters who have completed the recruit academy are paid per-call at the starting rate of $20/per-call.

SCUF members who wish to further their training beyond the recruit academy may be compensated at higher rates according to their highest qualification obtained.

Interested parties must pass a background check, a driving record check and be at least 18 years of age. (Persons 16 years of age may join the SCUF Cadet Program)

Applications may be obtained Monday through Thursday, 8AM-5PM at 130 S. Fremont Ave. in Pinedale or completed online at: https://sublettewyo.com/401/Firefighter-Application

---
Local Services:
Abortion Alternatives
Accounting & CPA
Apartments/Townhomes
Arts & Entertainment
Attorneys & Legal
Auction Services
Automotive
Aviation Services
Banks & Financial
Bars
Beauty Salons
Bed & Breakfasts
Boating
Bookkeeping
Builders & Contractors
Building Material
Business Services
Cabins
Cellular
Child Care
Churches
Cleaning Services
Clothing
Commercial Art
Computer Supplies
Condos
Consultants
Convenience Stores/Fuel
Convention/Meeting
Dentists
Dining
Dry Cleaning
Events
Fabric & Crafts
Fencing
Fishing
Flooring
Food & Drink
Funeral Homes
Furniture
Gifts/Western
Government
Graphic Design
Grocery & Market
Guest Ranches & Lodges
Handyman Services
Hardware & Feed
Heating
Health Care & Medical
Horseback Adventures
Insurance
Interior Design
Internet/Web/Advertising
Landscaping
Laundry
Liquor Stores
Lodging
Log Homes
Marketing
Massage Therapy
Modular Homes
Motels
Mountain Biking
Movie Theaters
Museums
Nails
Newspapers
Office Supplies
Oil Field Services
Optometrists
Organizations
Outdoor Equipment
Outfitters & Guides
Packaging & Shipping
Painters
Pet Stores
Pharmacies
Photography
Plumbing
Professional Services
Radio
Real Estate Agencies
Real Estate-FSBO
Remodeling
Retirement
Retreats
RV Camping
Schools
Scrapbooking
Septic Services
Skiing
Snowmobiling
Snow Plowing
Storage and Storage Units
Tanning
Tattoos & Body Art
Tax Preparation Services
Taxidermy
Transportation/Shuttle
Trash Services
Trucking
Veterinarians
Visitor Services
Wagon Rides
Well Drilling