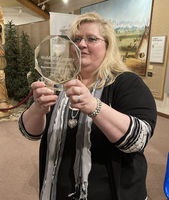 Sublette Chamber of Commerce Executive Director Kaddy Fyfe Shivers gave out awards to three local businesses.

Sublette Chamber of Commerce holds annual gathering (posted 3/26/2023)
Dawn Ballou, Pinedale Online!
The Sublette County Chamber of Commerce held their 2023 annual gathering on Friday, March 24th at the Museum of the Mountain Man in Pinedale. The event included a scavenger hunt through the Museum where attendees could meet with several of the new small businesses in the county showing some of the food items they had for sale. Several small businesses were on hand from Pinedale, Big Piney and Marbleton displaying their drinks, food services, fresh produce, and custom catering services. Food items were available for sampling including crackers, cheeses, fruits, fresh hydroponic-grown salad greens & vegetables, healthy drinks, freeze dried foods, mini cheesecakes and cookies. The Boulder Store provided a cash bar for the event. Prizes for the scavenger hunt included an arrowhead necklace and custom engraved pocket knives.

Chamber Executive Director, Kaddy Fyfe Shivers gave out their annual awards for several categories. Chamber members voted on their choices for these awards.

Winners were:
Business of the Year: Engel & Völkers - Big Piney – Sierra Banks (sierrabanks.evrealestate.com/)
Non-Profit of the Year: Main Street Pinedale, (www.mainstreetpinedale.com)
Going Green Business: Log Cabin Motel, Pinedale – Sofia and Forest Wakefield (www.thelogcabinmotel.com/)

Highlighted businesses were:
Mountain Fresh Produce and Secret Garden Café: This is a brand new business that hopes to be open by mid-April in Pinedale. They will be located at 461 S Pine Street. Sisters Sierra and Savannah Sherman were at the event to showcase their products. They will be offering local hydroponic-grown fresh produce. Hydroponics means these plants are grown in water instead of soil, which allows them to grow up to 50% faster. Mountain Fresh Produce does not use any sprays, pesticides or harmful chemicals of any kind, so produce is clean, fresh, and toxin-free. Currently they have a variety of lettuces, kale, arugula, mustard greens, water cress, bok choy, lemon balm, basil, parsley, oregano, peppermint, chives, cilantro, carrots and radishes. Coming soon will be spinach, dill, thyme, tomatoes, egg plant, squash, cucumbers, onions, sugar snap peas, peppers, leaks, broccoli, Brussel sprouts, artichokes, celery, mushrooms, dragon fruit, watermelon, berries, and avocadoes. They will also have different kinds of berries and citrus fruits imported. Customers will also be able to taste a lot of their products and purchase fresh produce in their up-front retail cafe. They will be offering weekly pick-up orders with free home-delivery in Pinedale on orders over $50. They can be reached at 307-749-2740 (Vikki) or 307-749-6407 (Savannah), by email at mountainfresh.wy@gmail.com, or on the web at www.Mountain-Fresh-Produce.com. (They're looking for help, if interested, let them know.)

RutRoe Survival Supply – Freeze Dried Foods: Stacey Roe was on hand to give samples of her wide variety of freeze dried foods. These included several different kinds of ice cream and candy snacks. Freeze drying is a process of removing water from foods, which extends their shelf life and makes them more transportable. Imagine being up in the mountains for a long backpacking trip and getting to having the treat (but not the mess) of ice cream! Products that were showcased included freeze dried mint chocolate chip ice cream, blue cookie crunch ice cream, birthday cake ice cream, cotton candy ice cream, chocolate mudslide ice cream, s'mores ice cream, sprinkled animal cookie ice cream, pumpkin pie, star bursts, skittles, nerd crunchy clusters, and Greek yogurt strawberry bites. All these and more are great for healthy snacks as well as convenient foods to take on hiking trips and outings. RutRoe Survival Supply can be found on Facebook, Instagram and WhatsApp.

H & K Catering & Events Heather Farenbaugh and Kaisha Simpson operate H & K Catering & Events, a family-owned catering business that specializes in Dutch Oven and outdoor cooking. They operate out of Big Piney, Wyoming. They do events in Sublette County, Teton, Lincoln and Fremont County. They specialize in catering for weddings, corporate events, banquets, family reunions, oilfield, holiday parties, brandings, cow camps, and any kind of group gathering. Find them on Facebook and Instagram, or call Heather at 307-749-3537 or Kaisha at 737-444-1164, or email hkcatering.wyo@gmail.com.

Turquoise Buffalo Manager Laura Delgado came up from Big Piney for the event with samples of their delicious flavored coffees and drinks. They are located at 121 Smith Avenue in Big Piney in the little mobile hut. They offer flavored coffees, lattes, cappuccinos, Frappuccinos, chai, Macchiatto, smoothies, Italian sodas, flavored lemonade, flavored teas, infused Redbull, and more. They also have a selection of sugar-free coffees. They are open 7AM to 1PM Monday through Friday, 8AM to noon on Saturdays, closed on Sundays. Find them on Facebook at turquoisebuffalocoffee, or call 307-260-6234, email nick031@centurytel.netor see their menu on their website at http://turquoise-buffalo.square.site/

Hey, Sugar Sydney Archambault, from Big Piney, owns "Hey, Sugar" and creates the most delicious cheesecakes, bouquet cookies, and couture desserts imaginable. She can be found at the local Farmer's Markets, Rendezvous, Fair, and other events in the county. Her treats can often be found at Turquoise Buffalo in Big Piney. Some of the cheesecake flavors Sydney makes include butterfinger, chocolate Irish cream, lavender blackberry, apple pie, banana pudding, raspberry, German chocolate, huckleberry, pecan pie and more. Her desserts and cookies are decorated with frostings and fresh berries. They're beautiful to look at and delicious too. Find Hey, Sugar on Facebook to see many more pictures of her amazing desserts and creations.

We don't want to leave out Connie Barger and Ruth Steele from the Boulder Store who provided the cash bar for the Chamber social. They have a mobile bar and liquor license and are happy to provide adult beverages for those special occasions and events around the county. They have a great set-up and are very efficient in their operations. They have a convenience store, gas station, bar, and grill with inside dining, located in the tiny town of Boulder, Wyoming (population 115 in 2020 census). Store hours are 7 days a week from 6AM to 9PM. The Grill is open Monday through Saturday from noon to 8PM and on Sundays from 7AM to 8PM. They also have a motel Inn next door to the store with nine large cabin-style rooms with rustic log beds and furniture. Pet rooms available and livestock boarding by advance arrangement. They're located on US 191 in Boulder, right on the way to Pinedale, Jackson and Yellowstone Park. 307-537-5480, www.boulderwystore.com,

We want to welcome the new owners of Pinedale Hotel & Suites (formerly the Baymont Inn in Pinedale). They are new in town and are still getting acquainted. Their new sign should be going up on the hotel shortly. They are located at 1424 West Pine Street on the west end of Pinedale. 307-367-8300, info@pinedalehotel.com, www.pinedalehotel.com.

Lastly, thank you to the Museum of the Mountain Man in Pinedale for hosting the Chamber gathering. The Museum is closed over the winter, but is happy to open by appointment – just call if you want to bring some friends and come up to go through the Museum over the winter, 307-367-4101. They will open for summer hours May 1st, then will be open daily through the summer from 9AM to 5PM. www.MMMuseum.com

The Sublette County Chamber of Commerce strives to create and foster a sustainable business climate in Sublette County. They have programs to advance leadership and workforce development, build camaraderie through business development, encourage economic development, provide services to local small businesses, and more.

For more information about the Sublette County Chamber of Commerce, find them online at www.sublettechamber.com, on Facebook, contact Executive Director Kaddy Fyfe Shivers at 307-367-2242, or visit their office upstairs in the Sublette County Visitor Center in Pinedale.

Click on this link for more on this story and more pictures
---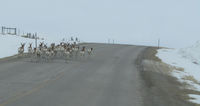 Pronghorn herd on Paradise Road on Saturday, March 25th. Photo by Pinedale Online!

Please watch out for animals on the road (posted 3/25/2023)
In addition to it already having been a very hard winter on big game, the deep snow is making it hard for animals to get around and find food. It is not uncommon now to find herds of deer and antelope using the roads as their travel corridors because it is the easier path to get around.

The tall berms of snow/ice on both sides of the road from the months of snow plowing also hinders the ability of animals to get off the road when traffic comes along. Drivers can easily come up over a hill and suddenly find a whole herd of antelope in their lane, or encounter them suddenly in their headlights on a dark highway at night. Vehicles that are traveling very fast, or that can't stop quickly, can sadly run into and kill or injure numerous animals in a herd all at once when this happens.

These pictures were taken on Saturday, March 25th on Paradise Road south of Boulder. This herd traveled a good couple of miles down the road before finally finding a place to exit, right before a big County snow plow came in the lane where they had just been.


---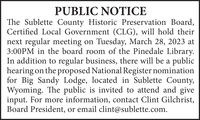 Public Notice

Public Hearing for National Register nomination for Big Sandy Lodge March 28 (posted 3/25/2023)
PUBLIC NOTICE: The Sublette County Historic Preservation Board, Certified Local Government (CLG), will hold their next regular meeting on Tuesday, March 28, 2023 at 3:00PM in the board room of the Pinedale Library. In addition to regular business, there will be a public hearing on the proposed National Register nomination for Big Sandy Lodge, located in Sublette County, Wyoming. The public is invited to attend and give input. For more information, contact Clint Gilchrist, Board President, email clint@sublette.com.
---



See links for higher resolution versions of ski trail maps

Nordic Ski Trail Grooming Report – 3/24/2023 (posted 3/24/2023)
Mike Looney, Groomer
Friday, March 24, 2023, 9:30AM: Half Moon Tie-In, part of Kelly Park, Kelly Tie-In, Flatline, Heart Attack and Elkhart Park Road all groomed this morning. 24F degrees. Looks like it's going to be a nice day.
This Nordic ski trail grooming report is courtesy of the Sublette County Recreation Board.

Related Links:
www.sublettetrails.org Additional information on winter and summer trail recreation in Sublette County, including maps and requested trail etiquette
White Pine-Kelly Park Ski Trail Map - (10.3MB PDF)
CCC Ponds Ski Trail Map - (1.84MB PDF)
Road and Weather links
www.visitpinedale.org Pinedale tourism website (links to lodging, dining, area information)
www.whitepinewyoming.com White Pine Resort, 307-367-6606, (Nearby alpine skiing, food services, restroom)
www.greatoutdoorshop.com The Great Outdoor Shop, 307-367-2440
www.sublettechamber.com Local businesses & services, 307-367-2242
www.golfpinedale.com Rendezvous Meadows Golf Course (Additional Nordic ski trails, food services, restroom)

---
Wyoming Legislature Wrap-Up – March 23, 2023 (posted 3/23/2023)
Albert Sommers, House District #20 Representative
3/23/2023
Hello Sublette County and LaBarge, this is Albert Sommers reporting after the end of the 2023 General Session of the 67th Legislature. This session was different than any I have previously been part of. We had more freshman House members, twenty-nine, than any time during my service in the Legislature. As Speaker of the House it was my job to ensure that the floor ran smoothly and everyone adhered to the Rules of the House. Due to the number of new members, more debate occurred on the floor than we would normally see. Debate is a good thing, but too much debate slows the process down. We are constitutionally limited to 60 days of session over a two-year period, and we had scheduled 37 days for this General Session. Despite these challenges, I believe we had a very productive session and moved Wyoming forward. Keep reading to see how.

The various appropriation (spending) bills that passed the Legislature will have a lasting positive impact on Wyoming. HB1 - The Supplemental Budget bill, resulted in the Legislature saving nearly $1.4 billion, the most ever put to savings in a single budget in the State's history. For every $1 spent in HB1, roughly $3.5 dollars were saved. Wyoming currently receives about 1/3 of its revenue from investment earnings, and measures taken during this legislative session will add to that. This will help generations of Wyomingites.

Specifically, the supplemental budget bill pays $8 million for property tax refunds to residential homeowners, restores deep cuts made during the pandemic to health care for Wyoming's poorest citizens, fully funds K-12 education and brings pay for state employees up to their 2013 real wage levels.

HB0195 - American rescue plan act appropriations-amendments redistributed unspent dollars from the original amount Wyoming received from the federal government in the American Rescue Plan Act. HB195 put $12 million toward grants for outdoor recreation and tourism, $3 million toward hunger initiatives, $20 million for local government support projects, $30 million for water and sewer projects, and $40 million for health facility capital construction. I successfully passed an amendment that pulls $15 million of the health facility construction dollars into a separate fund to be used for inflationary pressure on already funded health facility projects. This pot of money should allow the Sublette County hospital to be eligible to apply for an additional $5 million in grant money for inflation of construction costs. These funds will help Wyoming communities improve or sustain their quality of life.

Other appropriation bills will make a difference in Wyoming. SF0146 - State funded capital construction provides dollars for construction at the University of Wyoming, community colleges, and at the Wyoming State Fair. HB0093 - Omnibus water bill-construction continues Wyoming's long tradition of investing in Wyoming's people through expenditures on water programs, most of which are funded by dedicated severance tax dollars. As a part of HB93, the Legislature put $30 million of our excess revenue into the Water Account III, because an investment in future impoundment projects is essential for Wyoming.

I sponsored several bills this session that dealt with issues from my local communities. HB0108 - Sale of THC vaping devices and edibles to minors-prohibited was brought to me by our local prevention committee. This bill prohibits the sale to minors of dangerous products like Delta 8 THC. HB0222 - Colorado river advisory committee will give water users in the Green River Basin and Little Snake River Basin a voice at the table in the quickly evolving policies on the
Colorado River. There is no question that issues surrounding the Colorado River will have consequential and perhaps catastrophic repercussions in the future for those of us in the Upper Green, if the hydrology of the Basin does not substantially improve. We must remain vigilant on this topic.

I passed a constitutional amendment HJ0002 - Constitutional amendment-residential property class by getting it amended into SJ0003 - Property tax residential property class. Northwest Wyoming Senators and Representatives worked together to get this amendment available to the citizens in the next election. If the amendment passes, it will allow residential property tax to be separated from commercial and agricultural property tax, which will give future legislatures more options to provide residential property tax relief. HB0098 - Property tax-homeowner's exemption was converted into my HB0054 - Homestead exemption and passed the House, but inexplicably died in the Senate Revenue Committee. This bill would have exempted homeowners from paying taxes on the first $50,000 worth of assessed value and would have amounted to an average of $300 savings for homeowners. The bill also would have backfilled lost revenue of local government by using state funds.

I also drafted bills that passed the session but were handed off to other legislators. These bills include HB0188 - Wolf depredation compensation, which provides livestock producers with compensation for wolf damage in the predator designated area; HB0123 - Collection of antler or horns by residents and nonresidents is a bill that gives Wyoming residents a seven day head start over non-residents during horn hunting season; HB0128 - Voyeurism within enclosed spaces solves a hole in the law and was brought to me by the Sublette County Attorney's Office; and HB0180 - Brucellosis testing-notification requirements requires the Wyoming Livestock Board to create a communication plan with producers when non-negative brucellosis tests are found. It also requires the State Vet Lab to provide notice back to an affected herd owner within 3 days of discovery. This bill was in response to a non-negative case last fall in Sublette County, and the slow communications that followed.

The local issue of what to do about the increasing number of guided fishing boats on Wyoming's rivers, both domiciled in Wyoming and from outside Wyoming, will be the number one priority for the Travel, Recreation and Wildlife Committee this interim. I drafted two bills that prompted this interim topic: HB0084-Regulation of commercially guided boats and HB0232-Outfitters and guides-amendments. I hope my local fishermen and fishing guides will engage in this statewide issue in upcoming months.

There has been much discussion during and after the legislative session about the three bills that I did not send to committee. Local Sublette County residents were bombarded by robo-texts from the National Freedom Caucus about those three bills.

Part of my leadership responsibility is choosing which standing committee a bill goes to or whether it is sent to a committee at all. I take this responsibility seriously; bad policy can create major consequences for Wyoming. Bills that are unconstitutional, not well vetted, poorly written, duplicate bills or debates, and bills that negate local control, restrict the rights of people, or risk costly litigation financed by the people of Wyoming are – and have traditionally been – less likely to be introduced.

Other leadership positions share the ability to hold bills back. House Majority Floor Leader Neiman, a Freedom Caucus member, held 57 bills back. A total of 30 bills died in my drawer and nearly 100 House bills and Senate Files died in House committees. The process for a bill to evolve from an idea into a law is arduous, as it should be.

Please see the following link for my explanation of the fate of those three bills: https://cowboystatedaily.com/2023/02/26/albert-sommers-im-focused-on-wyoming-solutions-not-out-of-state-influences/

In a nutshell, a nearly exact duplicate of the school choice bill died in committee earlier in the session. I sent Chloe's Law out to committee but left the other transgender surgery bill in my desk because they were solving the same issue and conflicted with each other. The Parental Rights Act bill was unconstitutional and violates my ethos of local control. The reality is, the Wyoming Legislature met for only 37 days and there is not enough time to hear every bill. Time constraints are a major factor in determining what is debated.

I heard from many of you on the campaign trail about very specific issues that were important to you, and I made promises to address them. One of those topics was transgender athletes. I co-sponsored SF133, which bans biological males from participating in all-female sports for grades 7-12. This bill passed and is now law. Another was eliminating cross-over voting. I voted in favor of bill HB103, which limits when a person can change their party affiliation, but this bill went too far in my opinion and will likely have to be fixed in subsequent sessions. I also brought tax relief bills and voted for others' tax relief bills this session, and I will bring back my Homestead Exemption bill next session.

Abortion was one of the hottest topics during my campaign, with passionate people on both sides of the issue. I ended up voting for SF0109-Prohibiting chemical abortions and the revised Senate version of HB0152-Life is a Human Right Act. Both bills needed cleaning up, but I think both bills are a poor substitute for the trigger bill that was passed a year ago and is now in the court system. I do not think a pro-life stance should exclude being pro-mother and pro-child. HB0001-General government appropriations provided more money in the Supplemental Budget for the Developmentally Disabled Waiver program and DD preschools, helping populations of children with great needs. I supported HB0004-Medicaid twelve-month postpartum coverage, which extends Medicaid coverage for women and children up to twelve months postpartum. I believe HB4 is one of the most impactful bills to pass the Legislature this session. I also supported SF0079-Plan of safe care-newborns, which requires care providers to develop plans of safe care when the newborn has been affected by substance abuse. And I supported HB0111-Endangering children-fentanyl and SF0094-Federal Indian Child Welfare Act codification. Both of these bills were created to help children.

With the General Session now over, we move to interim work. Much more work will be accomplished in the next 10 months, before the next legislative session convenes in January 2024. I invite each of you to get engaged on the issues that matter to you. Follow the work and ask questions. I can be reached at albert@albertsommers.com with questions or comments.

---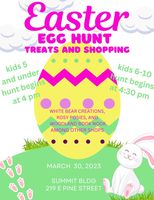 Summit Building Easter Egg Hunt, Treats and Shopping March 30 in Pinedale (posted 3/22/2023)
Shops in the Summit Building in Pinedale are hosting an Easter Egg Hunt, Treats and Shopping event on Thursday, March 30th, 2023. The event is sponsored by White Bear Creations, Rosy Posies, and Woodland Book Nook, along with other shops. Kids 5 and under hunt begins at 4PM. Kids 6-10 hunt begins at 4:30PM. 219 E Pine Street.
---
Free QPR Suicide Prevention Training Classes offered (posted 3/22/2023)
Sublette BOCES, Sublette County Prevention Coalition and the
QPR Institute are offering a free one-hour QPR Suicide
Prevention Training Class for community members to learn the
warning signs of suicide. QPR stands for "Question-Persuade-
Refer" and is an immediate intervention to get someone to
help. Several classes will be offered through the year so
people can pick one that fits their schedule.

Classes offered:
Thursday, March 30, 5:30PM
Wednesday, May 17, Noon
Wednesday, July 19, 5:30PM
Wednesday, September 20, Noon
Wednesday, November 15, 5:30PM

All trainings will be held at Sublette BOCES, 665 N Tyler Ave
in Pinedale. Pizza and soda will be provided for attendees.
Register online at www.subletteboces.ce.eleyo.com so they can
get a head count for materials and meal.

---
Community Public Workshop on the Town of Pinedale new Transportation Master Plan & Proposed Alternatives March 28 (posted 3/22/2023)
The Town of Pinedale will host a Community Public Workshop on the new Transportation Master Plan & Proposed Alternatives on Tuesday, March 28 from 5:30-7:00PM in the Lovatt Room of the Pinedale Library. Learn information about the Town's Transportation Master Plan and Pedestrian Safety Plan. Public input being accepted through Friday, March 31st. Information about the plan is available on the Town website, www.townofpinedale.us, along with a survey. The plan involves Pine Street along with additional street modifications to improve connectivity and safety.
---
Knights of Columbus Fish Fry March 31 (posted 3/22/2023)
The Knights of Columbus are hosting another Fish Fry on Friday, March 31st from 5-7PM at Our Lady of Peace Catholic Church in the Banquet Hall, 112 S Sublette Ave in Pinedale. There will be fried cod, French fries and cole slaw. Cost is $10/adults, $8/children 12 and under. Take-out will be available – call between 4-6PM for pick up orders, 307-367-2359, or just request at the door. Seat-in dining also available in banquet hall. First-come, first-served. Proceeds benefit the local Knights of Columbus charity fund.
---
Talk on the history of the Rendezvous Pageant March 29 (posted 3/22/2023)
On Wednesday, March 29th, Clint Gilchrist will give a talk on the history of the Green River Rendezvous Pageant. The presentation will be at 6PM at the Museum of the Mountain Man. The talk will give insights into the history of the Pageant from its early days to present. Come learn about this Sublette County tradition that generations in the community have kept alive since 1936. Cast members and public invited.

---
Passport Fair at the Big Piney Library April 22 (posted 3/22/2023)
The Big Piney Post Office will be hosting a Passport Fair at the Big Piney Library on Saturday, April 22nd from Noon – 4PM. You will need to bring your Driver's License, previous passport (if you have one), and birth certificate. Cash or checks only (no credit cards accepted). Forms are available at the Fair, or at the Big Piney Post Office, or online at travel.state.gov. Photo services will be available at the Fair. Persons under age 18 will need both parents present or a notarized DS 3053. Call the Big Piney Post Office with any questions, 307-276-3772.
---
BLM seeks public comment on Upper Green River Cemetery District proposal to utilize BLM land for a cemetery (posted 3/20/2023)
Comments accepted until April 14, 2023
Bureau of Land Management
PINEDALE, WYOMING – The BLM Pinedale Field Office is seeking public comment concerning a proposal submitted by Upper Green River Cemetery District to acquire a parcel of BLM managed lands for second cemetery. The Pinedale cemetery is running out of space, and there is a need of a second cemetery.

To review the complete proposal, including a project map, and to submit comments visit the project website at https://eplanning.blm.gov/eplanning-ui/project/2023727/510. Comments may also be submitted via mail to: BLM Pinedale Field Office, Attn: Tracy Hoover, PO Box 768, Pinedale Wyoming 82941. Scoping comments will be accepted until April 14, 2023.

Please be advised that if you include your address, phone number, email address or other personal information in your comments, your entire comment, including your personal information, may be publicly available at any time. While you may request that we withhold your personal information from public review, we cannot guarantee we will be able to do so. For more information, contact Tracy Hoover, (307) 367-5342.


---
Yoga and Meditation classes offered in Pinedale (posted 3/20/2023)
Jennifer Ricupero, M.Ed., Personal Trainer, Life Coach & Fitness Instructor, is offering weekly classes in April for Yoga, Boxilates, and Meditation.

Weekly Events:
• Yoga Saturdays 9-10am at Lakeside Lodge in
Pinedale guided by Jennifer Ricuperoo Enjoy the beautiful view of Fremont Lake and the surrounding mountains as we flow together! Beginner's Welcome. Extra mats provided. $20
• Boxilates® Mondays 6-7pm at Iron Bar Gym in Pinedale coached by Jennifer Ricupero
o Learn hot to wrap your hands, punch & kick, tone and strengthen your core with pilates. Beginner's Welcome! $20
• Yoga Wednesdays 6-7pm at Proactive Rehabilitation in Pinedale guided by Jennifer Ricupero
o Take time in the evening to unwind, decompress, and tune in. Beginner's Welcome! $20
• Meditation Thursdays 6-7pm at Proactive Rehabilitation in Pinedale guided by Jennifer Ricupero
o Meditation helps the mind to relax & settle. It encourages our inherent qualities of clarity & mental strength to emerge. Beginner's Welcome! $20

For more information go to Facebook at https://www.facebook.com/jenniferrosericupero/events or her website at www.foreverwildwomen.com.

---
Free Emergency Health Profile available (posted 3/16/2023)
Sublette County Sheriff's Office
Sublette County residents now have the ability to create a free Emergency Health Profile at emergencyprofile.org to share opt-in medical information with Sublette County Communications 911 Center in the case of an emergency. RapidSOS, the world's first emergency response data platform, teamed up with The American Heart Association, The American Red Cross, and Direct Relief to launch this initiative in an effort to get first responders critical health information in an emergency.

Today, 9-1-1 telecommunicators are forced to rely on the limited information a wireless phone call can provide, often resulting in dispatching delays and first responders arriving on scene under-informed. In partnership with public safety, RapidSOS created an emergency response data platform that securely links life-saving data from over 350M connected devices to over 4,800 Emergency Communication Centers nationwide - protecting more than 300M people in the U.S. This data helps the Sublette County Communications 911 Center accelerate response times and provides first responders with incident-specific information prior to arriving on-scene.

The Sublette County Sheriff's Office Communications 911 Center became RapidSOS ready on 3/13/2023. Our call-takers use the RapidSOS Portal, a browser-based tool, to access accurate caller location and additional life-saving information when responding to wireless 911 calls.

How can you become RapidSOS Ready?
Citizens can create their free Emergency Health Profile by visiting emergencyprofile.org and entering pertinent medical and profile information, such as:
• Name, Date of Birth, and address
• Pre-existing conditions
• Allergies
• Medical Notes (ex. Mental health issues, developmental disabilities, etc.)
• COVID-19 symptoms
• Emergency contacts

"Our 911 agencies and first responders do incredible work every day to keep our communities safe," said RapidSOS Senior Director of Public Safety, Karin Marquez. "We hope that the Emergency Health Profile will provide Sublette County telecommunicators and first responders with another tool to help them respond quickly and provide the appropriate care during a caller's time of need."

To ensure data privacy, information is associated with an individual's phone number and is only made available to first responders when a 911 call is placed from the associated phone number. To learn more and create a free Emergency Health Profile, visit www.emergencyprofile.org.

---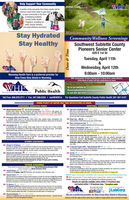 Health Fair Blood Draw in Marbleton April 11 & 12 (posted 3/14/2023)
Sublette County Public Health will hold their annual Community/School Health Fair Blood Draw in Marbleton on April 11 & 12 at the Southwest Sublette County Pioneers Senior Center, 429 East 1st Street in Marbleton.
Marbleton Health Fair Blood Draw:
Tuesday, April 11th 6—10 AM
Wednesday, April 12th 6—10AM

Appointments appreciated—walk-ins welcome. Please schedule your appointment at https://wyominghealthfairs.com/appointments
(Click on Yellow Marbleton Dot) or call Public Health at 307-367-2157 for assistance with registration. Online results within 3—5 days, mailed results within 10—14 days. Wyoming Health Fairs accepts all forms of payment—check, credit/debit cards, HSA. WHF will prepare an itemized bill for you to submit to insurance for reimbursement (if requested).

Continued Services with Wyoming Health Fairs:
• Expanded list of blood screenings available—see flyers for tests & pricing (flyers available at the Public Health Office or Senior Center). Online flyer on our Public Health webpage—look under quick links at www.sublettecountywy.gov/179/Public-Health
• Wyoming Health Fairs is a preferred provider for Blue Cross/Blue Shield. WHF will submit the claim for you (you will be responsible for any claims not paid by your insurance plan).
• Wyoming Health Fairs accepts all forms of payment—check, credit/debit cards, HSA. WHF will prepare an itemized bill for you to submit to insurance for reimbursement (if requested).
• WHF cannot bill Medicare (or your Medicare supplement insurance plan).
• Online results within 3—5 days, mailed results within 10—14 days.

Ongoing Benefits:
• Low cost blood screenings
• Local volunteers/local event
• Community breakfast
• Proceeds benefit local community programs through Public Health Nursing.
• Please call Public Health Nursing at 307-367-2157 for more information.

---
Easter Service at St. Hubert the Hunter Church in Bondurant April 9 (posted 3/11/2023)
St. Hubert the Hunter will hold an Easter Service, Easter Sunday, April 9, 2023, at 12:30pm (note time correction) at the Church in Bondurant. Rev. Randy Belton will officiate at the Eucharistic Service. Everyone is welcome to join the worship and share in the joy of Easter. Fellowship and refreshments to follow.
---
Local Services:
Abortion Alternatives
Accounting & CPA
Apartments/Townhomes
Arts & Entertainment
Attorneys & Legal
Auction Services
Automotive
Aviation Services
Banks & Financial
Bars
Beauty Salons
Bed & Breakfasts
Boating
Bookkeeping
Builders & Contractors
Building Material
Business Services
Cabins
Cellular
Child Care
Churches
Cleaning Services
Clothing
Commercial Art
Computer Supplies
Condos
Consultants
Convenience Stores/Fuel
Convention/Meeting
Dentists
Dining
Dry Cleaning
Events
Fabric & Crafts
Fencing
Fishing
Flooring
Food & Drink
Funeral Homes
Furniture
Gifts/Western
Government
Graphic Design
Grocery & Market
Guest Ranches & Lodges
Handyman Services
Hardware & Feed
Heating
Health Care & Medical
Horseback Adventures
Insurance
Interior Design
Internet/Web/Advertising
Landscaping
Laundry
Liquor Stores
Lodging
Log Homes
Marketing
Massage Therapy
Modular Homes
Motels
Mountain Biking
Movie Theaters
Museums
Nails
Newspapers
Office Supplies
Oil Field Services
Optometrists
Organizations
Outdoor Equipment
Outfitters & Guides
Packaging & Shipping
Painters
Pet Stores
Pharmacies
Photography
Plumbing
Professional Services
Radio
Real Estate Agencies
Real Estate-FSBO
Remodeling
Retirement
Retreats
RV Camping
Schools
Scrapbooking
Septic Services
Skiing
Snowmobiling
Snow Plowing
Storage and Storage Units
Tanning
Tattoos & Body Art
Tax Preparation Services
Taxidermy
Transportation/Shuttle
Trash Services
Trucking
Veterinarians
Visitor Services
Wagon Rides
Well Drilling