New corrals at Boulder Lake trailhead (posted 9/26/2023)
Dan Stroud sent in these photos of the corrals at the Boulder Lake trailhead. The Mountain Man Back Country Horsemen group recently completed the project involving replacement of most of the poles, and installation of gates. The trailhead is busy as hunting season is up and running. Click on this link for more pictures.

Related Links:
Mountain Man Chapter Back Country Horsemen

---
Free Developmental Screenings offered at Children's Learning Center in October (posted 9/15/2023)
The Children's Learning Center is offering free developmental screenings for children birth through five years old. The screening is for vision and hearing, developmental skills, cognitive abilities, adaptive skills, social and emotional development, speech and language skills, and motor skills.

There will be two screenings offered, one on Monday, October 2nd in Pinedale and the next on Tuesday, October 3rd in Big Piney. The Pinedale screening will be at their location at 191 South Franklin Avenue. The Big Piney screening is at 650 Piney Drive.

Call/Text 307-231-5226 to schedule an appointment.

---
Obituary – Bill Deutsch (posted 9/15/2023)
Covill Funeral Home
William C. "Bill" Deutsch, 55, of Green River & Daniel, Wyoming passed away tragically from a firewood gathering accident on September 10, 2023.

Bill was born March 13, 1968 in Ogden, Utah to Frank and Kathy (Logan) Deutsch. He was a lifelong resident of Green River, Wyoming. After graduating from Green River High School, he served his country in the United States Marine Corps from 1986-1990. While serving in the Marines, he received technical training in the field of diesel mechanics and was employed with TaTa Chemicals for the past 24 years.

He married Karrie (Chapin) Deutsch August 13, 2001 in Green River, where they raised two amazing sons. Bill was very proud of the cabin he built for him and his wife. He enjoyed hunting, fishing, working on cars, and drinking beer with his best buddies Gary, Alex and Don. Bill is survived by his wife Karrie, sons Ryan Deutsch and Tyler Cummings, granddaughter Brinzley, his dog Bandit, his father Frank, and siblings Frank, Kris, and Carol. He is preceded in death by his mother Cathy Deutsch, nephew Ron Deutsch and mother-in-law Charlie Maxwell.

Bill's selflessness and willingness to help others made a lasting impact on those around him. He will be deeply missed and fondly remembered by all who had the privilege of knowing him. He always provided inspirational wisdom to his sons. Memorial contributions can be made in Bill's memory to Sublette County's Tip Top Search and Rescue.

---
Flu shots offered in October (posted 9/15/2023)
Sublette County Public Health will be holding flu clinics in Marbleton and Pinedale in October.

Big Piney/Marbleton:
In the Sublette County Public Health Office in the Southwest Sublette County Pioneers Senior Center in Marbleton. There are no drive-thru events this year.
Tuesday, October 3, 2023: 10AM—5:30PM
Tuesday, October 10, 17, 24, & 31, 2023: 9AM – 4PM

Pinedale Drive-Thru events:
In the parking lot of the Museum of the Mountain Man. Watch for directional signs.
Thursday, October 5th, 2023:
10AM--12PM High-Dose Flu (65+ Years Only)
2PM—6PM Community Clinic (All Ages)
Thursday, October 12th, 2023:
1PM—4:30PM Community Clinic (All Ages)
Thursday, October 19th, 2023:
1PM—4:30PM Community Clinic (All Ages)

Vaccines Offered:
Fluzone High-Dose Quadrivalent Vaccine: This vaccine has been approved for individuals 65+ years only. The higher dose of antigen in the vaccine is intended to give people 65 years and older a better immune response to vaccination. Cost $65/dose—Medicare Part B will pay for this vaccine. Payment due at time of service.

Fluzone Quadrivalent Vaccine: This vaccine is approved for individuals 6 months and older. A quadrivalent influenza (flu) vaccine is designed to protect against four different strains of flu. Cost $20/dose—cash or check accepted. We can bill Medicare, BCBS, Cigna, & UMR Insurance—please complete insurance information. Payment due at time of service.

Moderna Monovalent Boosters (COVID): Now approved for individuals >6 months of age. Sublette County Public Health has pre-ordered Moderna Vaccine, but has not received our shipment at this time. Call for updated information on availability. We will start giving boosters as soon as our vaccine supply is received. Please bring COVID vaccine card with you. Payment due at time of service.

Important Information:
Please call Public Health to schedule your appointment at 307-367-2157. Appointments greatly appreciated, walk-ins accepted. Please bring completed consent form with you to events. Consent forms can be picked up at both Public Health Offices, Senior Centers, or go to our website at https://www.sublettecountywy.gov/179/Public-Health (located under Flu Consent Form—lower right column under Quick Links).

---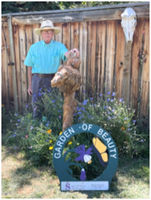 Garden Of Beauty – Phil Carr (posted 9/7/2023)
August 26, 2023
Sage & Snow Garden Club
Phil Carr's colorful wildflower gardens on Jackson Street in Pinedale caught the eyes of Sage and Snow Garden Club members, and they recognized him with a Garden of Beauty Award. Phil is living proof that one is never too old to plant and enjoy beautiful flowers. At 81 years young, early this spring Phil tilled up three sections of his yard and planted wildflower seeds from Wind River Gardens. By mid August, the flower beds are in full bloom showing off every color of the rainbow. There are purple bachelor buttons; pink cosmos, clarkia, and campion; citrus-colored Icelandic poppies and cape marigolds; whiter baby's breath and alyssum; and lavender fiddle-neck heliotrope (a very unusual species), all swarming with pollinators. Phil likes planting trees and is currently providing tender loving care to several white pine trees from the Arbor Day Foundation. After viewing Phil's beautiful flower gardens, he invited his guests to enjoy homemade ice cream with him. It was an inspiration to see Phil's love of flowers and his pride in creating such a beautiful space with just one packet of seeds.
---
Designing Web Content for Accessibility workshop Oct. 19 (posted 9/6/2023)
Sublette BOCES
Sublette BOCES is offering a workshop called "Designing Web Content for Accessibility." It will be on Thursday, October 19th from 9:00am to 5:00pm in the BOCES large meeting room (665 N Tyler Ave in Pinedale.)

Description: We put information online because we want others to access it. But when we don't design our content for accessibility, we limit the number of people who will be able to meaningfully engage with our ideas and data. By designing with accessibility in mind, we help ensure people with common disabilities can participate in public life. In this workshop, we'll explore reasons to design for accessibility, become familiar with major accessibility design guidelines, and practice designing accessible content.

Cost is $10.00 per person. The instructor is Dr. Erin Hastey. Register online at www.subletteboces.com.

---
Partial closures to begin at Fremont Lake Campground for hazard tree removal (posted 9/6/2023)
Bridger-Teton National Forest
The Pinedale Ranger District of the Bridger-Teton National Forest will temporarily close portions of the Fremont Lake Campground September 11, 2023, through the completion of operations. The temporary closure is to remove hazard trees created by the Douglas-fir Beetle. The Douglas-fir beetle is the most destructive bark beetle of mature Douglas-fir forests. Removing infested trees will help mitigate future insect attacks.

As hazard trees are removed, they will be decked within the campground at several locations for firewood. Access to the decks will be available starting September 11, 2023, at 6:00 pm to those that have valid firewood permits. Access for firewood will be from 6:00 pm to 8:00 am daily until all the hazard trees are removed from the campground. Access will be closed from 8:00 am to 6:00 pm for public safety during felling operations. The area will be signed with temporary closure notices and what camp units are available.

The removal of hazard trees will happen in two phases. The first phase, sites 1-35 and roadways to those will be closed. The Boat Ramp and sites 36-50 will remain open. The second phase, sites 13-28 and roadways to those will be closed. The Boat Ramp, sites 1-12 and 29-50 will be open. Once both phases are complete the Fremont Lake Campground will open in its entirety.

Firewood permits can be obtained at the Pinedale or Big Piney Ranger District Offices. This is first come-first serve. The firewood will be limbed and stacked in decks up to four feet in height. The firewood will be decked at several locations in sites 9-13 and 29-35 for the first phase and sites 13-28 in the second phase.

For more information, call the Pinedale Ranger District at 307-367-4326. For other news, events and information please visit https://www.fs.usda.gov/btnf or follow the Bridger-Teton National Forest on Facebook @BridgerTetonNF or on Twitter @BridgerTetonNF.

---
Local Services:
Abortion Alternatives
Accounting & CPA
Apartments/Townhomes
Arts & Entertainment
Attorneys & Legal
Auction Services
Automotive
Aviation Services
Banks & Financial
Bars
Beauty Salons
Bed & Breakfasts
Boating
Bookkeeping
Builders & Contractors
Building Material
Business Services
Cabins
Cellular
Child Care
Churches
Cleaning Services
Clothing
Commercial Art
Computer Supplies
Condos
Consultants
Convenience Stores/Fuel
Convention/Meeting
Dentists
Dining
Dry Cleaning
Events
Fabric & Crafts
Fencing
Fishing
Flooring
Food & Drink
Funeral Homes
Furniture
Gifts/Western
Government
Graphic Design
Grocery & Market
Guest Ranches & Lodges
Handyman Services
Hardware & Feed
Heating
Health Care & Medical
Horseback Adventures
Insurance
Interior Design
Internet/Web/Advertising
Landscaping
Laundry
Liquor Stores
Lodging
Log Homes
Marketing
Massage Therapy
Modular Homes
Motels
Mountain Biking
Movie Theaters
Museums
Nails
Newspapers
Office Supplies
Oil Field Services
Optometrists
Organizations
Outdoor Equipment
Outfitters & Guides
Packaging & Shipping
Painters
Pet Stores
Pharmacies
Photography
Plumbing
Professional Services
Radio
Real Estate Agencies
Real Estate-FSBO
Remodeling
Retirement
Retreats
RV Camping
Schools
Scrapbooking
Septic Services
Skiing
Snowmobiling
Snow Plowing
Storage and Storage Units
Tanning
Tattoos & Body Art
Tax Preparation Services
Taxidermy
Transportation/Shuttle
Trash Services
Trucking
Veterinarians
Visitor Services
Wagon Rides
Well Drilling