Wyoming Legislature updates – Sept. 13-15, 2021 (posted 9/17/2021)
Vaccine mandates, Colorado River Work Group updates, K-3 literacy and funding for community colleges
sAlbert Sommers, House District #20 Representative
Albert Sommers, House District #20 Representative, has sent several updates from the interim work of the 66th Legislature. Topics include federal vaccine mandates, Colorado River Work Group update, and the Joint Education Committee work on K-3 literacy and funding of community colleges. Click on this link to read his three updates from the Wyoming Legislature.
---
Chris Cookson wins 2021 State Senior Amateur Champion Title (posted 9/16/2021)
Chris Cookson, representing Pinedale's Rendezvous Meadows Golf Club, won the Wyoming State Senior Amateur Championship by three strokes Sept. 11-15th in Cody, Wyoming.

Chris began playing golf as a child and in college was captain of the golf team for the University of Southern Mississippi on a full-ride scholarship. He thereafter played professionally on the PGA European and Asian Tours for five years.

He is very grateful that he has won at every level beginning in juniors, high school, college, professionally and now at the senior level. Chris is also a Golf Rules Official for tournaments televised by NBC.

Chris and his wife, Mari, built their home in Pinedale 12 years ago and spend their summers there. Chris can be seen most days at Rendezvous Meadows playing golf. He is a runner in his free time.

---
Sublette County Public Health Briefing: Sept. 17, 2021 (posted 9/17/2021)
Sublette County Public Health
COVID Update
The Wyoming Department of Health (WDH) reports that there have been 55 new COVID-19 cases in Sublette County in the past week. There are currently 41 active cases in Sublette County, with 980 recoveries and 11 deaths, for a total of 1,032 cases since the pandemic began. Individuals are quarantining/isolating in the communities of Big Piney, Boulder, and Pinedale.

Sublette County Public Health Nurse Janna Lee gave this week's video update, providing current numbers, along with testing options. Please go to our Sublette County Public Health Facebook page to view the latest video update here.

State and regional medical systems remain over taxed, finding an available hospital bed for any individual needing hospital level care is extremely difficult. Some regional hospitals are starting to ration care to only the most critical patients. However, this does not mean that you should delay seeking medical help if you are feeling unwell.

Sublette County remains in the Red or High Transmission Zone for community spread this week, along with most of the state, Campbell and Hot Springs Counties remain in the Dark Red/VERY High Transmission Zone. (source)

COVID-19 Testing
If you have symptoms, please call the Pinedale Medical Clinic at 307-367-4133 or the Marbleton Medical Clinic at 307-276.3306. Altitude Drug (www.AltitudeDrug.com) and Ridley's Pharmacy (307-367-2131) also offer testing. Results from testing will be available, within 48-to-72 hours. Staff from your testing location may call with results or you may be given an on-link for results.

Public Health is now able to stock Valut kits at both of our offices for easy pick up! For close contacts, testing for travel, surveillance testing, or those wanting to test at home, Vault PCR tests are a great way to easily test at no charge. Vault tests are available by ordering them via www.vaultheath.com/covid or call Public Health at 307-367-2157 to pick up your kit. These COVID tests require a brief Zoom appointment for collection, you then ship them out via UPS in a provided overnight envelope. You'll receive results in 48-72 hours via email.

If you don't have insurance, are underinsured, or have a high deductible plan, please call Public Health for a voucher to pay for testing at the clinics.

If you have symptoms or are a close contact to an active case, please stay home, monitor your health and maintain distance until your test results are received. Go to the Wyoming Department of Health website for great information on quarantine and isolation or call Public Health at 307-367-2157 for assistance.

More info

COVID-19 Vaccines
As of September 13, 2021 – 2,743 people have been fully
vaccinated in Sublette County, which means that 27.9% of our population has been vaccinated. Public Health vaccine clinics continue to see higher rates of visitation with 95 individuals coming to be vaccinated this week countywide! Due to increased demand, we have moved back to our drive-thru format at the Mountain Man Museum on Thursday afternoons.

Public Health continues to offer weekly vaccination clinics offering all three vaccines Moderna, Comirnaty (Pfizer), and Janssen (Johnson & Johnson). Registration is requested but walk-ins are welcome on these clinic days! Comirnaty (Pfizer) is available for ages 12+. Moderna and Janssen are available for those 18 and older.

• Tuesdays 1:30-3:30 pm, Marbleton Public Health Office (located at the Marbleton Senior Center).
• Thursdays 1:30-4:00 pm, Mountain Man Museum Drive-Thru (look for signs, enter through south entrance)
• Public Health is now offering all COVID vaccines by appointment on Tuesdays & Thursdays in our Pinedale Office outside of the posted clinic hours. We will require you to call to schedule these appointments to guarantee that we have nursing staff and vaccine doses available. Please call 307-367-2157 to schedule appointments.

Ridley's has Moderna vaccine in stock this week and is offering vaccine appointments on Mondays--visit their website to sign up https://www.shopridleys.com/pharmacy.php Altitude Drug is currently offering Janssen vaccine – call for more information at 307-367-2278.

Sign-up here or call Public Health at 307-367-2157 for assistance.

Booster Doses The FDA is meeting today to discuss recommendations for booster doses. Hopefully, we will have more guidance by next week from the FDA & ACIP.


Public Health Flu & COVID-19 Vaccine Drive-Thru Clinics
Tuesday, October 5th--Sublette County Fairgrounds
• 10AM--12Noon Senior Flu (65+)
• 2PM--5PM Community Flu (all ages) & COVID Vaccine

Thursday, October 7th--Museum of the Mountain Man
• 10AM--12Noon Senior Flu (65+)
• 2PM--6PM Community Flu (all ages) & COVID Vaccine

Payment due at time of service: Cash & checks accepted; we can bill Medicare, BCBS, Cigna & UMR. Costs are $20 for the regular flu vaccine and $55 for the senior flu (65+yrs) vaccine. To sign-up go to: sublettewycovid.com/vaccine or call 307-367-2157 to schedule an appointment. Appointments are appreciated--walk-ins will be accepted! Please bring your completed consent form with you to these drive-thru clinics. We have plenty of vaccine this year--please schedule your appointment to help flow of traffic through these events.

---
Sublette County Hospital District awaits USDA decision on CAH loan (posted 9/17/2021)
The Sublette County Hospital District (SCHD) continues to await a decision from the USDA on the loan for the new Sublette County Critical Access Hospital (CAH) in Pinedale.

SCHD Public Relations Director, Kari DeWitt wrote, "While we were originally hopeful for a decision at the very end of August, we now understand that our best bet is an October decision."

The USDA fiscal year end is Sept 30th, so most of the month of September is spent on year end reporting and not grant hearings at the national level. Dave Doorn, Sublette County Hospital District Administrator said, "Lorraine Werner from the USDA is really doing what she does best: fully understanding our application and leaving no stone unturned so that she's completely prepared to present it at a national level." He added that Ms. Werner intends to get the Sublette County Hospital Application on the docket as soon as possible in October.

Pending USDA approval, Layton Construction is ready to move forward with a pre-bid meeting to line up subcontractors ready to get started on construction.

---
SCSO announces new online radio scanner services (posted 9/16/2021)
Sublette County Sheriff's Office
Sublette County recently upgraded its emergency services radio system to SIRS (Sublette Interoperability Radio System). This new system has increased interoperability between emergency services as well as better coverage in Sublette County.

Those citizens who already have scanners will not be able to scan for the new radio system. However, the Sublette County Sheriff's Office has announced that the new SIRS radio system is live online to listen to. Citizens can listen to the stream live online or through the Broadcastify app.

Links to these streaming options are below:
Through your web browser at:
https://www.broadcastify.com/listen/ctid/3141

IOS devices:
https://apps.apple.com/us/app/broadcastify/id1061211484
https://apps.apple.com/us/app/police-scanner-radio-fire/id498405045

Android devices:
https://play.google.com/store/apps/details?id=com.radioreference.broadcastify https://play.google.com/store/apps/details?id=com.scannerradio #

---
Sublette Commissioners meeting agenda for Sept. 20 (posted 9/16/2021)
Carrie Long, Sublette County Clerk
BOARD OF COUNTY COMMISSIONERS
SUBLETTE COUNTY, WYOMING
SUBLETTE COUNTY COMMISSION CHAMBERS
SUBLETTE COUNTY COURTHOUSE
PINEDALE, WYOMING
MONDAY, SEPTEMBER 20, 2021

AGENDA
9:00 a.m. Call to Order
• Pledge of Allegiance
• Request approval of the agenda Request approval of prior meeting minutes (9/7/21)
9:05 a.m. Billy Pape, Road & Bridge, Update on Activities
Rio Verde Engineering – Calpet Project, Cottonwood Project, Horse Creek Bridge

9:30 a.m. Matt Gaffney, County Administrator
• Discovery Center‐Proposed Lot Two
• Consideration of bids for Rendezvous Pointe garage demolition
• County Sanitarian discussion
• Introduction of the new Director of Rendezvous Pointe, Kevin Warren

10:00 a.m. Todd Hurd, Forsgren Associates, Inc. – Update on Projects

10:30 a.m. Cat Urbigkit, State of the County

11:00 a.m. Clayton Melinkovich – Hospital District Discussion

11:30 a.m. Award Presentation and Recognition of Rob Hoelscher, Pinedale District Ranger

11:35 a.m. Monthly Reports
• Accounts Payable
• Treasurer – Balance Sheet August
• Laila Illoway, Assessor
• Catering Permits
Westgroup Terra, LLC 10/6/2021
Nice Analyst MTG at Klein Ranch
o Boulder Store 10/8/2021, Birthday Party at The Lodge at Jackson Fork
• Weed & Pest Board Vacancy Appointment
• Scholarship discussion (How many for this year? Amount?)
• Redistricting

Old Business & Public Comment

Click on this link for a printable version of this agenda

---
Sublette County Chamber of Commerce welcomes new Director (posted 9/14/2021)
The Sublette County Chamber of Commerce would like to introduce their new Executive Director. "At this time we would like to congratulate Joanie Christie. She has accepted this position and will start full time October 4th. We are excited to have her on board and hope you will join us in welcoming her. She is excited to meet you and continue serving our community in this new capacity."
---
Terry Hill Classic 2021 Trap Shoot October 2 (posted 9/14/2021)
The Terry Hill Classic 2021 Trap Shoot will be held Saturday, October 2 at the Big Piney Range. Shooting starts at 11AM. The range is located 7 miles west of Big Piney on Hwy 350. Proceeds will be used to help offset Terry Hill's medical expenses. Age classes for 11 and younger, 12-20 years, 21+ years. Shotguns are available on a limited basis, shells available for purchase. Buckle prizes for 1st place in each class. Entry fee $15 for 11 & younger, $35 for 12-20 years, $50 for 21+ years. For details and sign up contact Justen Phelps 307-749-5696 or Justin Gibson 307-799-4050.
---
Graveside Funeral Service for Wilma Newson Sept. 18 (posted 9/12/2021)
Covill Funeral Home
Wilma Newsom, 91, of Casper (formerly of Pinedale) passed away July 26, 2021. A graveside funeral service will be held Saturday, Sept. 18th at 11:00 AM at the Pinedale Cemetery. A reception will follow the service at the Pinedale VFW.
---




Town of Pinedale

TOP will begin enforcing STR Ordinance 682 beginning Oct. 1 (posted 9/10/2021)
Regarding Short Term Rentals
The Town of Pinedale will begin enforcing Ordinance 682 regarding Short Term Rentals (STRs) within Town limits beginning Friday, October 1, 2021. This Ordinance was passed in the spring of 2021 and sets new regulations on STRs for the various zoning districts within the Town limits. The Town will begin enforcing the Ordinance, identifying properties that will be able to offer STRs, and to what extent, and implementing the inspection and permitting process. All existing STRs are being operated outside of current Town code, and do not have legal authority to do so. As the new measures are rolled out, the Town staff will be working with an external contract agency to enforce the code. Please become familiar with the zoning districts in which STRs are available to operate in, and to what capacity. Any existing or future STRs that do not meet the criteria stipulated in Ordinance 682 will need to cease operations on the last day of September 2021. Additional information regarding the inspection and permitting process will be available in the near future. For more information, contact the Pinedale Town Hall, 307-367-4136, www.townofpinedale.us.
---
SCSO seeks public assistance in storage unit theft (posted 9/8/2021)
Sublette County Sheriff's Office
The Sublette County Sheriff's Office (SCSO) is investigating a report of a theft from a storage unit at Pinedale Self-Storage on US Highway 191. The theft reportedly occurred on the evening of September 6, 2021 at approximately 7pm. The reporting party was in the middle of moving items to and from storage when the theft occurred. The items missing are workout equipment: including a weight lifting machine, dumbbells; and a floor fan. They also discovered five wooden chairs in their unit that had been left which were not theirs.

The SCSO is asking for anyone with any information to please contact our office 307-367-4378 reference case 21-06289.

---
Sublette County Commissioners meeting rescheduled to Sept. 20 (posted 9/8/2021)
Carrie Long, Sublette County Clerk
PUBLIC NOTICE: The regularly scheduled Commission meeting to be held on September 21 has been moved to Monday, September 20 to allow time for the elected officials to travel to the Wyoming Association of County Officers meeting in Gillette. The Monday meeting will still be in the Commission Chambers in the Sublette County Courthouse in Pinedale starting at 9:00 a.m.

---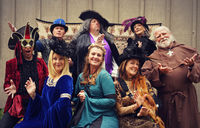 Voices 8

2021 Pinedale Renaissance Faire Sept. 18 (posted 9/8/2021)
Hear ye, hear ye! The Pinedale Renaissance Faire returns Saturday, September 18th at the Pinedale Library from noon to 4PM. Enjoy blacksmith demonstrations, fortune telling, tug of war, falconry, children's crafts, face painting, Nerf jousting, giant chess, a costume contest, local artisans, and live music by Voices 8. Admission is free.
---
Big Piney Library Fall Festival Sept. 18 (posted 9/8/2021)
Big Piney Library will host a Fall Festival on Saturday, September 18th in downtown Big Piney from 9AM-Noon. Free spots are available. This opportunity is great for home-based businesses, food concessions, local artists and student fundraisers. Vendors must supply their own tables.

---
Our Lady of Peace Church Mexican Fiesta Sept. 18 (posted 9/8/2021)
Our Lady of Peace Catholic Church in Pinedale will host a Mexican Fiesta on Saturday, September 18th from noon until 7:30PM. Dine-In or Take-Out. Tacos, burritos, posole. Beverages of Jarritos or Sangria. For carry-out orders call Kathy Larson, 307-360-7016.
---
Local Services:
Abortion Alternatives
Accounting & CPA
Apartments/Townhomes
Arts & Entertainment
Attorneys & Legal
Auction Services
Automotive
Aviation Services
Banks & Financial
Bars
Beauty Salons
Bed & Breakfasts
Boating
Bookkeeping
Builders & Contractors
Building Material
Business Services
Cabins
Cellular
Child Care
Churches
Cleaning Services
Clothing
Commercial Art
Computer Supplies
Condos
Consultants
Convenience Stores/Fuel
Convention/Meeting
Dentists
Dining
Dry Cleaning
Events
Fabric & Crafts
Fencing
Fishing
Flooring
Food & Drink
Funeral Homes
Furniture
Gifts/Western
Government
Graphic Design
Grocery & Market
Guest Ranches & Lodges
Handyman Services
Hardware & Feed
Heating
Health Care & Medical
Horseback Adventures
Insurance
Interior Design
Internet/Web/Advertising
Landscaping
Laundry
Liquor Stores
Lodging
Log Homes
Marketing
Massage Therapy
Modular Homes
Motels
Mountain Biking
Movie Theaters
Museums
Nails
Newspapers
Office Supplies
Oil Field Services
Optometrists
Organizations
Outdoor Equipment
Outfitters & Guides
Packaging & Shipping
Painters
Pet Stores
Pharmacies
Photography
Plumbing
Professional Services
Radio
Real Estate Agencies
Real Estate-FSBO
Remodeling
Retirement
Retreats
RV Camping
Schools
Scrapbooking
Septic Services
Skiing
Snowmobiling
Snow Plowing
Storage and Storage Units
Tanning
Tattoos & Body Art
Tax Preparation Services
Taxidermy
Transportation/Shuttle
Trash Services
Trucking
Veterinarians
Visitor Services
Wagon Rides
Well Drilling