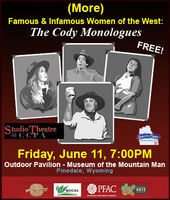 Free Program June 11 at the Museum of the Mountain Man in Pinedale

Famous & Infamous Women of the West June 11 (posted 6/11/2021)
Free program at the Museum of the Mountain Man
The Museum of the Mountain Man invites everyone up for the second edition of Famous & Infamous Women of the West: The Cody Monologues on Friday, June 11 at 7pm in the Pavilion. This free program will entertain and educate as you learn about amazing women who shaped Wyoming and the West. This event is co-sponsored by the Museum, Sublette BOCES – Pinedale, and Pinedale Fine Arts, with support from the Wyoming Arts Council. This is a Sublette Centennial event.
---
Summer's Here – Watch For Pedestrians (posted 6/11/2021)
Sublette County Sheriff's Office
Busy summer months have arrived, and the amount of people in town have as well. The Sublette County Sheriff's Office is reminding citizens and tourists alike to use caution at all crosswalks. Due to the influx of traffic during our high tourist season we ask that motorists AND pedestrians use caution and follow the below safety tips. In 2019 alone, a pedestrian was killed every 85 minutes in the United States.

Walking Safety Tips:
1. Be predictable. Follow the rules of the road and obey signs and signals.
2. Walk on sidewalks whenever they are available.
3. If there is no sidewalk, walk facing traffic and as far from traffic as possible.
4. Keep alert at all times; don't be distracted by electronic devices that take your eyes (and ears) off the road.
5. Whenever possible you should always cross streets at crosswalks or intersections, where drivers expect pedestrians. Look for cars in all directions, including those turning left or right. Wait for vehicles to come to a complete stop before crossing.
6. Never assume a driver sees you. Make eye contact with drivers as they approach to make sure you are seen.
7. Be visible at all times. Wear bright clothing during the day, and wear reflective materials or use a flashlight at night.
8. Watch for cars entering or exiting driveways, or backing up in parking lots.
9. Avoid alcohol and drugs when walking; they impair your abilities and your judgment.

Driving Safety Tips:
1. Look out for pedestrians everywhere, at all times. Safety is a shared responsibility.
2. Be alert for children and animals who may unexpectedly cross without warning.
3. Use extra caution when driving in hard-to-see conditions, such as nighttime or bad weather.
4. Slow down and be prepared to stop when turning or otherwise entering a crosswalk.
5. Yield to pedestrians in crosswalks and stop well back from the cross-walk to give other vehicles an opportunity
to see the crossing pedestrians so they can stop too.
6. Never pass vehicles stopped at a crosswalk. There may be people crossing that you can't see.
7.N ever drive under the influence of alcohol and/or drugs.
8. Follow the speed limit, especially around people on the street.
9. Follow slower speed limits in school zones and in neighborhoods where children are present.
10. Be extra cautious when backing up—pedestrians can move into your path.

As always stay Safe Sublette County!

---
Hope Choice Second Annual Walk for Life June 19 (posted 6/10/2021)
Hope Choice Pregnancy Centers and Mentoring Programs will hold their Second Annual Walk for Life on Saturday, June 19th, 2021 at 9:00am at their Pinedale Branch, 209 E. Magnolia.

The mission of Hope Choice Pregnancy and Mentoring Centers is to equip, mentor, and strengthen future generations.

Hope Choice Pinedale's community impact in 2020:
Over 115 interactions with clients
More than 100 clients received much needed benevolence items
7 women received pregnancy tests
25 individuals attended one of our many classes
Over 200 young people attended our Mentoring Programs

All Hope Choice services are provided free of charge and
include:
Diapers, formula, and baby items
Childbirth Classes
Breastfeeding Classes
Baby Safety Classes
Fatherhood Classes
Parenting Classes
Co-Parenting Classes
Life Skills
Premarital Workshop
Rescue Parenting Seminar

Hope Choice Pregnancy Centers & Mentoring Programs is located at 209 E Magnolia in Pinedale, Wyoming. Contact info: 307-367-7077, www.hopechoice.com

---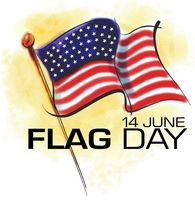 Flag Day ceremony in Pinedale June 14 (posted 6/10/2021)
The American Legion will be having Flag Day ceremonies in Pinedale with a BBQ on Monday, June 14th. Please bring your worn-out and tattered flags for respectful and proper disposal. Everyone is invited. The program will be at 6:00PM in the American Legion Park Veterans Memorial.

Flag Day USA, Monday, June 14
By Michael Edison, Commander, Pinedale American Legion Post 47

In the United States, Flag Day is celebrated on June 14. It commemorates the adoption of the flag of the United States on June 14, 1777 by resolution of the Second Continental Congress. The United States Army also celebrates the U.S. Army birthday on this date; Congress adopted "the American Continental Army" after reaching a consensus position in the Committee of the Whole on June 14, 1775.

In 1916, President Woodrow Wilson issued a proclamation that officially established June 14 as Flag Day; 0n August 3, 1949, National Flag Day was established by an Act of Congress.

Flag Day; however, it is at the president's discretion to officially proclaim the observance.

The flag of the United States of America is our nation's symbol and identifies us as Americans. It is the umbrella which represents every underlying aspect of our country. It actually takes on a different context or meaning wherever it is displayed; Public buildings, private homes, sports stadiums, Olympic events, caskets or even the moon. Like any other nation's flag it does not stand for anything specific. Ask any citizen what our flag means to them and you will get a dozen different responses. Does it represent sacrifice? Absolutely! However, the American flag also stands for our constitution, the unity of our people, the diversity of our nation, the triumph of our accomplishments and the right to protest or to be burned. It is the symbol of freedom many die to defend, rather than a tangible emblem to specifically honor those who gave their lives.

Our sons and daughters, throughout history, died to preserve its meaning but it does not particularly represent them, they represent the flag, which represents our entire country.

"The colors of the pales (the vertical stripes) are those used in the flag of the United States of America; White signifies purity and innocence, Red, hardiness & valor, and Blue, the color of the Chief (the broad band above the stripes) signifies vigilance, perseverance & justice."

The 50 stars stand for America's 50 states, while the 13 red and white stripes represent the 13 colonies.

The current flag, with 50 stars and 13 stripes, was designed in 1958 by 17-year-old high school student, Robert G. Heft, of Lancaster, Ohio. President Dwight D. Eisenhower chose his design out of 1,500 entries.

According to Federal flag laws and regulations, the flag should be displayed from sunrise to sunset, except during inclement weather. It may be displayed 24 hours a day as long as it's "properly illuminated" while it's dark out.

If a flag can no longer be used or repaired, it must be destroyed in a respectful manner, such as by burning. It can be washed and dry cleaned if it gets dirty or if it touches the ground and is soiled.

Our local American Legion in Pinedale will have a flag disposal ceremony at the American Legion Park by the Veterans Memorial on Monday, June 14, at 6:00 pm. Please bring your old, tattered or torn flags for proper disposal.

---
Big Piney Chuckwagon Days Youth Rodeo July 3rd (posted 6/10/2021)
The Big Piney 2021 Chuckwagon Days Youth Rodeo will be held Saturday, July 3rd at 7:00pm at Buzz Fear Arena at the Sublette County Fairgrounds. There will be events for ages 18 and younger. All entries will be online. Please email Brianne Brower, Brianne.Brower@sublettewyo.com, or go to the Chuckwagon Days Rodeo Committee Facebook page and fill out the form and pay online. After filling out the form, please pay your fees by Venmo @BP-Chuckwagon-Days. If you prefer to pay by check, please mail to PO Box 683, Big Piney, WY 83113 (checks must be received by June 28th.) There won't be buckles this year, but they will be giving prize money to all the winners. Added money for the winners.

Pee-Wee Events:
Goat Ribbon Pull
Stick Horse Barrels
Dummy Roping

7 and Under:
Barrels (on horse)
Goat Ribbon Pull
Mutton Bustin

8-11
Barrels
Girls Goat Tail tying (on foot)
Boys Goat Tail tying (on foot)
Breakaway Girls
Breakaway Boys

12-14
Barrels
Goat Tail Tying
Breakaway Girls
Breakaway Boys
Team Roping

15-18
Barrels
Girls Goat tail tying
Girls Breakaway
Team Roping

Rough Stock events
Calf Riding (7-10)
Steer Riding (11-14)
Mini-Bulls (13 & Under)
Bulls (14 - 18)
Junior Bareback (9-12)
Sr. Bareback (13-15)
Novice Bareback (16-18)

Stock from CT Rodeo

For more information, call 307-749-3546. More information: https://www.facebook.com/chuckwagondays

---
Enduro-Cross Race June 12 (posted 6/8/2021)
Everyone is invited to the Enduro-Cross Race at Sagebrush Downs Racetrack near Cora on Saturday, June 12th. This event is being hosted by Snow Explorers/Altitude Off-Road. Bring the whole family out for a day of motorcycle racing that mixes supercross, trials, and enduro racing over one-of-a-kind obstacles. Spectators $10 per car. Racer Meeting at 10 am, Races at 10:30. Call Josh Adams 307-360-7783 for more info.
---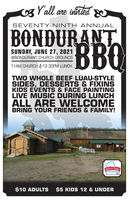 Bondurant BBQ June 27th

Bondurant BBQ June 27 (posted 5/30/2021)
The 79th Annual Bondurant BBQ will be held on Sunday, June 27th at St. Hubert the Hunter Church in Bondurant. Church services are at 11AM, lunch served at 12:30PM. There will be two whole beef luau-style sides. Desserts and fixins. Kids events and face painting. Live music during lunch. Everyone welcome. Adults $10, kids 12 and under $5. This is a Sublette Centennial event.
---
Public Workshop June 30th (posted 6/8/2021)
For Sublette County Forest Collaborative
The Sublette County Forest Collaborative invites interested citizens to a public workshop on June 30, 2021 at 6:00 P.M. in the Lovatt Room at the Sublette County Library in Pinedale. At the meeting, the Collaborative will present its recommendations regarding forest and vegetation treatments to the federal and state land management agencies. If you have any questions about the meeting, please contact Matt Gaffney, Sublette County Administrator at 307-367-5214 or at matthew.gaffney@sublettewyo.com.
---
Big Piney 4th of July 2021 celebration (posted 5/29/2021)
Splash of Freedom
Big Piney will hold their 4th of July 2021 celebration on
Saturday, July 3rd and Sunday, July 4th.
The events are hosted by Big Piney Recreation.

Schedule:
Saturday, July 3rd:
7:00PM: Rodeo at the Sublette County Fairgrounds

Sunday, July 4th:
8AM-10AM: Pancake Breakfast at the Big Piney Rec Center
parking lot
11AM: BBQ at the Sublette County Fairgrounds
Noon: Parade on Budd Avenue. Theme is "Splash of Freedom."
Grand Marshall is Father Dick Kalber. Call 307-276-4071 if
you want to enter a float.
6PM: Street Dance on Main Street in Big Piney. There will
be food vendors and a bouncy house.
Dusk: Fireworks at dark from the Marbleton Hill

---
Local Services:
Abortion Alternatives
Accounting & CPA
Apartments/Townhomes
Arts & Entertainment
Attorneys & Legal
Auction Services
Automotive
Aviation Services
Banks & Financial
Bars
Beauty Salons
Bed & Breakfasts
Boating
Bookkeeping
Builders & Contractors
Building Material
Business Services
Cabins
Cellular
Child Care
Churches
Cleaning Services
Clothing
Commercial Art
Computer Supplies
Condos
Consultants
Convenience Stores/Fuel
Convention/Meeting
Dentists
Dining
Dry Cleaning
Events
Fabric & Crafts
Fencing
Fishing
Flooring
Food & Drink
Funeral Homes
Furniture
Gifts/Western
Government
Graphic Design
Grocery & Market
Guest Ranches & Lodges
Handyman Services
Hardware & Feed
Heating
Health Care & Medical
Horseback Adventures
Insurance
Interior Design
Internet/Web/Advertising
Landscaping
Laundry
Liquor Stores
Lodging
Log Homes
Marketing
Massage Therapy
Modular Homes
Motels
Mountain Biking
Movie Theaters
Museums
Nails
Newspapers
Office Supplies
Oil Field Services
Optometrists
Organizations
Outdoor Equipment
Outfitters & Guides
Packaging & Shipping
Painters
Pet Stores
Pharmacies
Photography
Plumbing
Professional Services
Radio
Real Estate Agencies
Real Estate-FSBO
Remodeling
Retirement
Retreats
RV Camping
Schools
Scrapbooking
Septic Services
Skiing
Snowmobiling
Snow Plowing
Storage and Storage Units
Tanning
Tattoos & Body Art
Tax Preparation Services
Taxidermy
Transportation/Shuttle
Trash Services
Trucking
Veterinarians
Visitor Services
Wagon Rides
Well Drilling